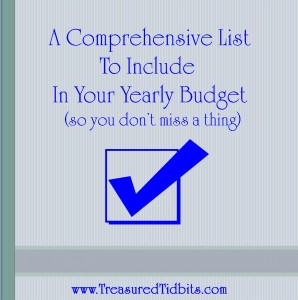 This is not a "how to" budget post.
This is a list of items you should consider as you are creating your budget, regardless of what budget method you use.
If you want information on creating an actual budget click HERE.  For even more budget details, ideas and suggestions check out more at Dave Ramsey.com or our Pinterest board.
Why should you have a YEARLY BUDGET LIST when your budget changes month to month or week to week?
Because it will help keep your budget under control and avoid those "OOPS! I forgot that bill was due this month" moments.
I don't know about you, but every year something ends up sneaking up on me, something that I should have known was going to come out of this or that paycheck (example: car sticker, pet shots, physicals, memberships, etc…) but suddenly we are scrambling to make it work.
Will this list solve ALL my budgeting issues?
NOPE.  I am not going to lie.  Surprises will still come up (read our first fun surprise of 2016 here.) but it should keep repeat surprises from happening.  And the only one who can make your budget work is Y-O-U!
Let's get to it.
A Comprehensive List to Include In Your Yearly Budget(so you don't miss a thing)
---
Please remember, these are items we have thought of at T.T., if you can think of any additional suggestions PLEASE add them in the comment section below.  We would love to hear from you, and you might just help someone else stay out of a pickle.
We separated them into broad categories so that you can skip the groups that don't apply to you.
Children:
School Clothes & Shoes
Winter Clothes & Shoes
Summer Clothes & Shoes
PE Clothes & Shoes
School Supplies/Mid Year Replacement School Supplies
School/Sports Physical
Dentist/Eye Doctor
Shots
School /Sport/Activity Photos
Class/Team/Activity Fundraisers
Band Uniform
Sports Uniform(s)
School/Sport Insurance
School Lunches
Sports Passes
Instrument repair and tuning
Day care- Full-time/Part-time/Anytime
Babysitting- For dates, shopping, work, illness, etc…
Emergency Trips- We keep $5 in change and some spare gas money for any unplanned emergency room or hospital trips
PETS:
Monthly food, treats,meds, etc…
Monthly Litter
Monthly treatments (flea, heartworm, arthritis, etc…)
Yearly shots
Yearly check up
Yearly tags
Yearly Registration
Supplies: Leash, collar, chain, shampoo
Kenneling or pet sitter fees
Grooming Fees
Insurance
VEHICLES:
Gas
Oil change
Tire Rotation
Tune Up
Registration/Sticker
Tolls
Cleaning
State Law Checks
Repairs-New tires, engine, transmission, battery, etc…
INSURANCE/HEALTH:
Main doctor co-pays
Specialists co-pays
Dental visits
Eye check ups
Yearly physicals
Monthly prescriptions
Vitamins
Shots
Health Insurance
Life Insurance
Car Insurance
Home Insurance
Renter's Insurance
Pet Insurance
Chiropractor
Spa
Insurance Deductible
Around the House:
Furnace/Air conditioner maintenance
Cable
Internet
Netflix, Hulu, Amazon Prime, etc…
House Phone
Cell Phones
Insurance
HOA Dues or Homeowner Fees
Taxes
Repairs or planned changes
Furnace Filters
Smoke alarm batteries, remote batteries, etc…
Garden plants, seeds, supplies
Yard maintenance (mower, landscaper, drainage, rolling, etc…)
Utilities (gas, lights, water,sewer, etc…)  If you fill your gas tank on average, 3x a year, see if you can spread it out of each check and not be broke in the middle of the cold season.
Appliance repair (it is always a good idea to have enough set aside for at least a service call and small repair if possible).  It costs much less in the long run, than having to put it on a charge card.
Food- Include extra on the months you know you will be hosting a holiday or party
Supplies- From toiletries to cleaning supplies to light bulbs and vacuum filters
WORK:
Uniforms/Clothes
Ink/Printer/Shredder
Computer
Briefcase
Cab/Subway/Bus Fare
Lunches
Client Dinners
Dry Cleaning
Membership Fees
Other___________________
OTHER:
Magazine subscriptions
Memberships (gym, clubs, churches, mom's groups, NRA, Boy Scouts, Music Booster's, etc…)
Girl Scout Cookies
Giving- (Church, Hospital, Sponsorship, Missionaries, Kick-starter, etc…)
Books
Movies
Birthdays- List these and set an amount for each
Anniversaries- List and set an amount for each
Holidays (Mother's Day, Father's Day, Easter,etc…) -List and set an amount for each
On-line storage, services, etc…
Holidays or Vacation you take yearly
Fundraisers (Yearly auctions, dinners, tickets, etc…)
Haircuts
Perms, Color, etc…
Laundromat
Coffee Runs
Date Nights
Pizza Nights
Movie Nights
Season Tickets, etc…
Vacation- Be sure to include rooms, rentals, tickets, meals, gas, pet/house sitter, etc…
Outside storage- for your boat, stuff, car, etc…
Photo prints
Debts: School loan, credit card, store cards, family loan, friend loan, ANY money you owe to anyone not previously listed
---

Please remember this is just a partial list, and PLEASE comment below with any additional items you may think of.
---
If you are trying to save, pay off debt or just get on top your spending, feel free to follow our "Ways We Saved & Earned This Week" Series as I share small tips and tricks we have used each week to save.  I suggest you read them all, as I try not to repeat myself and offer new ideas each week instead.
We will not share your email address or spam you with junk, promise!  We will share each post in the email and share additional links, updates and fun stuff on Facebook.
Sharing is Caring
and we will love for you to share this post, as well as leaving a comment below on how helpful you found this list to be.