---
How to Get More Bang For Your Buck At Kroger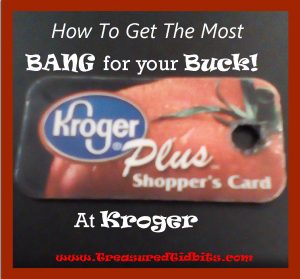 1.)  Check your ad when it comes out on Thursday so you have plenty of time to gather your coupons and plan your shopping trip before the weekend.
2.)  Use the Kroger Loyalty Card
You must have it to receive the Buy 5 Save 5 and other deals.  It also allows you to have an online account and use digital coupons and RECEIVE best customer bonus coupons AND fuel rewards (see below).
3.)  Register your loyalty card online to receive Best Customer Bonus Coupons as well as other offers.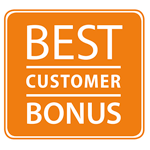 What does this mean?
For me it means several FREE item coupons each month (both digital & printed) IN ADDITION to the fabulous FREE FRIDAY DOWNLOADS.
4.)  USE the FUEL reward points with every purchase.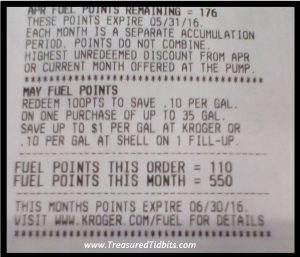 We use those points to purchase gas that is discounted each month (saving us anywhere from $2.00-$10.00 depending on the amount of rewards we earned and gas we purchased).
The only disappointing part is they do start over at the first of each month and sometimes we don't remember to use them.
5.)  Grab the FREE Friday Download EVERY friday.

It is only available to be uploaded each Friday for those 24 hours but the digital coupon can generally be used for another 2 weeks before expiring.  These have been anything from a specialty loaf of bread to a bottle of soda or bag of chips.
(Last year they offered a different FREE Friday Download EVERYDAY for a week.)  Here are the resulting products.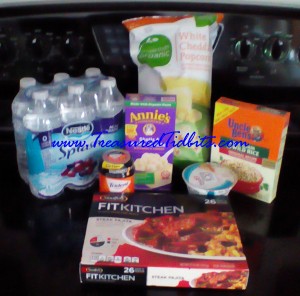 6.)  Always check the clearance section.  Almost every store has one.
If they don't you can check the aisles for these "white closeout tags".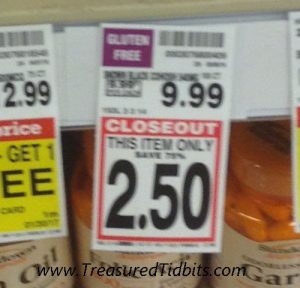 We love the "White Closeout Tags."  These are the tags they use to mark items down before actually moving them to the clearance area.  You can find them in the organic department, dairy, aisles and even freezers.  When time allows my girls and I always walk the aisles and do a "white tag check", by combining them with our coupons we are able to purchase many items for "almost free".
White tag items are usually items that are simply being rotated out of stock for a new item to be brought in so they still have plenty of shelf life but the store needs the space.
7.)  Always check the discounted bread, pies and cakes from the bakery.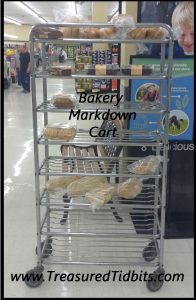 Our local store keeps the rack at the rear of the freezer department near the dairy (FAR from the main bakery).  We ALWAYS stop there for french, fancy bread, tiny rolls, etc…  They usually run $.69-$1.29 depending on the size of the package.  The pies and cakes are just as deeply reduced and taste just as good as the $10.00 versions.
8.)  Find the dairy area set aside for close dated and discounted dairy items.
This is ideal if you like to freeze your yogurt or want to try a new product but don't want to pay full price.  They also will often have items that were "white tag closeout" and needed to move.  We have scored some VERY expensive cheese for 1/4 of the price that had a date of 6 months to a year away.
9.)  Find the delegated mark down area for the freezers as well.
Just like the rest of the store this area is set aside specifically for close date or "close out items".  We have stocked up on many specialty freezer meals this way.
10.)  Find the "discount" produce section.
This is usually a display rack with bags of fruits and veggies for $.99 a bag or by the pound.  It is the ideal way to buy in bulk and freeze.  Generally speaking the items need to be quickly prepped or consumed soon but aren't spoiled yet.
NOTE:  If you have a fruit/veggie allergy you may want someone else to clean the items first.  Because all the bags are placed on the same rack, there is occasionally some transfer.  We discovered this as I grabbed and examined a bag of peppers without checking the surrounding area.  I proceeded to have an allergy attack and had difficulty breathing because the bag had come in contact with bananas MY NEMESIS.  Thankfully I took some rescue meds but NOW we check the area and my children handle any items we buy.
11.)  Find the discount meat section and check it on every visit.
We buy tons of meat this way and save a bundle especially on roasts and pork chops.
12.)  Watch for WOO HOO! Stickers in ALL departments.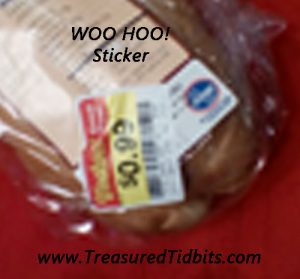 13.)  Make sure you purchase the EXACT number of items in a Buy 5 Save 5, Buy 10 Save 10 Sales.
Kroger does require you to purchase ALL 10 items if they are having a 10 for $10 sale OR a Buy 10 save $5 sale etc…  If you purchase less than the listed number of sale items the discount will NOT be applied.  If you purchase slightly more than the listed number of items-say 11 instead of 10 ONE of the items will be regular cost.
14.)  Of course check online for additional coupons to match with the weekly ad. 
Discover their FULL coupon and store policies @ https://www.kroger.com/
---
Want to know more about how we save on groceries?
Follow our Monday Menu series.
---
This post is linked up at a variety of linky parties.
Check out the extensive list here.
Inspiration Mondays @ I Should Be Mopping The Floor
Monday Funday @ Becoming Martha