---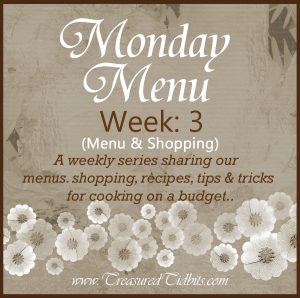 Sunday:  Tacos, Watermelon, Store Bought Chips Ahoy Cookies (from monthly Penny Pinchers at County Market)
Monday:  Bacon & Eggs, Toast, OJ and Chocolate Milk ($2.39 at Kroger right now)
Tuesday:  Chicken with Veggies & Rice (Per hubby's request)
Wednesday:  Roast, Potatoes and Carrots in the Oven, Rolls
Thursday:  Leftovers
Friday:  Dinner out!  We sign the papers on our property!  No more maintenance and taxes YAY!
Saturday:  Beef & Noodles (from leftover roast and broth), mashed potatoes, rolls, cottage cheese, green beans & corn
Sunday:  Kabobs on the grill with rice, salad & corn on the cob (IF we are home)
---
Note:  I didn't schedule a ton of chicken meals because our daughter with the restricted diet is sick this week, so I doubt she will be eating much.  We did precook her chicken in the crock pot Sunday, so that she could eat it when she felt up to it.  (The poor thing caught my yuckies…which I am still fighting as well.)
Breakfast is often cereal, oatmeal, smoothies or peanut butter and toast.
Lunch consists of boiled eggs, tuna salad, leftovers and fruit.
Snacks are fruit, veggies and chips/Doritos (to help increase our salt intake).
---
Below you will find the deals we found this week (minus the photos of some additional meat purchases we picked up the following day).

4 Lays Chips Regularly $3.29 Each-On Sale For $2.50-Buy 2 for $4.00 (Must buy 2)- Final Cost $2.00 each

5 Jacks Pizzas Regularly $4.19 each-On Sale For $2.00 each-Less $1.50 on 3 Catalina Coupon- Final Cost $8.50/5 or $1.70 Each

Chicken Breast  8.81 lbs @$1.77/lb   $15.61

Milk Regularly $2.69 Sale Price $1.89

4 Bumblebee Tuna  Regularly $1.99/each on Sale for $.50/each

2 Tropicana Orange Juice  Regularly $3.99-Less Buy 5/Save 5-Final Cost $2.99/each

Tide Regularly $7.99-$5.99 Sale Price- Less $1.00 for Buy5/Save 5-Less $2.00 Digital Coupon- Final Cost $3.99 each

Gatorade Regularly $5.99 each-Less Buy 5/Save $5-Final Price $4.99

7up & Pepsi-Regularly $4.99/6pack-Sale priced $3.99-Less Buy5/Save5-Final Price $.99 each

Clearance

Wheat bread $.99

2 Sauces $.50 (Regularly $4.00+)

Free

Sara Lee Bread (Value $3.00) Free Friday Download

Hellamn's Mayo (Value $3.49)  Best Customer bonus coupon in my email.

Lindor Truffle (Value $1.00) Free Friday Download

Nestle Morsels (Value $3.59) Best Customer bonus coupon in my email.

Tax: 2.33

Total: $63.24

Hubby also stopped in on Sunday and grabbed:

1 gallon each chocolate and white milk for $2.39,

a FREE Curate Bar

Finish 20 PK Dishwasher tabs for $1.99 ($3.49 less digital coupon for $1.49)

Lay's Chip 2/$4.00

Cheetos ($3.19 less sale price of $2.49 and digital coupon of $1.00) Final Price $1.49

Whole Watermelon $2.99

PLUS it was the weekend and we earned 2x our fuel points.  For more details on how Kroger rewards work click here.

For a total cost of $19.31 Tax included

I did not take photos.
---
County Market
GM Cereal Regularly $4.79/PP Price $2.79/Coupon Save $1.00 on 2 Final Price $2.29/each on 2
2 Tide Regularly $8.99/PP Price $5.99/Less 2 $1.00 Coupons Final Price $4.99 each
3 Frosted Flakes Regularly $4.69/Sale 25% off/Sale Price $3.50/Less 2 $1.00 Coupons Final Price $3.00 each
2 Sugar Regularly $2.59/PP Price $1.19
3 Chips Ahoy Regularly$3.59/PP Price $1.79/each
Thomas English Muffins Regularly $3.99/Sale Price $1.99
Thomas English Bagels Regularly $4.69/Sale Price $1.99
Buttermilk Bread Regularly $4.29/Sale Price $1.99
2 Sandwich Thins Regularly $3.99/Sale Price $1.99 (We freeze these for later)
Johnsonville Brats Regularly $5.29/PP Price $1.99/each/Less $1.00 off 2/Final Price $1.49
2 Buddig Meat Tubs Regularly $3.59/PP Price $3.49
2 Grape Tomatoes Regularly $2.99/PP Price $1.88
Presliced Watermelon $.69/lb Final Cost Total $4.90
3 Stone Ridge Ice Cream Sandwiches Regularly $3.98/PP Price $1.99
4 Kraft Shredded Cheeses Regularly $2.79/Sale Price $1.79
6 Prairie Farms Yogurts Regularly $.69/each Used 2 B2/G1 Free Coupons/Final Cost $.46/each
Pepsi 6 Pk Regularly $3.99/Sale Price $2.50
7up/A & W Regularly $3.69/Sale Price $1.88
Tax:$1.99
Total Bill: $86.82
The letters PP above stand for the monthly Penny Pincher Coupons you receive in the mail.
---
Save A Lot

Country Crock $3.49  less $0.55 coupon Final Price $2.94

13.69 lbs. Boneless Chicken Breast @ $1.79 a lbs. Total Cost $24.50

1.12 lbs. Top Round Roast @ $2.99 a lbs. Total Cost $3.35

.72 lbs. Top Round Steak @ $3.29 a lbs. Total Cost $2.37

White Vinegar $2.49

Long Rice $1.49

Flour Tortillas $1.29  

Napkins 250c $1.79

6 Jimmy Dean Sausage @ 2 for $6.00   Total Cost 18.00

Cantaloupe $0.99

Idaho Potatoes $2.99

Mini Carrots $ 1.49

We purchased an additional 15+ lbs of meat the next day (a mix of the same as shown above) when the shelves were restocked (we wiped them out both times).

---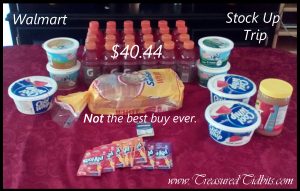 Walmart
Gatorade $5.99 each
Dips $1.94 each Less $.35 Each From Prairie Farms Website
Sour Cream $1.94 each Less $.35 Each From Prairie Farms Website
Cool Whip $1.77 Each
Koolaid $.25/each
Peanut Butter $3.88
NOT PICTURED 2 Cases of Bottled Water
---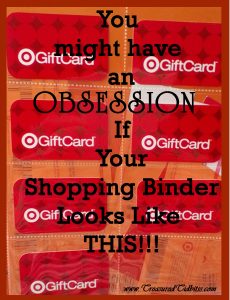 Yes, I might be just a little obsessed with collecting Target Gift Cards.
How did we get so many?
Target often offers a "Free $5 Gift Card" with a purchase of two cat foods, gatorades, etc….  If the price is right, we have a coupon and a matching cartwheel (click here for more info on what this means) the gift card is a great bonus.  I usually save them to purchase special items I don't put in our regular budget but this month I decided the stack was getting a bit large and decided to cash them in.
We were able to purchase 4 16 lb Bags of Purina Cat Chow for $37.30 AND receive two more gift cards for a later purchase.
We then used those gift cards and the ones pictured above to purchase:
4 Bags of Doritos & 4 15 count Nestle waters for ONLY $.08 out of pocket!!!
---
In addition we earned 75 coins from Receipt Hog by simply scanning our receipts.  This is an affiliate link, if you are uncertain what that means please click here.