Category: Ways We Saved

Each week we share how we saved by making wise choices and earned by using certain programs or apps.  Hopefully this week's list will inspire you.
Thirty Ways We Saved & Earned This Week (and you can too!)
26 Very Simple Ways We Saved & Earned This Week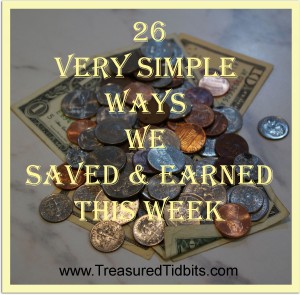 Last week's 25 Ways We Saved had such a great response, so I decided to begin sharing our weekly saving and earning methods with you, each Sunday.
It will help me stay accountable to our goal of saving $5,000-$10,000 this year, and might even encourage or help some of you.
None of the things we do are challenging or earth shattering, and I have seriously considered skipping some of them.  BUT after deeper consideration (and prayer) I felt led to include them and encourage others.
Ways We Saved