Each week we share how we saved by making wise choices and earned by using certain programs or apps.  Hopefully this week's list will inspire you.
Thirty Ways We Saved & Earned This Week (and you can too!)
How We Saved
We paid $99 for a full year of Amazon Prime, and then discovered they were running the $73.00 special.  Hubby contacted them and they reimbursed us $26.00.  The same day.  Today!  Yay!
Our vet bill was just under $95.  We budgeted $100. 

That means another $5.00 to savings.

I chose NOT to use a coupon/store credit.  Yep, you heard that right.  I had a $15 bra credit for JC Penney's, but I chose not to use it.  Since the only bras available to me are $38.00 or more, and I have plenty in my drawer right now.
I budgeted another $100 to pay for the new internet access box since we are switching carriers (for 1/3 of the monthly fee), and it was only $84.99.  SCORE! 

Another $15.01 to savings

.
Avoided craft stores and resale shops so that I wasn't tempted.
Packed snacks, drinks and lunch so that I did not need to eat out during another all day, out of town trip.  We spent $3.45 total on my daughter's food and a small frosty for me.  We were gone over 8 hours.
Saved 3 cents a gallon on gas by using my Kroger card at their gas station.
Searched and uploaded the Target Cartwheel before going in to purchase the sweatpants my daughter needed.  This saved us 15% on items we were going to purchase anyway.
Used our Target Redcard to save an ADDITIONAL 5% at Target.  This is a debit card and linked directly to our bank account.
Unsubscribed my emails from more retailers.  I don't need to be tempted, and now I have more free time for family since I am not scrolling an extra 20-30 emails a day.

Stuck to the "Just Make Do" Challenge.
Consumed lots of leftovers.
Purged and reorganized our cabinets again.  THAT was an experience you can read about here.
Baked desserts while the oven was still warm from dinner.
Checked the budget daily and reminded myself of our priorities.
Dropped consignment at one of our favorite resale shops, Remarkable Resale.  We received $10 credit for a small box of books and used the credit to purchase a light weight zip up hoodie from our needs list for my oldest daughter.  It cost us the .61 tax AND I de-cluttered another box of stuff!
Ran out of town errands while on our way out of town to the doctor.  This saved $10 in gas, plus my time and energy.
Wore house shoes, sweatshirts and layers so we could keep the thermostat at 68 degrees.  We also made sure we kept the draft dodgers against the doors and the curtains closed at night.  We use lined, room darkening curtains that help keep the heat in and cold out, and only cost me $10 at Target.
Created labels for our food storage, using items we had on hand.
Up-cycled on-hand containers to contain and reorganize our groceries.
Waited until we had a full load to run the washer and dishwasher, conserving energy and money.
Forced myself to leave the warm, dry, cozy van to run into Aldi's and purchase milk for $1.79 a gallon.  Half the price it is at home.
Bought 2 lbs of whole carrots for $1.19 a bag instead of 1 lb of baby carrots for the same price.


---
How We Earned

Earned $5 for me and $10 with a friend, for sharing about Ibotta.  You may be able to get the $10 credit as well, IF you use this link and code, I will also earn a $5 credit once you submit your first item.
Earned Swagbucks by taking surveys, using their search box to search online, inputting Swagcodes, answering the daily questions and NOSOs.  Use the link here to sign up and I will receive a small bonus for referring you.

Earned coins at Receipt Hog by scanning our receipts.
Uploaded FREE points to KelloggsFamilyRewards that we received in their emails.
Entered a special code furnished by MyCokeRewards to receive a FREE 16 x 20 poster from Shutterfly.  Good until the 31st.
Added codes to My Coke Rewards for future free items.  I like to use them for free prints.
Loaded Kroger digital coupons for

MULTIPLE FREE

items to our Kroger Reward card.  Currently they are offering a new Free Digital download everyday for 7 days, in addition to the FREE Friday Download.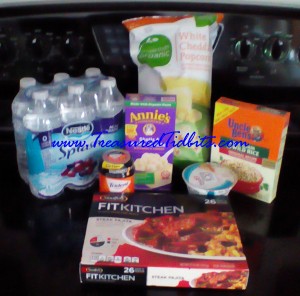 8.  Signed in daily to Purina Cat Chow My Perks to earn more free items.  We usually get a free bag of cat food.
---
For additional savings tips (including several we used this week), check out the other posts in the Ways We Saved This Week series.
Thanks for stopping by, we certainly hope we were able to offer you some useful ideas.
If you are a fellow blogger and offer any great money saving tips on your blog,  feel free to share your link below and in our current Sharing Saturday link-up.

This post may include affiliate links; please read our full disclosure policy here.

---
For more great money saving ideas follow us on Pinterest, Facebook, Instagram or sign up for weekly emails- which contain exclusive FREE printables, upcoming deals and additional links.
Save
Save
Save
Save
Save
Save
Save
Save