26 Very Simple Ways We Saved & Earned This Week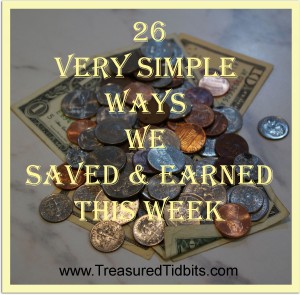 Last week's 25 Ways We Saved had such a great response, so I decided to begin sharing our weekly saving and earning methods with you, each Sunday.
It will help me stay accountable to our goal of saving $5,000-$10,000 this year, and might even encourage or help some of you.
None of the things we do are challenging or earth shattering, and I have seriously considered skipping some of them.  BUT after deeper consideration (and prayer) I felt led to include them and encourage others.
Ways We Saved