26 Very Simple Ways We Saved & Earned This Week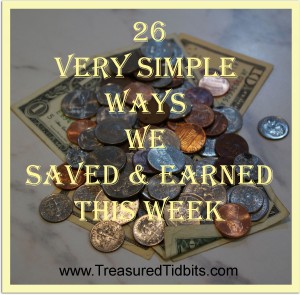 Last week's 25 Ways We Saved had such a great response, so I decided to begin sharing our weekly saving and earning methods with you, each Sunday.
It will help me stay accountable to our goal of saving $5,000-$10,000 this year, and might even encourage or help some of you.
None of the things we do are challenging or earth shattering, and I have seriously considered skipping some of them.  BUT after deeper consideration (and prayer) I felt led to include them and encourage others.
Ways We Saved
Used our lined curtains to block the extremely cold wind that came billowing through (when it is really cold we even close pin them shut to reduce any sneaky cold air flow). 
Note:  We were able to purchase our floor length lined curtains like these for $10.00 or less at Target over the past several years, and they have saved us more than double that, this year alone.

Used draft dodgers to block the base of both exterior doors.  (I love these things and will be doing a post about them shortly.)
Called our insurance company and discussed changes in our household and vehicle policy.  This month's bill dropped over $30, and January's is expected to drop even more.
Rescheduled a doctor's appointment for the middle of January when my daughter's new insurance will cover it.  This saved us the $120 fee they charge for simply walking in the door, not including any additional fees or tests.
Used vinegar instead of chemicals to deodorize rags used to clean up from the basement flooding we had in Central Illinois.
Turned down store charge cards- no matter how tempting the sign up bonus was.
Immediately shredded ALL credit card and loan offers we received in the mail.
Made a point to consume the fruit we purchased from a school fundraiser, before it spoiled.
Discovered why our bank has recently been charging $1.78/month for each of our checking accounts.  There used to be no fee.
Made a point of labeling and using ALL  our leftovers.
Created a menu to ensure we use up leftovers, eat from the freezer, fridge and cabinets and stay on track for "Just Make Do January".
Used our oven to cook desserts and meals back to back- saving money on cool down and preheating time.


Note:  We also leave the oven door open after we are done cooking to help warm the house.  Note:  Please do not do this if you have small children, as they run the risk of being burnt.




Bought chicken in bulk when we found it at an extremely low price.  My oldest can only eat chicken and eggs, so it is a staple in most of our meals.  We were completely out, and it is the one nonperishable I planned on purchasing in January, since she needs protein.
Cooked chicken in bulk, in the crockpot, for tonight's supper,  future freezer meals and for my daughter to consume when we have a beef or pork based meal. Boneless, skinless chicken breasts $1.59/lb.  I called ahead to make sure they would have a large quantity available.
Note:  Cooking her chicken in the crock pot in bulk (no seasoning) means:  We only need to clean the crock pots one time. saving both water, energy and time.  We freeze and label everything at one time, and we always have something on hand for her to grab if I forget to plan a separate meal for her.

Put on hoodies, socks, and house shoes instead of turning up the heat.  Our house is set at 68 degrees.  Turning it any higher often causes sinus headaches.
Used our space heater in our finished basement while we were down there working and visiting.  (Our basement is naturally cooler.  This is a blessing in the summer, not so much in the winter.)
Used our Shop Your Way Rewards points to purchase a huge Hershey's Kiss on clearance at Kmart (hubby), and adorable snowman pj's and Penguin scarf at Sears (for girls).
Turned off unnecessary lights.  We are fairly good about doing this everyday, but we are trying to improve it to perfection.

Limited TV use.  This has multiple benefits besides conserving electricity.
Vacuumed and cleaned furnace vents, return air vents and bathroom fans.  Yes, this saves money by ensuring we are breathing healthy air and keeping the air flowing safely.  We have it listed on our weekly checklist for this very reason.
Cleaned the external dryer vent/exhaust.  This ensures the air flow in the dryer operates at top efficiency.  It is also on our weekly checklist.
Let any slightly damp clothes finish air drying on hangers or the drying rack.
Ways We Earned Points, Gift Cards or Cash
Entered our Walmart receipts into the price matching Walmart Savings Catcher and earned cash back.  Once again, I was surprised at the amount.  $1.33 on a single item that was NOT cheaper in our town.  If you shop at Walmart EVER, I suggest you use it.  Note:  I gain nothing by making this referral. I just enjoy seeing others save as much as they can.

Earned points towards free books, from friends signing up at Tyndale rewards.  Discover our code and details on how to earn free books here.
Checked in and entered codes into our myperks account to earn free products.  You can earn points for simply logging in each day, sharing on social media, taking surveys and filling out information about your pet.  You can cash those points in for free items.  We always choose a free bag of food.
Checked in daily with Swagbucks and entered codes, took the daily poll, completed daily offers and searched using their tool bar.  For additional details on Swagbucks feel free to click here.  Disclosure:  I do receive a small credit if you sign up using our link and code.  It does not affect your earning at all, but gives mine a small boost.
Began using Inbox Dollars.
To check out other ways we have saved & earned in 2016 click here.
For more amazing posts on how we saved & earned and how other bloggers have saved and earned follow us on Pinterest, Instagram, Facebook and sign up for weekly emails.
This post is linked up at a variety of link ups.
For an extensive list of the link ups we enjoy and link to click here.
---
This post is linked at the following sites:
Save
Save
Save
Save
Save
Save
Save