Thrifty Thursday #3- Our City Wide Sale Score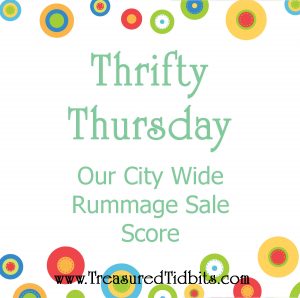 I am sad to say that I was unable to scavenge attend our City Wide Rummage Sales this year due to a damaged lower back BUT I did give it a valiant effort by attending one the night before.  Granted, hubby had to help and I used my walker but I tried.  Instead my hubby was a great sport and took my daughters for 8+ hours, with only a few breaks in between.  Below you will find the great buys they found, not including a few surprises and gag gifts we have decided to give friends and family.
I have to admit I asked them not to bring a lot of "stuff" home and they didn't but the girls did end up with a nice pile of clothes.
These are the "goodies" they brought me.
Labels for my business, scrapbook paper, a baby monitor (for a friend) and an angel nightlight.  I scored the angel and shredded paper, wipes carrier and material the night before.  This entire lot cost us less than $5.00.
These are the goodies my husband found.  Not including the large tote the Legos came in.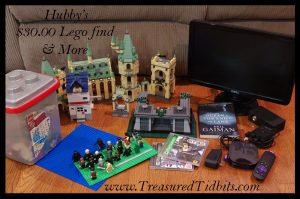 My girls treasures:
My youngest daughter has wanted to purchase a large suitcase for a project for several months now and I kept asking her to "wait for garage sales".  She scored this one for $.50.  She was ecstatic!!!  The books she purchased to share with a friends one-year old and the gingerbread tin was for me.  Her stack came to less than $5.00 as well including the gift for her dad.
My oldest daughter found DVDs, books, crafting supplies, material, Boos, coloring books and jewelry all for $7.25
All in all I was happy with the choices they made and the lack of items that came our house.
---
And the clothes….
Each girl paid less than $1.00 average per item and came home with some great, name brand clothes, many with tags.  In total approximately 10 items didn't fit and a few more just weren't very flattering so we are passing them on to friends.  I must admit the patterned leggings my youngest daughter chose brought more than a little fear to my visual aesthetics, but she quickly calmed my racing heart by promising not to wear them in public, she scares me at home instead, lol.