Thrifty Thursday #4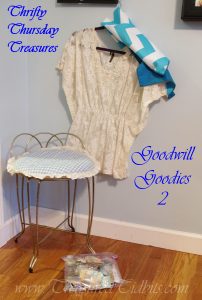 Thrifty Thursday was started so I could share all the great finds my family and I have found through unusual venues such as resale or consignment shops, rummage sales, on line groups or barter systems.  Most of our shopping is done secondhand or with coupons or clearance.  Seldom do we buy ANYTHING full price or new, besides necessities and undergarments and even then we shop for the best deal.
It honestly brings me a warm fuzzy feeling when someone comments on an outfit, our decor or something they see in the background of a post and I can say "Oh, I got that at XYZ for only $1.00".  It's not that I don't like "new" items I just prefer to spend our money as wisely as possible.  After hearing several people mention that they don't "resale" shop because they never find anything good I decided to introduce all our great finds on Thrifty Thursdays.  Hoping others might be encouraged to shop wisely as well.
This week's trip was somewhat small as we are trying to "Control the Chaos"  in our home and save as much money as we can by the end of the year.
My poor daughter is sick of hearing the words
"No, I don't think so.", "Yes, that is adorable but we don't need it.",
"You have plenty of clothes.", "Where would we put it?"

and "Why do we need it?"
But I think these are very, very important questions to reducing the amount of "chaos" in our home and saving money.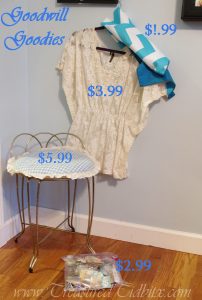 My daughter has wanted a vanity seat forever and at $6.99 we could afford it.  You should have seen the look on her face when I agreed to buy it.  LOL.  It will of course get a makeover at some point but for now both her and her cat entourage LOVE using it to stare longingly out her bedroom window.
 Anyone else have a child with a closet full of clothes that thinks they need more every.single.time. you go anywhere?  I did consent to her purchase of this beautiful lace top to replace one that was recently damaged but I rejected every.other.piece. she tried on.  (Mean mom that I am.)

I discovered the chevron scarf while she was trying on yet another piece of clothing.  It is a cooling scarf.  Not only is it pretty but if you add water it will keep you cool.  It looks like it is brand new.
And of course the bag!  It was full of these goodies.  Goodies we plan on using in future fairy gardens, my daughter's dollhouse and of course, sharing with others.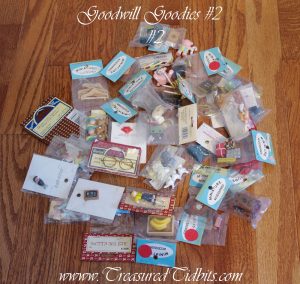 What great finds did you have recently?
---
To view more of the great deals we have found recently click here.
Thanks for stopping by we would love to hear what you think in the comments below.