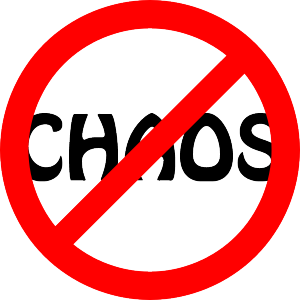 Why did we choose the title "Controlling the Chaos" and not a series on decluttering?
Because my hopes for this series include so much more than just decluttering and organizing.  I hope it will help me and others like me make lifestyle changes to reduce the chaos and clutter in our lives and minds.  I know the steps I have taken so far have worked wonderfully.
I hope this series will help guide you into making better choices and decisions about how you address everything that enters your life and mind every, single day.  From how and when you wake up to how you prepare for bed, from how you address incoming mail to how and when you pay your bills, create your budget and build your menu, etc… as well as removing and organizing the physical clutter in your life.
"Clutter" isn't only something you can see but it is something you feel.
Your home may visually appear as thought it could be on a Better Homes and Garden magazine cover but underneath it all you feel out of control and as though your life is in "chaos".
We hope to address some of these things and take the time to find solutions or address ways to help.

We do not promise to solve everyone's issues in a day, a week or even a year but then again your "chaos" or "clutter" did not appear in a day, a week or a single year.  (At least mine didn't.)  It has been accumulating, building and multiplying for quite some time.  No matter how hard I have tried to fight it.
About a month ago I chose to stop referring to it as clutter and start calling it what it truly was, "chaos".  Chaos in my mind.  Chaos in my home.  Chaos in my life.  And chaos makes me crabby.
I can have every scrap of paper in my home neatly put away but that does not mean that it is not in a state of "chaos," it is simply not visible to the naked eye.  I know it is there and it is creating chaos in my thoughts and distracting me from focusing on more important things like my faith, family, health and home.
Since many of you have asked what the "Controlling the Chaos" Series will involve I thought I would share a brief version of the year long series.  In addition to what you see listed we have included days for catching up, doing maintenance on finished areas, and researching and creating what you specifically need in your home or office.
January– Paper– Past, Present, Future, Incoming and Outgoing. etc..
Create a budget- evaluate your income and outgo
February– Digital– Emails, Social Media, Files, Phones, Photos, etc…
March– Kitchen– Purging
April– Kitchen– Organizing
May– Outdoors and Garage
June– Kids Rooms and Items
July– School/Office Supplies, Area & Preparation
August– Finish prepping for school/Power Purge Multiple Areas
September– Power Purge Multiple Areas
October– Power Purge More Areas
November– Quick Re-declutter and Cleaning prep for the holidays
December– In control Holiday Preparation, Cleaning, Shopping, Baking, Etc…
I realize that many rooms you may have are not listed in the above calendar and that is okay.
To be honest to do this properly and without feeling overwhelmed I felt the series needed to be addressed over a two year period with power purges this year in some areas and deep purges and organizing next year in others.
I have found that power purging once and deep purging later has been much easier for myself and others I have worked with.
NOTE:  I am writing this series with photos and questions of specific individuals in mind, while working at a pace and directions that is helpful in my own home.
To learn more about our plans for the year please check out our "Goals for 2016", "Weekly and Monthly Checklist", And "25 Simple Ways We Saved this Week" posts.
If you would like to follow this series you can sign up for emails (recommended so you don't miss out), follow us on Facebook or join us on Pinterest & Instagram.

 We are linked up at the following blog parties and suggest you check them out to discover several great bloggers and posts.