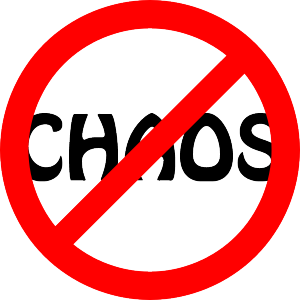 Why did we choose the title "Controlling the Chaos" and not a series on decluttering?
Because my hopes for this series include so much more than just decluttering and organizing.  I hope it will help me and others like me make lifestyle changes to reduce the chaos and clutter in our lives and minds.  I know the steps I have taken so far have worked wonderfully.
I hope this series will help guide you into making better choices and decisions about how you address everything that enters your life and mind every, single day.  From how and when you wake up to how you prepare for bed, from how you address incoming mail to how and when you pay your bills, create your budget and build your menu, etc… as well as removing and organizing the physical clutter in your life.
"Clutter" isn't only something you can see but it is something you feel.