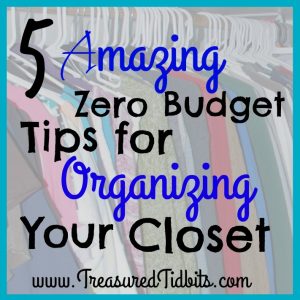 A few of you have asked how we made our closet rod look more organized and put together on a zero budget.

After some consideration I decided it came down to basic things
1.)  PURGE
Things always look better purged.  Clutter is distracting and stressful.  In your closet clutter, especially, makes things crowded, hard to find, wrinkled and difficult to put away.  How many times have you gone into your closet and found a shirt you haven't worn in a year because you forgot you even owned it?  Keeping your closet clear of excess clothing means more room on the rod to separate hangers, allowing your clothes to breathe and ensuring quick, easy access to the amazing clothes you already own.
Be honest with yourself. 
If you have owned it for 2 years and still haven't worn it, you probably don't need it.  To get the details on how I purged ALL of the clothing in our house (5 People) in 2 days click here.
2.)  If possible use color coordinating hangers and hang clothes facing the same direction.
We did not go out and purchase matching hangers to write this post.  I did, however, give in to my OCD tendencies and transferred each and every item in the master closet to white hangers.
(I have wanted to do this for awhile, but with a hodge podge of hangers and more pressing matters, it needed to wait until the time was right.)

If you do not have coordinating hangers you can still hang your clothes facing the same direction and achieve a streamlined effect.  You will be amazed at the difference this tiny step makes in the flow of your closet.
Clarification:  "Facing the clothes the same direction"  means have all fronts facing one way.   It simply makes clothes lay better and look neater.
3.)  Fold clothes you do not wear regularly or do not need to be in pristine condition.
We removed all our "grungy" clothes from hangers and now store them in a labeled basket on the shelf.  This keeps my hubby from grabbing his "grunge clothes" to wear for family outings or school functions and saves me from asking him to "Please change, there is a huge hole, stain or both on your shirt."  For the past couple of months I was sure EVERY long sleeve shirt my husband owned had the elbows ripped out, EVERY T-shirt and Polo was stained and EVERY pair of jeans had a hole.  Thankfully, THIS was not the case.  He simply felt the need to wear those clothes whenever we went somewhere. 
---
4.)  Group like items together.
Group Polos together by color, t-shirts by color, dress shirts then dress pants, jeans and workout pants.  My closet isn't quite as black and white, but I still have it categorized.  Tanks, t-shirts, everyday shirts, dressy shirts, long sleeve (for under sweaters), body sweaters, button up sweaters, then hoodies and sweatshirts.
5.) 
Group tanks together on a single hanger. 
If you are like most women you own more than a handful of tank tops.
(How else are we going to keep our treasures covered with the clothes they make today?)
I have always added 2 tank tops or more to a hanger, but after purging I realized most of my spaghetti strap tanks would easily fit on a single hanger and consume less space.  They have been there a week or so and I love it!  I no longer have to look through 5 or 6 separate hangers to check which tank tops are available.  (My daughters share these with me, so even if I didn't wear it in the last few days they may have.)
I still have the wider straps two or three to a hanger (usually by color- blues, reds, whites, etc…).
---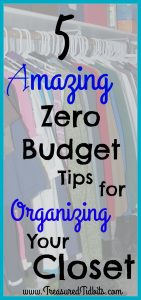 I realize these steps seem quite simple, but they can make a world of difference in the appearance of your closet.
For more great closet storage ideas visit our Closet Organization Board on our Pinterest Page.
Thanks for stopping by and please feel free to share comments or suggestions below. 
We love to hear from you!
Want to see more like this?  Follow us on Facebook, Pinterest, Instagram or sign up for weekly emails and receive exclusive FREE printables, upcoming deals and bonus links.
This post is linked up at a variety of link ups.
For an extensive list of the link ups we enjoy and link to click here.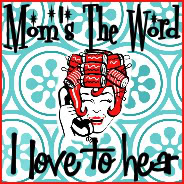 Save
Save