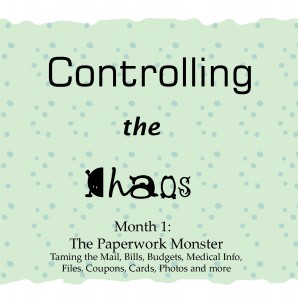 This is it!
2016 is finally upon us and it is time to dig in and Control the Chaos.
Because paperwork is the nemesis of millions of homes, my own included, paper is where we chose to start. If we can control the paper we have and gain control of the paper coming in, so much more of our lives would be less chaotic.
We will have less missed appointments, last minute or day late birthday wishes, over due bills or missed out deals.  Controlling paperwork will create less stress over all.
Below you will find the "Control the Chaos" January schedule both a printable version and an online version.  Yes, we are are adding to the paper pile.  It may be a necessary evil for now.