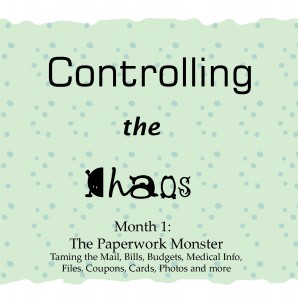 This is it!
2016 is finally upon us and it is time to dig in and Control the Chaos.
Because paperwork is the nemesis of millions of homes, my own included, paper is where we chose to start. If we can control the paper we have and gain control of the paper coming in, so much more of our lives would be less chaotic.
We will have less missed appointments, last minute or day late birthday wishes, over due bills or missed out deals.  Controlling paperwork will create less stress over all.
Below you will find the "Control the Chaos" January schedule both a printable version and an online version.  Yes, we are are adding to the paper pile.  It may be a necessary evil for now.
We attempted to allow enough time for those with full time jobs, families and other time consuming activities to be able to participate without feeling overwhelmed.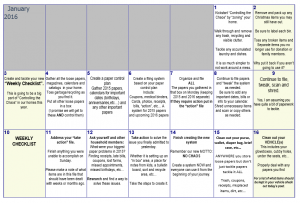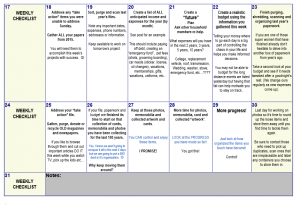 For FREE printable PDF Versions Click here.
January 2016 Controlling the Chaos Calendar
If you would like to join a small private group where you can share other readers progress, solutions and struggles simply hit the "join" button at Clutter Overcomers on Facebook.

Update:  It has been a few years since we wrote this post and started this series but I am thrilled to say it made a HUGE difference in our lives and our stress.  We have moved since this post was written and I would love to share our new home and organization methods with you in our new "House on the Hill series".  It is full of photos, organizing tips and a realistic look at how our home appears now after I have completed the first year of "Controlling the Chaos"

GOOD NEWS:  We will be releasing a new schedule and series beginning January 2018!!! Be sure to follow us on Facebook, Instagram and Pinterest to join us early and receive some printable bonuses.