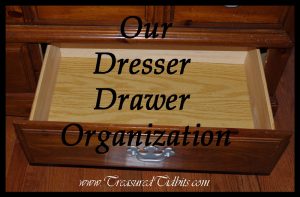 As part of working toward "Controlling the Chaos" in our home, improving our bedroom on a zero budget and "simplifying" our home I have been downsizing our belongings.  I have also been discovering ways to make everyday activities (dressing, medications, laundry, etc…) easier.
This is the solution I found for our dresser drawers and so far it has worked great!  It may be a bit unconventional and certainly not something you will find at IKEA, Pottery Barn or Crate & Barrel, or even Kmart but it is what fits in my organizing budget.  My budget is ZERO.
I have read up on the Konmari method and studied Pinterest organizing ideas.  After all that I found out that what worked for me wasn't really anything I read on those sites but something so basic and simple I can't believe I didn't try it sooner.
I also discovered that removing EVERYTHING and returning ONLY the items I wanted and needed to those drawers has been very freeing.  We did a deep purge this past year and having that accomplished made this round 100x easier.  Less IS more when it comes to keeping things organized and easy to access.
 HOW WE ORGANIZED OUR DRESSER DRAWERS
---
My dresser and drawer layout can be found in our previous post here.
My dresser has two small drawers on each side and I have discovered these are great for containing the items we use daily so they are easy to reach but not cluttering my vision, mind and space.
These hold my allergy medications, vitamins, deodorant, keys, hand lotion, overflow OTC meds, etc…
About a year ago I discovered that heat pad boxes make excellent drawer dividers.  Just cut them to the specific height you need for each drawer or item and organize away.  Of course, if you like things pretty you can paint or cover them to create a pretty as well as practical organizer.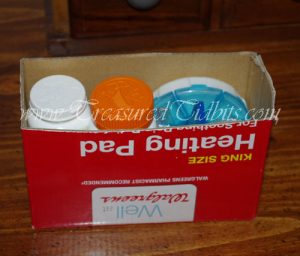 My middle drawer has always presented a problem and I have tried to organize it at least a dozen ways.  THIS has been the best and most simple of solutions.
I took small totes, like these, I had emptied when downsizing last year and tried them in my center drawer.  These originally cost me less than $1.00 each and have been used in numerous areas of our home.
They fit perfectly!!!  Exactly the right height and width to stay securely in place.
I then divided my drawers into the categories below.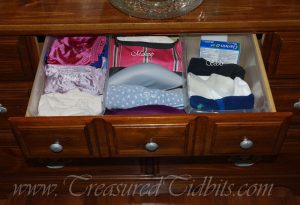 Yes, I did just share a photo of my unmentionables drawer.  Gasp!  In the past year I have had several inquires asking how I keep them organized and to be honest this simple system has worked perfectly.
I am even able to store my makeup bag and three pairs of sunglasses neatly in the center.
The middle layer of drawers are boring and simple "junk" clothes in one and jeans in the other.
The bottom drawers have always presented a problem since bending is a challenge for me, even on good days.  I decided to use this to my advantage use those drawers for seldom used items.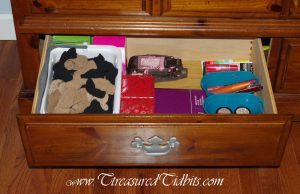 Pantyhose, Jamberry nails, extra makeup, nail polish, and odds n ends with spare sheet sets in the other.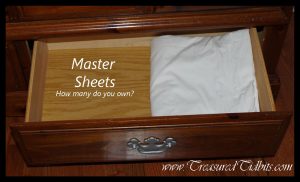 This really is our master sheet drawer.  We own two summer sets and one winter set (it is put away with the winter blankets in a labeled tote in our basement).
---
How do you organize your dresser?
Please leave any tips or questions in the comment section.
---
Want to see more zero budget tips & tricks plus ways to save?
Follow us on Pinterest, Facebook, Instagram or sign up for our weekly e-mails.
---
 The post contains affiliate links.
Click here for details.