Homemade Laundry Soap
(something I've been wanting to try for years)
Here is a homemade laundry soap testimonial that a long-time friend submitted.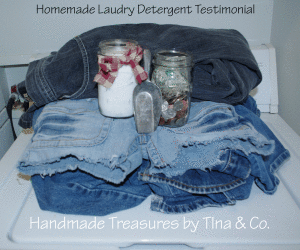 Guest Post by Callie J.
My Mother in law found this wonderful homemade laundry soap recipe on Pinterest and shared it with me.
She told me that this works very well on her husband's work clothes (he works in the Printing Industry and has ink on his clothes everyday).
I have been making it since September of 2012 and sharing it with family and have only had to make 3 batches since that time.
I have been so impressed with how well this cleans our laundry and how inexpensive it is.  I was tired of spending so much money on laundry soap that seemed to leave a buildup of crud on everything.  So for about $20 per batch, I have been able to provide my parents, my sister and her family and my college age son with laundry soap.  That is a lot of people benefiting for not a lot of money!
I have a few changes or additions that seemed to work well for me.  The store was out of Oxiclean the first time I bought the ingredients so I used Biz (My Grandma used to use Biz all the time).  The 2nd time I made it I bought the OxyClean and couldn't tell a difference.  So I went back to using the Biz.  Biz is much cheaper and does a great job.
To mix it I actually used a large canning pot and layered the ingredients then mixed it with a long handled wooden spoon.  It was easier for me to mix.
The last time I made this homemade laundry soap I added laundry crystals, they are expensive and for the amount of soap this makes I think if I want scent I will just add them directly to the wash and not in the laundry soap.
When I first made this homemade laundry soap I put them in quart size mason jars with a spoon and gave them as gifts.  For my own personal use I have a large glass jar with a wide mouth opening that I use.  For storing the remaining laundry soap or refilling my families' supply I reuse coffee cream containers, peanut butter jars or quart size ziploc baggies, really anything that is airtight will work.  I use a measuring cup with a pour spout and a funnel to get it into the individual containers.
Here is the link to the original homemade laundry soap recipe from Being Creative To Keep My Sanity:
http://beingcreativetokeepmysanity.blogspot.com/2010/11/homemade-laundry-soap.html
Please let us and "Being Creative To Keep My Sanity" know how this works for you and any laundry ideas you may have!
---
For more great tips be sure to read the following posts:
15 Ways to Save Money on Laundry (and still keep your sanity)!
Making Your Laundry Supplies Work For You
Note:  This post contains affiliate links.  For details please click here.