Make Your Money Stretch
with Ibotta
Welcome to "Making Your $ Stretch" Week 2.  Today we want to share a fun, simple app with you.  It's easy to use, stacks with store deals, paper coupons, Savings Star, Receipt Hog, Walmart Savings Catcher, and even Checkout 51.  It's called Ibotta.
Our family loves Ibotta.
We treat the money we earn from Ibotta as bonus money that we use towards special groceries, house decor, family entertainment and other non-essentials.
Instead of saving at the store, you shop the deals, use your digital and paper coupons, then come home and use Ibotta.  Yes, you heard that right.  You use Ibotta after you shop, in addition to the other deals, BUT you can scroll their site before shopping to ensure you are receiving the best possible "bang for your buck."
---

Our Favorite Tips for Using Ibotta.
1.)  Offers expire at various times, so it is important to scan your receipts on a regular basis.  We try to stick to three times a week scanning, for Savings Star, Walmart Savings Catcher, Receipt Hog, Checkout 51 and Ibotta all at once.
2.)  You can scan the offers by store before you shop, to ensure you get the best "bang for your buck."
Example: Last week we needed toilet paper.  I had two coupons for Scott Tissue, but I was only planning to purchase 1- 15pk and call it good.  When we checked Ibotta (before shopping) I discovered that I could receive $2.00 back on 2- 9pk rolls at Walmart.  So I purchased 2- 9pks, used two paper coupons, put it in the Walmart Savings Catcher and Receipt Hog to maximize our savings.

3.)  Savings do not come at the time of purchase, but accumulate until a minimum is reached.  See #8.
4.)  Each month bonuses are offered.  The more you redeem, the more you can earn.
5.)  Offers are often available on any brand, including generic and everyday products, as well as brand, type and size specific products.
6.)  You receive bonus cash for having people join your team by using your link.  They receive bonus points too, if they redeem an offer in a specific time frame.
Right now, if you use THIS LINK I receive an extra $5.00 and you will too, once you have redeemed your first offer.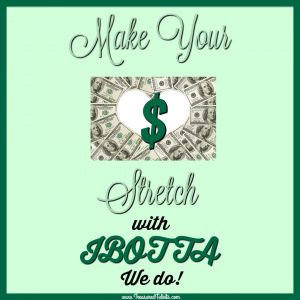 7.)  Ibotta can be used on so much more than your groceries.  Just a few weeks ago my daughter, she checks and scans for me, discovered a special offer for 10% back on our Big Lots receipts.  We seldom shop Big Lots, but we happened to purchase some clearance items that week, and received over $2.00 back for simply scanning our receipt.
Ibotta also covers clothing stores, dining, entertainment, groceries and more you can find the complete list on their site, here.

8.)  Once the minimum is met, you can cash out using PayPal, Venmo or a variety of gift cards.
9.)  You can link your store loyalty cards as well, just be sure to load the deals you want to use before you go shopping.
Tip #1: Don't use Ibotta refunds as an excuse to overspend, if buying it this week places you over budget, and it is not a necessity.  Wait.  Keep your budget on track.  Those offers will come up again.

Tip #2: Recycle your Ibotta money back into your grocery money OR stockpile it for gifts, a Roomba, that special pan set or even a family vacation.

 Just this week, I cashed in ours to combine with our Walmart Savings Catcher to purchase a new vacuum cleaner and some clearance items we found at Walmart.

---
It's super easy and quick to just:
Open your Ibotta app
Pick your store
Choose the offers you want to redeem
Complete an activity (watch a video, answer a 1-quetion survey, follow a link)
Make sure you have checked:
all the items on your receipt
scanned your products
scan your receipt
Then, wait for your email sharing how much you have earned.
---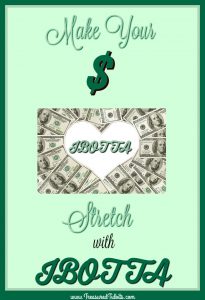 Capitalize on your savings by using the following apps, sites, etc… in combination with your Ibotta
Weekly sales
Digital store coupons
Walmart Savings Catcher for Walmart only
Penny Pinchers @ County Market
Target Cartwheel and Redcard @ Target
---
Still not sure Ibotta is for you?  Head on over to their site and learn more.  You can find it, here.
If you already you use Ibotta, please share why you love it in the comments below.  Have questions?  Ask those too.
I am so happy to share simple ways you can save, and Ibotta is definitely one of them.  If you sign up using our link be sure to let us know how you like to app, and share some of your great savings.  We love when we hear how we could help or inspire you.
Can't get enough of Treasured Tidbits?  Follow us on Facebook, Pinterest and Instagram where we share more each day including other sites, deals and inspiration.
Until then,


---
Disclaimer:  Some of above links are affiliate links and may result in a small compensation if you click on them, at absolutely no cost or effect to you.  To learn more, visit our disclosure policy here.
Save
Save
Save
Save
Save
Save
Save
Save
Save
Save