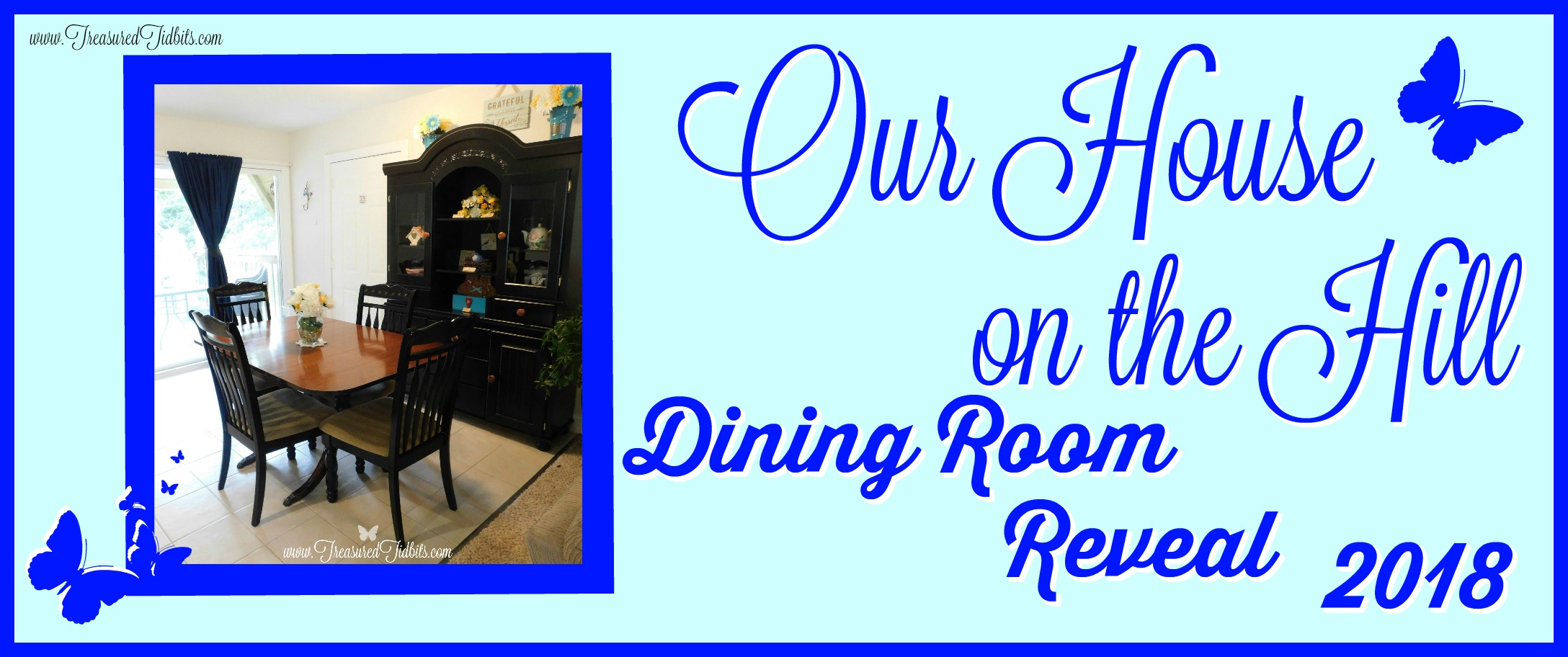 Welcome to our House on the Hill dining room.  A look back to our new house tour will remind you of its original starkness and boredom.  White, white and more white.  😎

The dining room is only a small portion of our very open floor plan, but it's used more consistently than any other space in our House on the Hill.  Not because we are big eaters or have family meals, but because it's used for multiple tasks.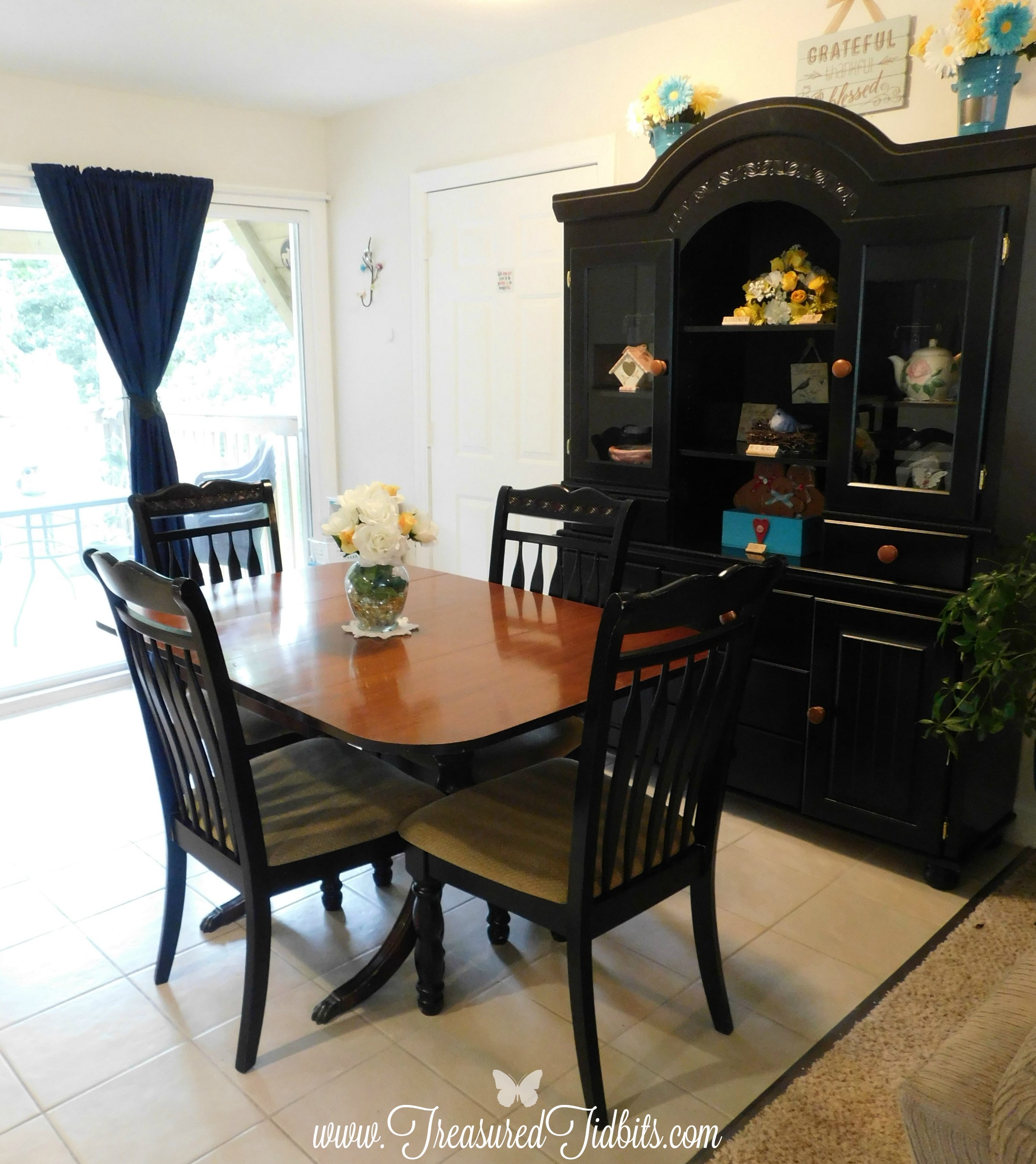 The buffet is the heaviest piece of furniture in the main area and a large focal point for the main floor.  Making it one of my favorite places to decorate for every holiday, party, season and of course, just because.  🙂  It took me more than 10 years to find a dining room set I love and another year to purchase it.  I don't regret it for one second.  While the shelves above fulfill my desire to decorate, the drawers below fulfill my need to have things organized and handy for when we are working at the table.

Want to see how?
The top left drawers contain our easy to access office supplies.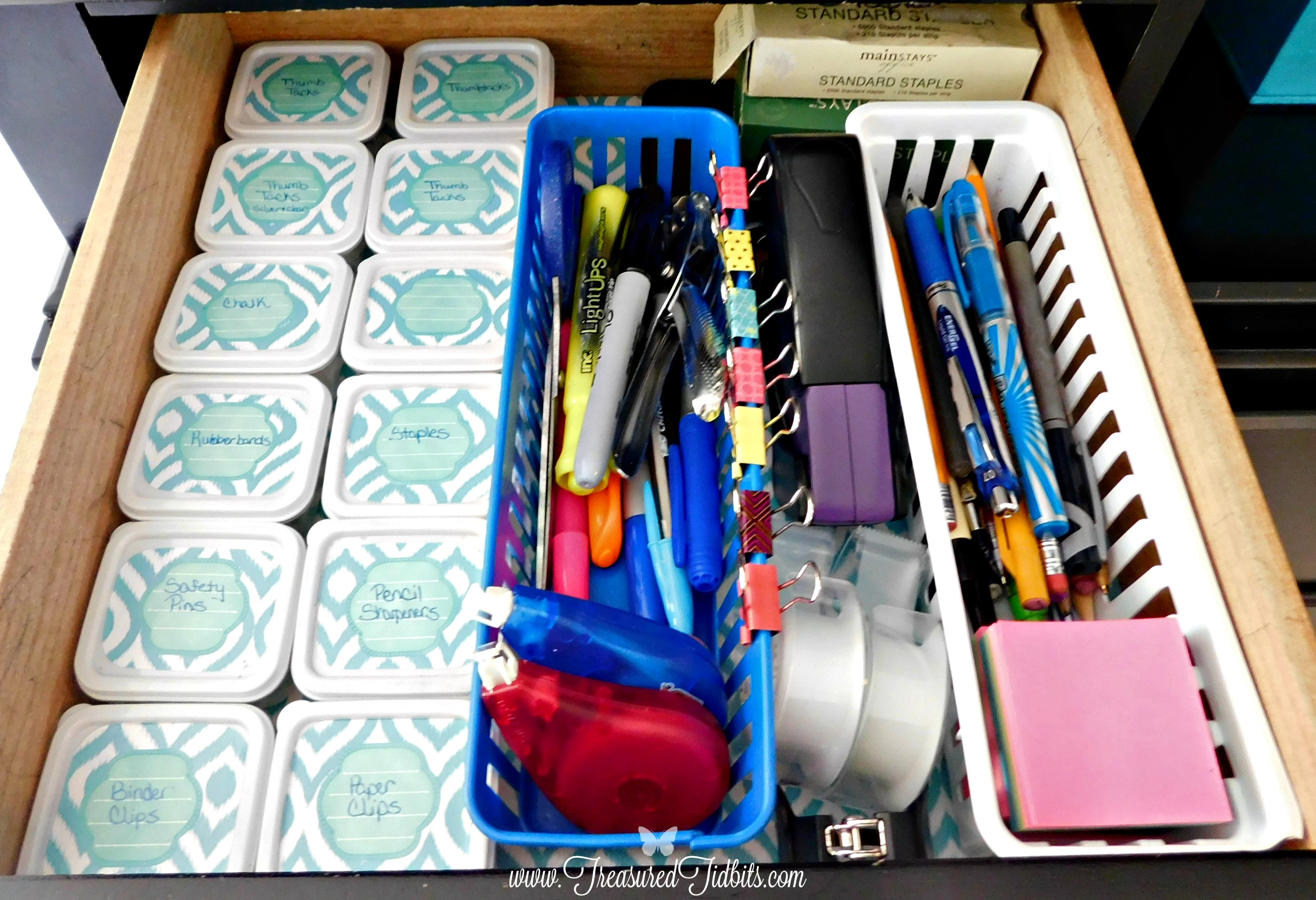 You can create the same organized look by using these 10 for $1 containers and slim baskets from Dollar Tree.  Simply add your favorite contact paper or scrapbook paper and a label to the top.  Voila!  Inexpensive, easy organization at your fingertips.
The top center drawer is deeper and is used for envelopes, stamps, labels, paper, headphones, pencil sharpener, etc…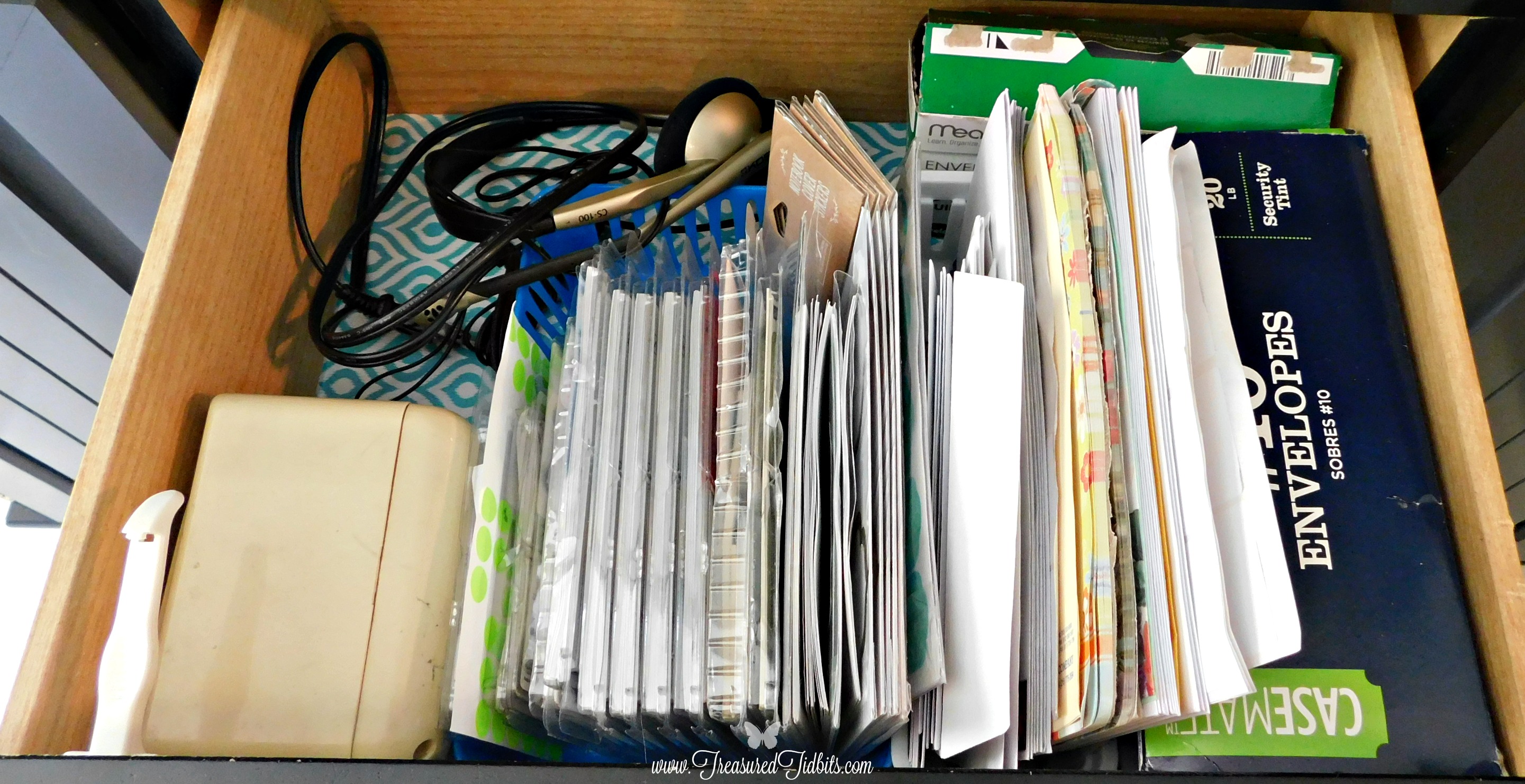 The narrow drawer on the right holds a selection of household tools like screwdrivers, special glue, packing tape, hole punch, velcro, glue gun. etc…  Items that we use fairly regularly and need easy access too, organized in our favorite Dollar Tree baskets and lined with our favorite shelf liner from Duck Brand laminate.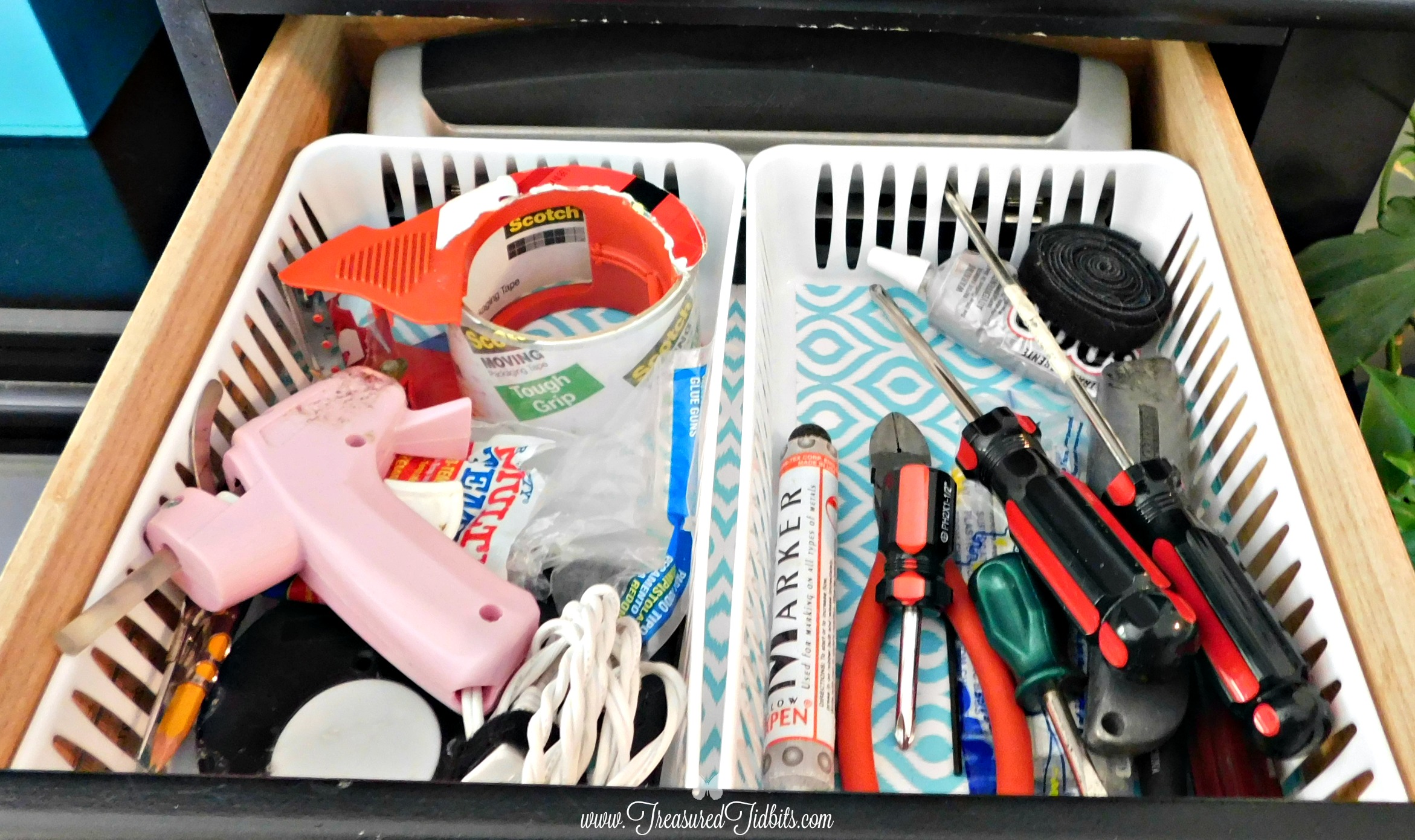 The 2nd center drawer holds our nicer kitchen towels, tablecloths and plastic table covers.  Items I use when we have company or when I am unable to do the towel load before we run out of towels, etc…  Our everyday towels and washcloths are kept in the kitchen in a stacking basket.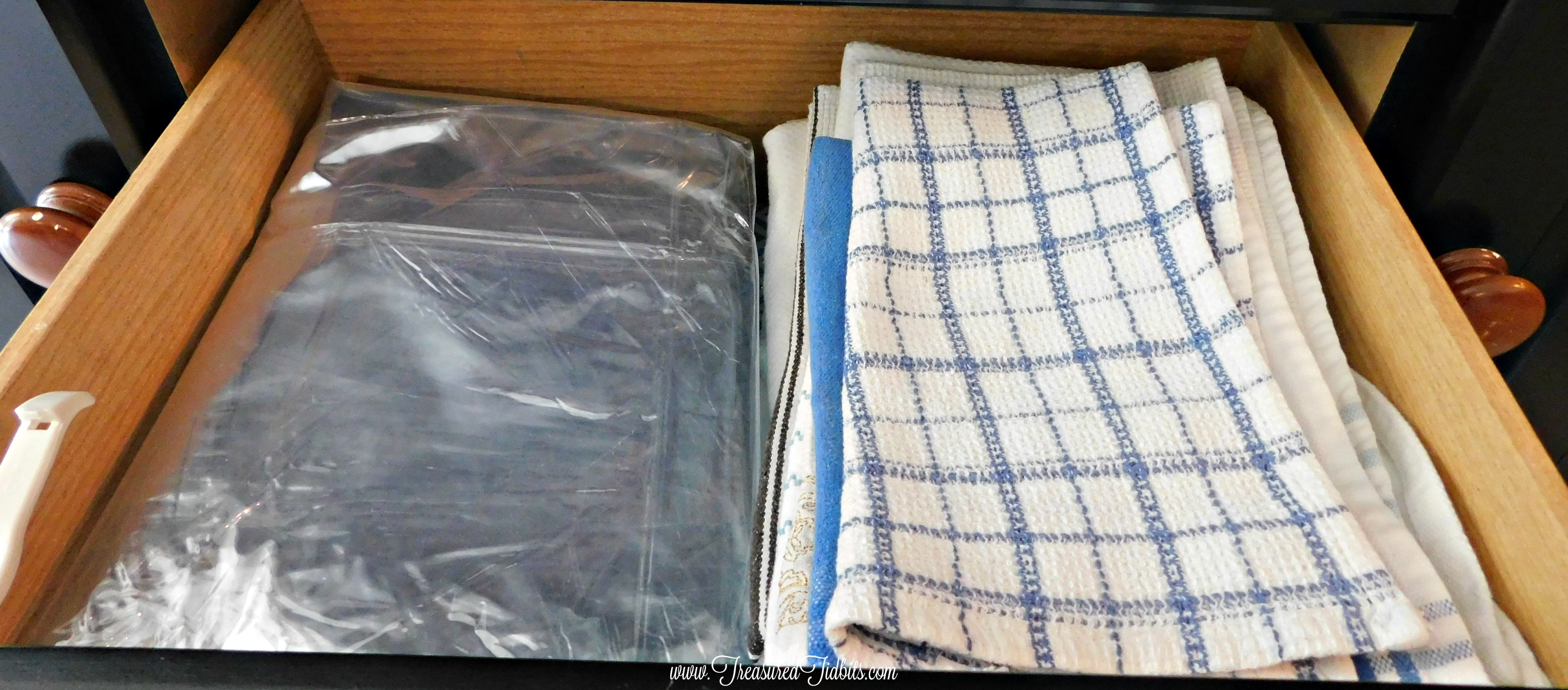 The 3rd drawer houses all our fun baking supplies: cupcake holders, icing bags & tips, food coloring, candles, etc….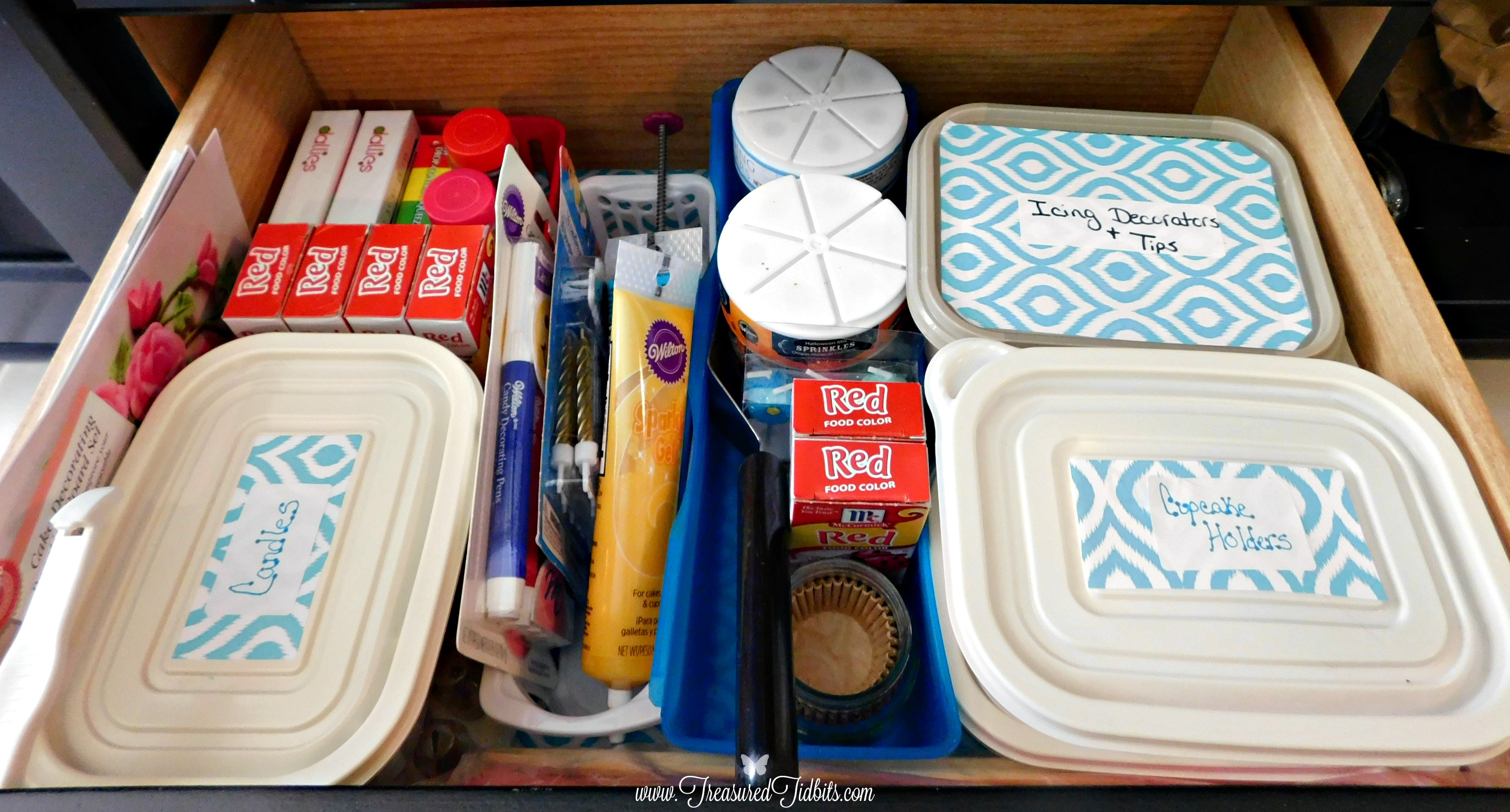 See the fun containers and labels?
They were absolutely free!  I just cleaned up a butter container, a few lunch meat containers, added my favorite Duck Brand liner and Pioneer Woman labels and these absolutely FREE containers were born.  Who doesn't love pretty and free?  I know I do!  If you haven't noticed yet, we also lined the drawers in the matching Duck Brand Liner. 🙂  The containers were labeled from the leftover pieces.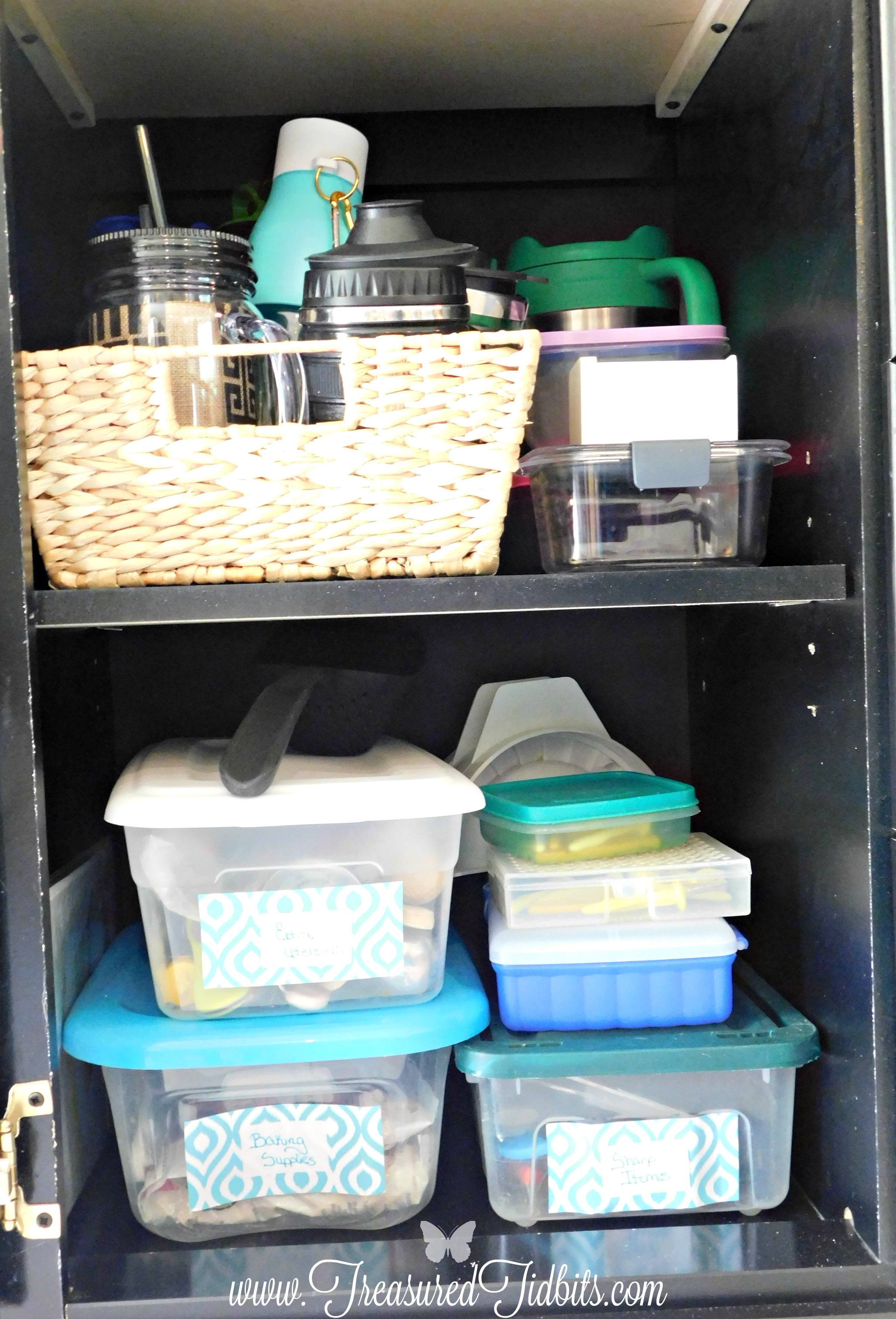 The left side cabinet corrals our travel cups and containers, extra serving utensils, specialty tools, sharp knives we only use when we have guests and help in the kitchen and a few more baking supplies.  The containers and basket were once again bought from Dollar Tree, while the labels were created, once again, with our leftover pieces of my favorite Duck Brand Liner.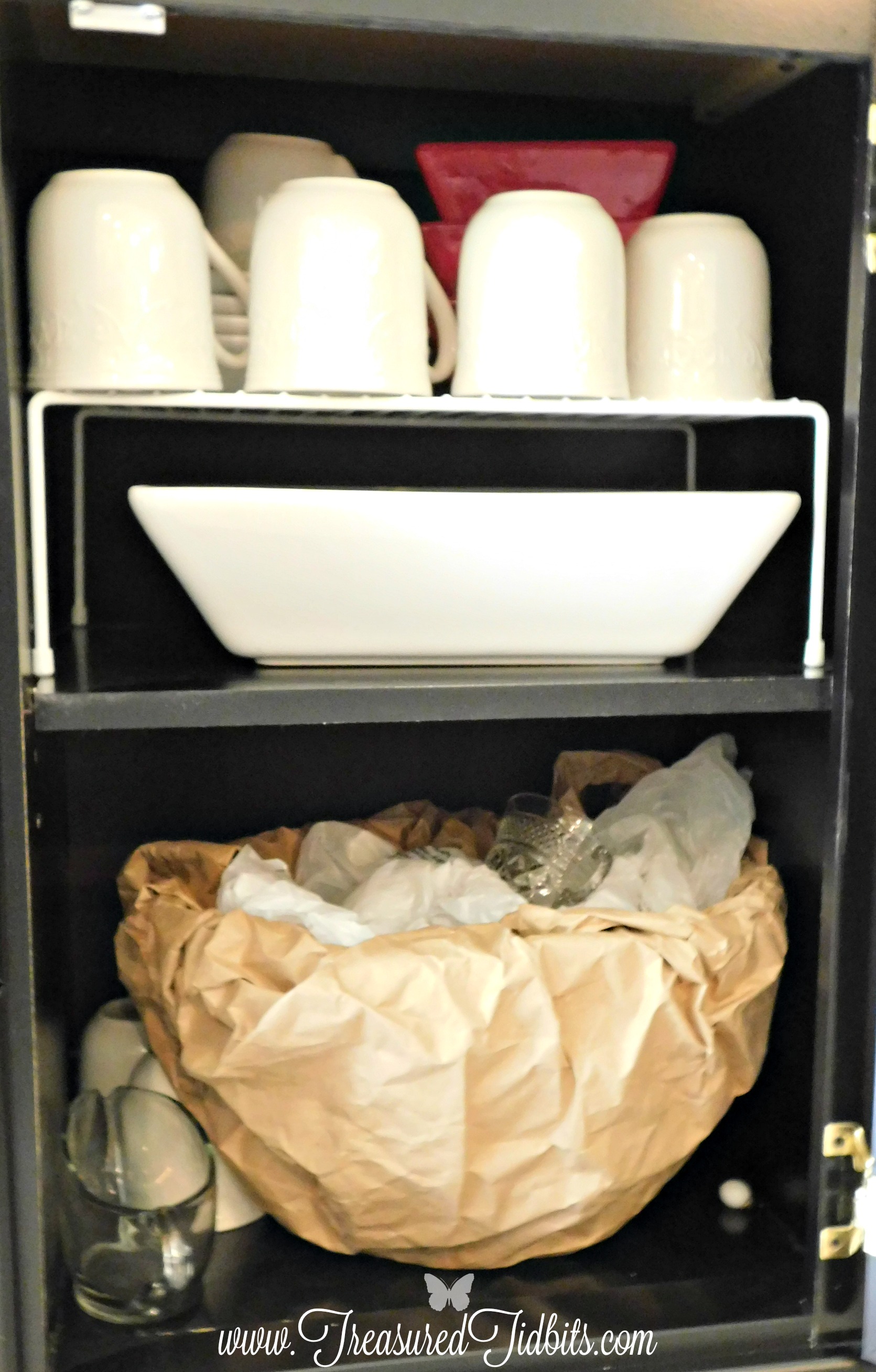 The right side contains our serving and entertaining dishes.  I love these little[easyazon_link identifier="B01EAQWDWW" locale="US" tag="treasuredtidbits-20"]shelf helpers. Don't you?  They are perfect for utilizing larger spaces for smaller items.  Just be careful the shelf helper you use is strong enough.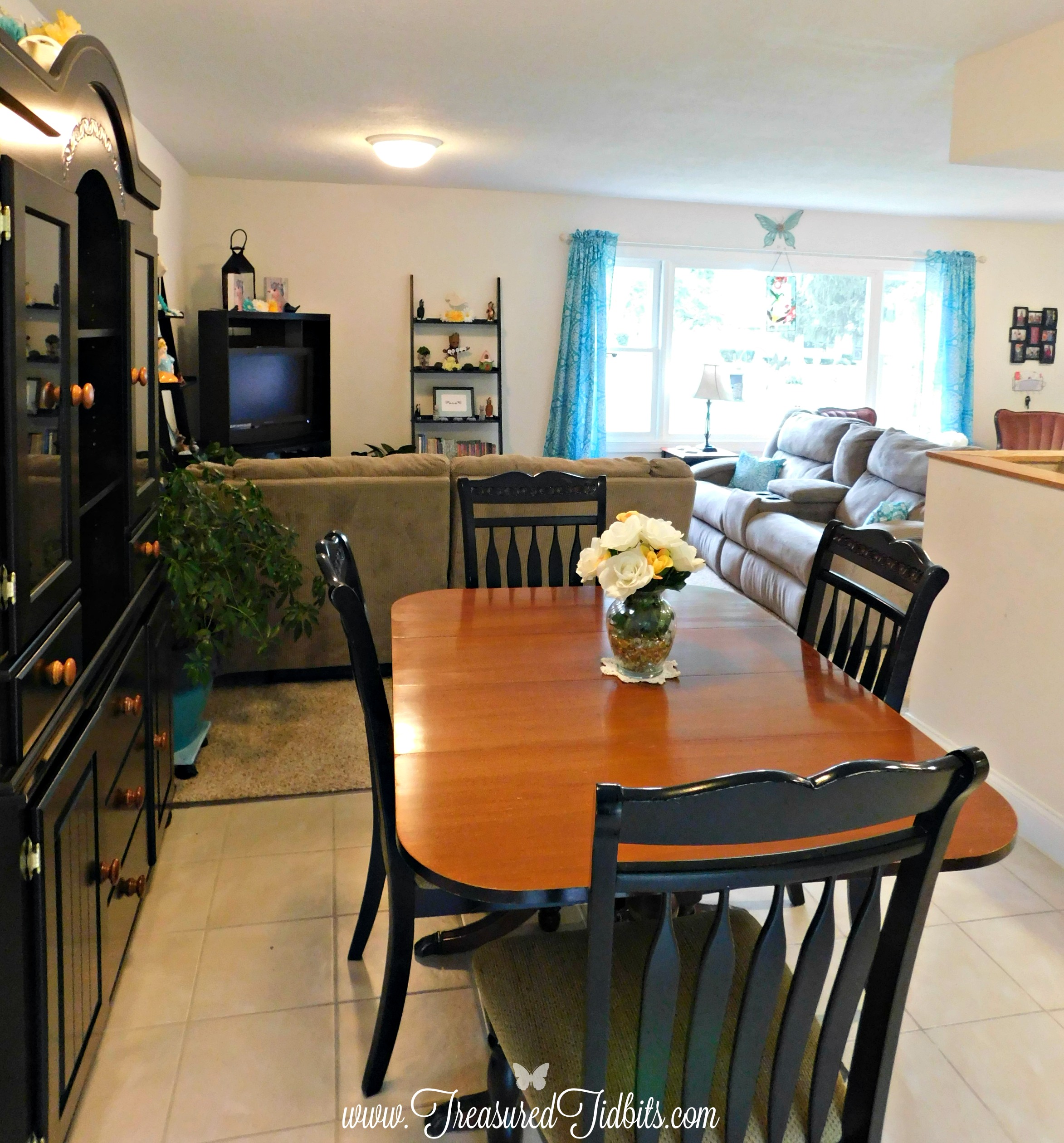 Today's dining room tour was quick and simple because as I stated earlier, the space is small and used for many, many things.  We hope you enjoyed it though and would love to hear what you think?
Can't wait to see the rest of the house?  Be sure to follow us Facebook, Pinterest and Instagram
---
Did you see something in today's dining room tour you would like to own or learn more about?  Just click the link below or above and you find something identical or similar online.  These links are affiliates and may result in a small commission to us at now cost or effect to you.  It's just a simple way to help offset the cost of running Treasured Tidbits.  For more information read our disclosure policy here.