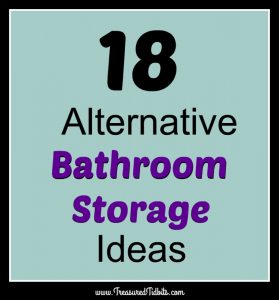 How many of you have non-existent bathroom storage?  I think we have all been there at one time or another, whether it was our first apartment, starter home or where we are right now.  This week I shared ways to maximize bathroom storage in our cabinet and counter spaces, but today we are going to "think outside the box" and find organization for those non-cabinet spaces.
18 Alternative Bathroom Storage Ideas

Back of the Door
 Use hooks for hanging robes, towels, changes of clothes and more.  Invest in one with an shelf for even more space.  Right now it is only $9.95 on Amazon.  I would have loved one of these in our small house.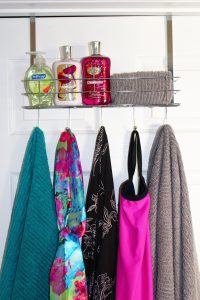 Invest in a pocket organizer.  They come in a variety of colors, designs and prices.  They can hold everything from curling irons to toilet paper and cleaning supplies.  Just make sure little fingers can't reach poisonous items.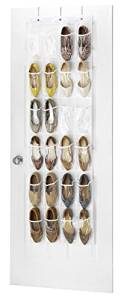 In the Shower
Add a second rod and hang bottles from it.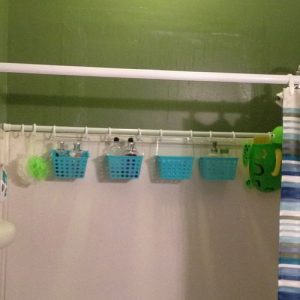 Photo via DoItYourselfRV
Add an amazing shower caddy like this one from Clever Container.  You can find more details on my Facebook page here.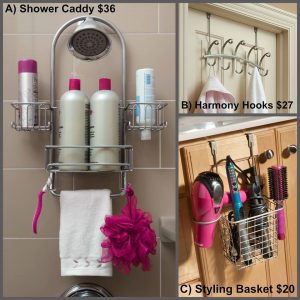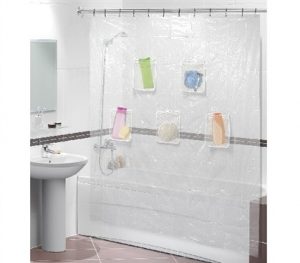 Create a portable shower caddy with all the necessities.
On the Tub
Use baskets on the corner to hold shampoo, soap, wash clothes, etc…
Thin tub back?  Add a towel rod to hold bottles in place.  This great idea and more can be found at MyFiveF's.

Photo via MyFiveF's

Add a rod along the back and add baskets for chemicals, bags for kids toys and even spread your rag out to dry.  This  great idea and tutorial can be found at TheInspiredHome.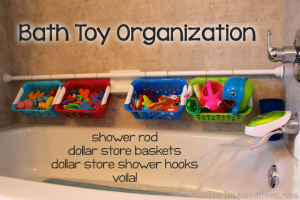 Photo via TheInspiredHome
If you have enough room, use a tiered rack to keep everything organized and on hand.
Wall
Use baskets- on their side or right side up.  I adore the arrangement Love, Melinda created here.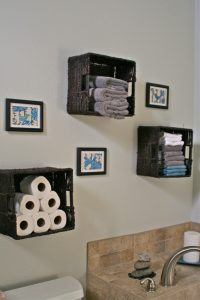 Use towel hooks instead of rods so you can hang more towels in a smaller space.
Above the Toilet
Check out this great post by overflowing with beautiful ideas.
Add a magazine rack for organizing toilet paper, chemicals, books and more.
Invest in one of these great toilet paper holders.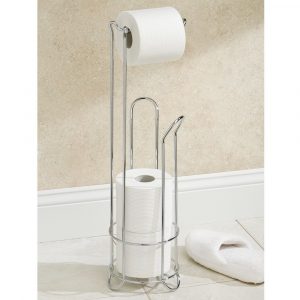 Add one of these cool racks to your toilet.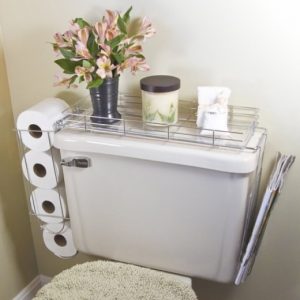 Invest in a lidded trash can or add upside down command hooks to keep bags in place.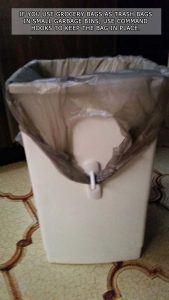 Try one of these great corner stands or have someone make you one.
---
For additional bathroom organizing tips, visit our bathroom organization board here.
If you are looking to get organized, why not join our 30 Day Organizing Challenge and receive daily emails, motivations and ideas.  Start anytime.
---
This post is linked up at a variety of link ups.
For an extensive list of the link ups we enjoy and link to click here.
This post contains affiliate links at no cost to you, but will help offset the cost of running this blog and inspiring you to get organized, live simply and save money.  For more details, read our disclosure policy here.
Save
Save
Save
Save
Save
Save
Save
Save
Save
Save
Save
Save
Save
Save
Save
Save