Inexpensive St. Patrick's Day Decor & Party Favors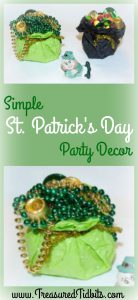 Having a St. Patrick's Day Party?  Need some quick St. Patrick's Day decor?  Search no more.
Supplies:

  Begin by folding your tissue paper into fourths.  (We chose to make one black and one green)

Place your clean jar on the center of tissue paper.

Gather the 4 corners of the tissue paper forming a circle around the jar (see photo)

Wrap and tie pipe cleaner around tissue paper/jar.

Arrange tissue paper securely and evenly.

 Trim tissue paper to desired height.
Add treats or décor.
clear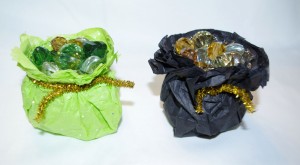 Fill with clear glass beads mixed with green and gold gems shapes.
Tip:  If you don't have enough colored shapes fill the bottom with other beads or additional tissue paper and use the decorative gems on top only.
As party treats: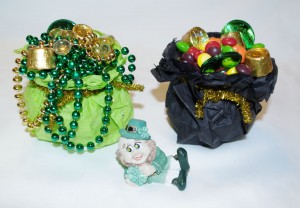 Fill jar with Skittles and Rolos or bead necklaces and coins, arranging them to be appealing to the eye.
Relax and Enjoy Your St. Patrick's Day
Bonus:  These items can be dismantled and the supplies used for additional gatherings, holidays or gifts.
Check out our other St. Patrick Day Ideas for more here.

Or Follow us on Pinterest, Facebook, Instagram and sign up for weekly email updates.
Most of our supplies were pruchased from our local Dollar Tree but I did include Amazon links above for those that may need a larger quantity or cannot make a run to a Dollar Tree.
---
Disclaimer:  Some of above links are affiliate links and may result in a small compensation from Amazon if you click on them, at absolutely no cost or effect to you.  To learn more, visit our disclosure policy here.
Save