Make Your Own Yard Tool Organizer
for $20 or Less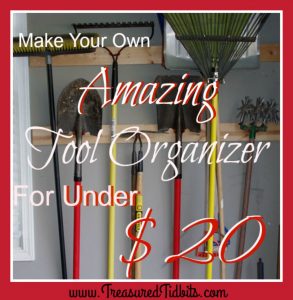 SUPPLIES NEEDED:
1 Hook for each tool being hung (various sizes are available).  We used 6 double pronged red ones.
1 Large store hook.  If you are copying our method, it is the silver hook above and will hold several tools at once.  We were able to hang 3 rakes and 3 shovels on ours.  For details on how I found one, click here.
---
Instructions for Building Your Yard Tool Organizer

1.)  Measure area to be used.
2.)  Gather & Cut lumber to appropriate length.  We used scrap lumber we had on hand.
3.)  Locate studs, you do not want this falling on your head.
4.)  Mount boards to studs.  We used a drill and screwdriver- it just seems more secure than nails.
5.)  Screw in individual hooks, AFTER verifying the location first!!!!  In order for this to work efficiently (especially with two or more rows) you need to place one item (the first to the left) and then choose the next location based on the size and shape of the tools being hung- alternating high and low.  Doing so will give you the opportunity to allow plenty of space between each tool, and reduce the risk of knocking one off on your head.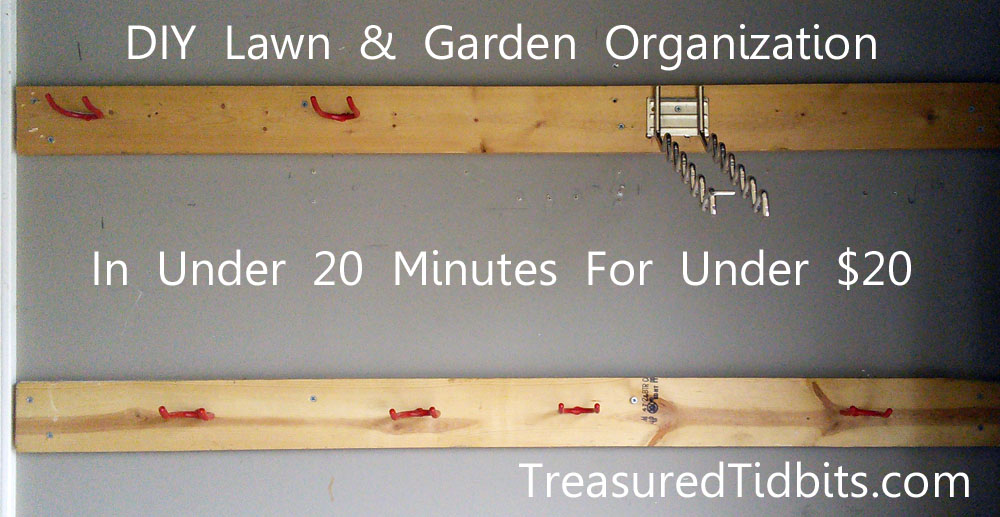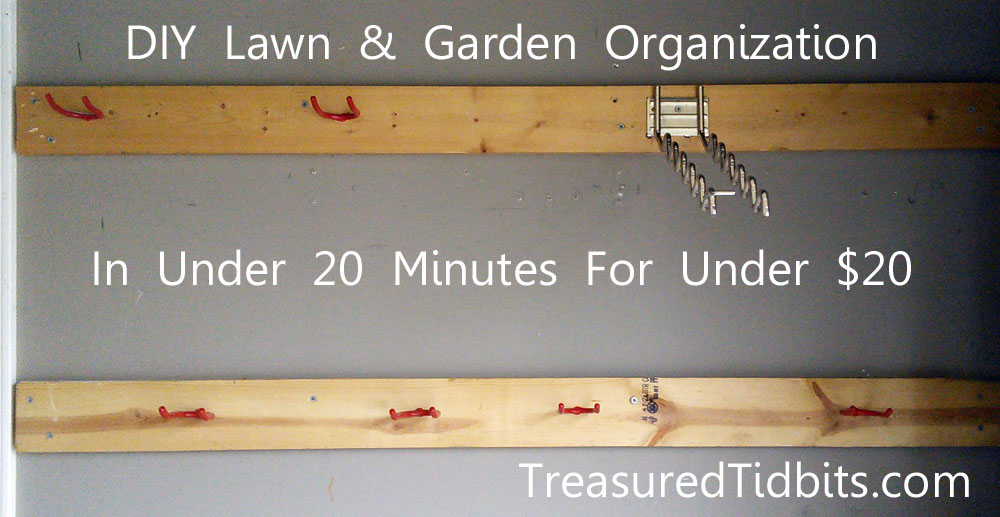 6.)  Hang all your tools, snap a pic and share it on Instagram with #treasuredtidbits.
---
For more posts on garage and yard tool organizers click the following links:
Planning Your Garage Organization
Purging Your Garage Step-By-Step
9 Simple Lawn & Garden Tool Organization Ideas
DIY Bicycle Storage in Less Than 30 Minutes for Under $30
7 Outdoor & Garage Storage Ideas For Toys & Equipment
For more great ideas follow us on Pinterest, Instagram, Facebook and sign up for weekly emails.
---
This post contains affiliate links for more details click here.
Save
Save
Save
Save
Save
Save
Save
Save
Save
Save
Save
Save