Lawn & Garden Tool Organization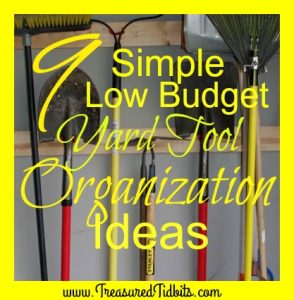 You should already have a plan in place for your yard & garden tool organization; if not this post will give you some great ideas.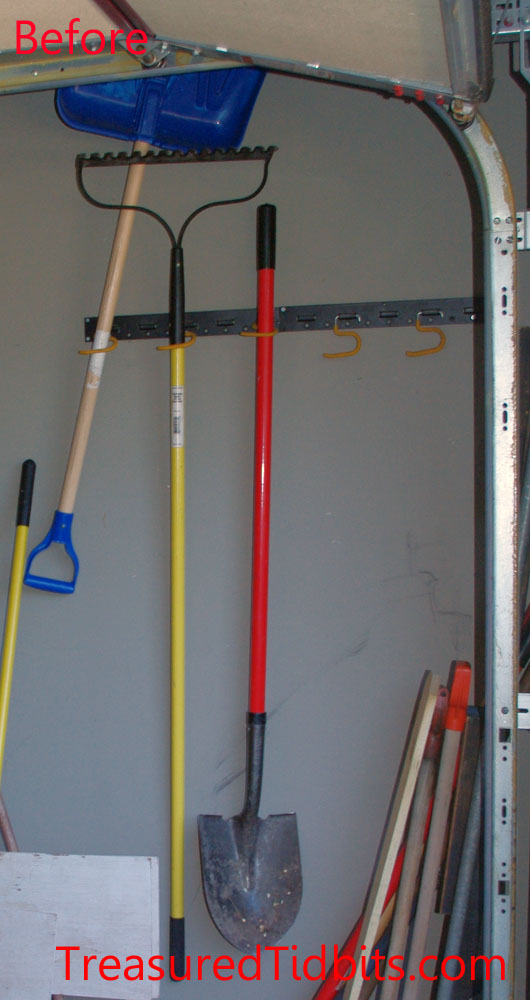 This was our "yard & garden tool organization" before this round of organizing.  As you can see, we had an organization system in place that was NOT working (unless getting bopped on the head with a rake or shovel on a weekly basis would imply that it is).
---
 5 Simple Steps to Lawn & Garden Tool Organization
1.)  Gather and clean all qualified tools.
(Rakes, shovels, hoes, trowels, etc…)
2.)  Eliminate items that are broken, unusable or duplicates.
Yes, we own 3 snow shovels and 3 rakes- I have 3 children to use them.  LOL
3.)  Assess the remaining items.
Check to make certain your original plan will work.
4.)  Create a detailed plan
Before you begin drilling, pounding or cutting.
5.)  Hang/organize your tools.
See below for suggestions if you are still stumped.
Our finished corner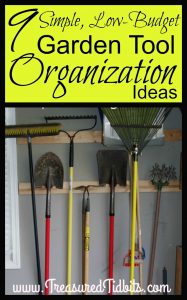 I enjoy this so much more than the mess we had before.  It is much more secure and easily accessible, and my head feels much, much safer.
It helps that we eliminated some items and the toys in front, but there is one piece of organization in there that saved the day for me.
This!!!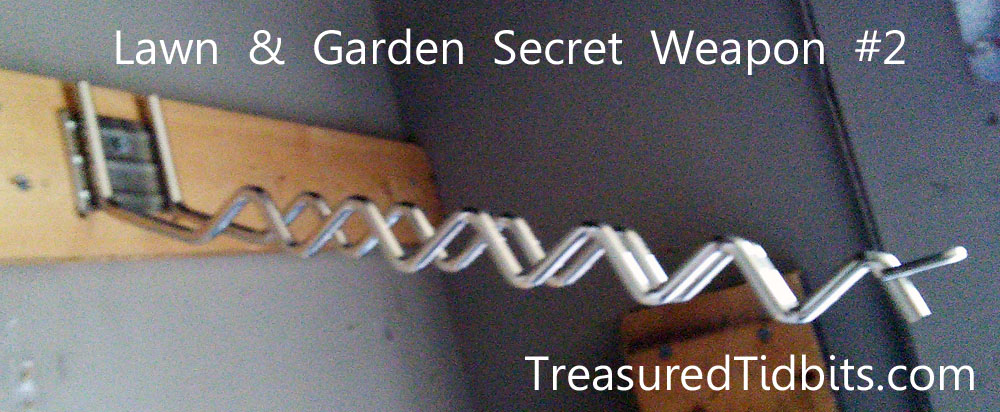 What is it?  It looks like a store display hook, you say?  It is.
Let me tell you the little story behind it.
When we started this project we, hubby & I, took a little trip to the local hardware stores.  Small town=Small stores.  We cruised the aisles to see what was available and I saw the above hook.  I knew it was perfect for our garage, but they aren't for sale, right?  I mean, it is what they use in their own displays on the shelves.  I may be bashful sometimes but I seriously wanted my garage organized, so when the salesperson on hand asked if she could help us, I told her, "I want one of those, if you have any you aren't using."  She found one (which is all I needed), checked the catalog for a price and sold it to me.  Since then, they have sold a few more; people at our garage sale saw it while we were assembling it and went in and ask for one.

It holds 3 snow shovels and 3 rakes perfectly.  Can you imagine if I had to spread them on the wall how much space they would consume?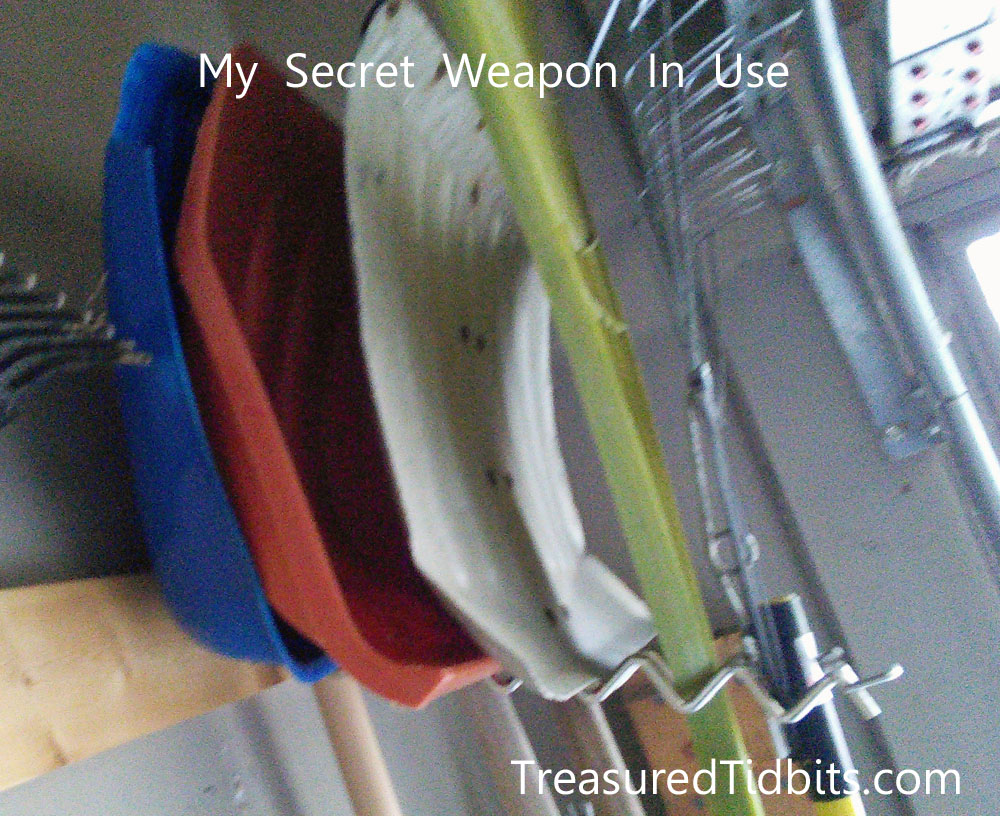 It cost us approximately $20.00 or less to build this unit including the wood and additional hooks.
Click here for instructions.
---
Here's a peek at where and how I store my garden gloves and smaller tools.
In the summer, one trowel is on an easy to grab hook in the command center, but for winter it is kept in the white cabinet in a $.97 labeled container from Dollar Tree, after we clean it.
Here are some more great lawn & garden tool organization ideas.
1.)  File Cabinet Turned Lawn and Garden Tool Organizer From Trash to Treasure Blog
2.)  Free Garage Storage From Unexpected Elegance
3.)  Cheap and Easy Tool Storage From NewlyWoodwards
---
For more posts in this series click the following links:
Planning Your Garage Organization
Purging Your Garage Step-By-Step
How To Build A Yard Tool Organizer in 20 minutes for Under $20
DIY Bicycle Storage in Less Than 30 Minutes for Under $30
7 Outdoor & Garage Storage Ideas For Toys & Equipment
For more great ideas follow us on Pinterest, Instagram, Facebook and sign up for weekly emails.
 #myjourney, #Garageorganization, #gardentoolorganization, #yardtoolorganization
Save
Save
Save
Save
Save
Save
Save
Save
Save