Who hasn't seen the cute flowers hanging out in local yards lately?
The ones that last year-round and are made from old (and new) dishes.
What a cool idea!  Of course, being the crafty person I am I just had to try my hand at creating my own and I must admit it has been a learning process.
They are beautiful and everyone wants one but finding the right combination of adhesive, mounts, and bases has been a challenge.  A big challenge.
Because I chose to offer a few for sale, donate to charities and even gift a few I of course wanted to be certain they would last in all types of weather including our midwest storms and heat.
We tested the 1st batch for 2 months in the heat,  wind, and rain and had NO problems so we put them on the market and then lo and behold a nice big storm (106 degree humidity and 90 miles an hour winds) took down 2 of 20, so back to the drawing board it was.
We have used "Go to Glue" and "E-6000" and so far both have held up all summer, fall, winter and spring.  The glass has NEVER separated but a few of the backs have come off in the very strong winds so we are still using the E-6000 on the dishes and the new plumber's glue on the back.
Alright, enough about our learning curve, on to the creating!
---
How To Create Flowers From Your Repurposed Dishes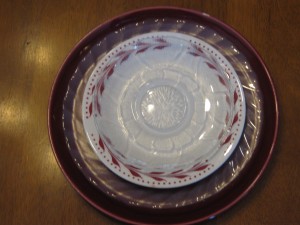 Supplies needed:
Layers of coordinating or contrasting plates, saucers, cups, bowls, glass beads, etc…  (Don't be afraid to try odd color combinations.)
Rough Sand paper (for roughing the edges to be glued).
Alcohol and cotton balls (for final cleaning to remove all dirt and film).
Mounting supplies  (We used U-braces or sometimes copper tubing, if you are drilling this would be a bolt and 2 nuts.)
Adhesive  (We will demonstrate using E-6000 but you can do your own research based on your climate and use what you feel is necessary.  If you are going to simply display it inside your home E-6000 or Go to Glue will both be sufficient.)  Both are toxic so PLEASE use in a well ventilated area.
Stem  (We prefer the metal fence post sold at most home improvement stores but you can use whatever is convenient for you, just be certain it will hold the weight of the glass & withstand any storms.)
Removable weights  (We used long boards with more boards or books on top.  This is to create enough pressure to be certain the glue is tight and sealed.)  SEE PHOTO near the end of this post.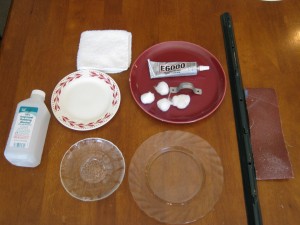 Yay!  You have your supplies and are ready to start! 
Note:  Due to drying time, flowers will take a minimum of 4 days before they can be mounted.
Begin by layering your dishes.  Do not be afraid to try multiple combinations, the best flowers are created this way.
Here are some combinations we have created.
Make sure to look at the final product from several angles (before gluing).  Both flat on the table and upright as it will be seen hanging on the stem.
Once you have chosen the dishes you are going to use, clean them.  (I use the dishwasher for this, with my EDS it is much more time efficient and less painful- I have learned that if I am creating multiple flowers at one time to take photos before inserting them into the dishwasher so I don't have to go through the matching up process again.  LOL.)
NOTE:  I do not wash them with actual dirty food dishes, but other items that simply need dust and grime removal.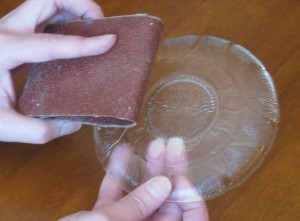 Sand the part of the dishes that will be touching and the edge of the hanger you will be mounting to the back dish.  This roughens up the edges and creates a better surface for the adhesive to grip.  (If you are going to drill, now is the time to do so.  You will need a diamond drill bit, water, goggles and a tutorial if you have never done it before.)
Note:  You can do this before the dishwasher, but before I take the time to sand I like to know that the dishes I am using will come clean.  Most of them come from garage sales and thrift shops and have sticker residue and sometimes other gooey stuff that is hard to remove.
Wipe with a damp cloth and allow to dry.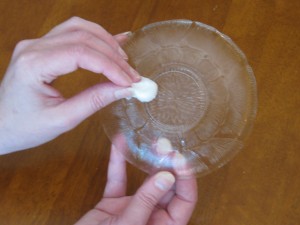 Apply alcohol to a cotton swab and clean each dish individually to remove all dirt and residue. 
Note:  This step is important as dirt and grease can keep the adhesive from adhering solidly.
Time to start gluing!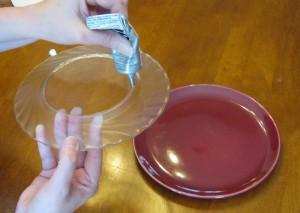 Begin by laying the bottom dish flat on the table.  Apply adhesive to the back of the second dish where it will be touching the back plate.  (This may only be a lip or it may be a 3 inch diameter, regardless, apply adhesive liberally and place onto backplate, trying to center as you go.  This adhesive will be sticky for a few seconds so you can re-center your dish if needed but making adjustment may leave a visible residue.)
REPEAT for additional layers.
Once your flower is complete you will need to add some weights (see photo) and allow the glue to dry for a minimum of 24 hours.  (I prefer 48 before mounting the back.)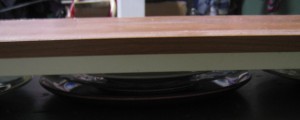 To adhere the roughened brace simply turn flower over, apply adhesive to center and add mount.
Yes, folks this is a different flower.  Being the procrastinator I am the red flower has not finished drying yet and it is time to post on the blog so here is a similar plate with the brace attached.  I have chosen to use this kind of brace because it allows the flower to be removable and slides nicely onto the fence posts we use.
Then balance plate with additional pieces of wood or whatever is handy and add another top layer to press the weight down (without bending or sliding) on the mount.  Once again allow to dry a minimum of 48 hours in a well ventilated area.
Mount to base and ta-da you have a lovely new glass flower.  Created by you!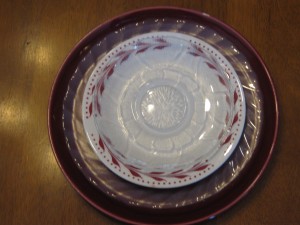 ---
Additional Tips
Please keep in mind that your flower is made out of glass and can be damaged by hail, baseballs, rocks, etc..  Keep this in mind when placing your flower in the yard and it should have a very long life.
My honey broke one of the fragile centers when he ran into it with the lawnmower handle so we moved them farther back in the flower bed and no longer use very fragile glass.

---
Disclaimer:  Some of above links are affiliate links and may result in a small compensation if you click on them, at absolutely no cost or effect to you.  To learn more, visit our disclosure policy here.
Can't get enough of Treasured Tidbits?  Follow us on Facebook, Pinterest and Instagram where we share more each day including other sites, deals and inspiration.
Save
Save
Save
Save
Save
Save