What a mess!
When we first moved in to this house two and a half years ago, this "beautiful" orange room was my sister's.  Even two years after she has moved out, we still call it "Aprils room", however it should be named the "Junk Room".
We use this room, the junk room, as well as the enormous attached closet, to store: seasonal decor, craft supplies, seasonal clothing, blankets, home decor, empty boxes, baby items, memory items, extra furniture, party supplies, gifts for later, suitcases and anything else we want to store and keep out of sight.
I cannot believe we moved from a tiny house with 3 super-small bedrooms, almost no closet space and no garage to this house with 5 good sized bedrooms, 4 huge closets, a garage and an office with built-in cabinets and still are not able to keep things organized.
Can anyone say HOARDERS?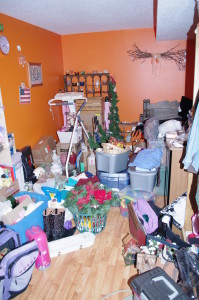 This is the view as you look to the right in the long, narrow, windowless bright orange junk room.
What you don't see:  Along the right wall is my daughters pre-built clothes closet, an extra large rolled up floor rug, the pieces to a walnut bunk bed and an extra three piece floor stereo system.
What you do see:  A treadmill (no one uses it because it is always full of junk), our hand built Barbie Doll house, all the glass for creating yard flowers and birdbaths, extra baby toys and paraphernalia for babysitting and all the stuff I have sent to the junk room in the past two months, just waiting to be organized and added to the totes in the attached closet.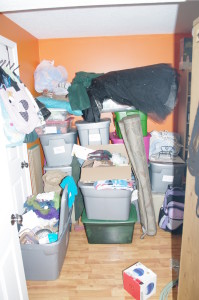 This is the view directly ahead when you open the door.
The front totes and boxes contain the items we have removed from the upstairs purging.  These need to be worked into totes and storage (to be built) in this room.  The large black item above is the beautiful dress my daughter wore to prom.  It contains 11 layers of material in the skirt and cannot hang on a hanger without causing difficulty in our closets, so it has been banished to the junk room where we can close the door and protect it from the cats.
Enough of the mess!  Let's see the results!
---
An Organized Junk Room

Everything has it's Place!
(Well, almost)
 SUCCESS!
We removed the walnut bunk bed pieces and made much better use of the space by adding the large corner TV stand my husband had created for our previous family room.  It is very deep and works well for layering items we might not need access to everyday.
In this case I decided to store my extra books in back, along the deep walls.  Our family likes to trade books and I had been keeping them in my upstairs closet, but I decided they had to go somewhere else when I purged it earlier this week.  They will be much more accessible on the shelves rather than in boxes on the floor of my closet.  ( To view that embarassing project click here.)
I decided to put the large (heavy) dishes I use for my yard art on the deep upper shelf, and boxes of other heavy glassware and more books on the lower shelves.
The top works perfectly for staging my blog and yard art projects, while openly storing some of the smaller items.
The shelf on the left was already here but was buried and filled with heavy items we were unable to stack safely.  It is now the home of easily accessible, lightweight items I will be using for home decor and blog posts.
The entire idea of organizing this section of the room was to allow me to have easy, comfortable, quick access to items I enjoy using in blogs, craft projects and home decor.  As time progresses, we will remove the wreaths and swags from the arm of the treadmill and all the items hanging on the hook on the shelf and add them to a folding display rack that will be set up in front of the long shelf.  (As you can see, I am big on re-purposing furniture and anything I already have instead of buying or building new.)
The last shelf was created specifically to hold flower arrangements, vases and glassware used for yard art.  It was created using a mix of re-purposed wood from our garage and pieces we had to purchase to make it complete.  See how we rebuilt this in a later project here.
The bottom was designed to neatly and safely store the tall birdhouses,vases and lamps (used for birdbath bases in my yard art) and small containers.  The small containers hold the adorable little outfits (by size) I have begun to gather in preparation for the conception and birth of our next baby.
I can't wait to begin using the complete room for prepping and planning blog posts and yard art projects!
Purged Items
It is amazing what a little reorganization and planning will do.  As you can see, compared to the original mess, we didn't removed very many items.  We simply found better ways to organize it and actually took the time to put it away.
---
Want to see and read more from Treasured Tidbits?  Follow us on Pinterest, Instagram, Facebook and sign up for weekly emails.
Save
Save
Save