Today's "makeover"  is once again not anything visually exciting.
I haven't bought new bedding or curtains, painted the walls or created a masterpiece.
I cleaned, scrubbed, polished, purged and reorganized instead.
The idea of "Making Over" our room and closet on a budget of $100 is not to make it magazine photo worthy but to make it clean, comfortable, loving, and most of all organized.
This weekend (with the help of hubby for muscle) I tackled the far wall.
The original plan was to move, empty, purge and wipe down the two bookcases and nightstands.  Then, clean under and behind everything.
Confession #1:  We had not moved the bookcases since we moved in 3 years ago.
We tackled that and THEN I decided it was going so well we should go ahead and do under the bed, behind and under the chest of drawers and even the dresser.  My amazing, supportive hubby went for it.  I did not clean these pieces yet, just under and behind them while I had Superman helping me.

Before and After Pics
We began by emptying this bookcase (the top two shelves are hubby's), wiped it down and cleaned behind it.  You can explore more about their contents here.
It went fairly easy, there were no big surprises or items removed.
We did rearrange things a bit and removed a few items, but the majority stayed.
The second bookcase (mine) was another story.
We tend to fill it with random items, books, and always purchase them second hand.
It did get purged and slightly rearranged, but the big surprise came when we moved the bookcase away from the wall.
Confession #2:  We could have built a small kitten from the pile of dust and hair behind it.  Which kinda knocked me for a loop because I vacuum the edges, vents and under furniture weekly to remove cat hair.  I am still not sure how it all accumulated back there since none of the other furniture had a collection.  I was too shocked to take a pic, but I will be honest and admit it was there.
We also purged the drawers in the nightstand, which pretty much means I wiped my drawer out then returned the medications, books, heat pad and Kleenexes and my husband rearranged his electronics and carried a bag of stuff to the basement.
He did let me toss 2 useless remote controls, that's progress, right?
The big thing I did for the nightstands was dusting, cleaning them with wood cleaner, treating the scratches and polishing again.
These are actually OLD side tables, but they are super shiny now.
Look at the shine in the after pic above!
BTW, your eyes are not playing tricks, they do not match, whatsoever, and we are okay with that.
Our bedroom is full of heritage and love.  If you notice, the bottom bookcases are filled with scrapbook albums, the top 2: regular books and collections that say something about each of us and the remaining two with odd non-decorative items.
These shelves are our "Memory Or Heritage" Shelves.
Each of these items holds a memory from our marriage, heritage or childhood that I will share in our next room update post.
The only items purchased new in our bedroom are the décor (some of it) and the mattress set.  The rest is inherited, hand-me downs or purchased second hand, and I am okay with that because it allows us to intentionally spend our funds on things we enjoy and surround ourselves with memories of the people we love.
We clean under the bed and nightstands every 6 months or less, so there were not any surprises there either, thank goodness, but when I removed the wall décor I found that my Swiffer was not cleaning the candle holders as well as I had hoped.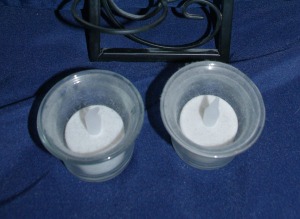 Instead I found this!  Eeewww, Dust!  So I will be adding "Wipe down wall candleholders" to my weekly dusting list.
---
I know the photos do not show big changes but knowing that the room is clean, the shelves organized and the furniture polished gives me a warm fuzzy feeling.
Please don't get me wrong, I dust and vacuum several times a week but knowing it is deep down clean feels GREAT!
---
Thank you for stopping by and sharing a small part of our world.
As we all know we often create a larger mess as we are trying to clean the one we already have.  Here is a peek at ours in progress.
Beautiful, isn't it?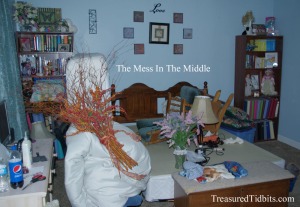 Thankfully this mess didn't stay long and was easy to resolve.
Now, our master bedroom looks more like this.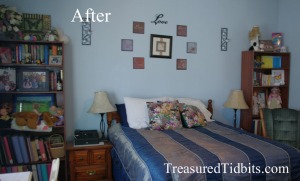 ---
What do you think?  Do you like a clean, organize space?  Or a sloppy, messy one?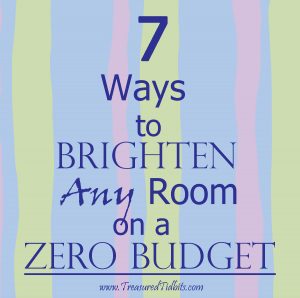 Want brighten a room but do not have any money?  Check out this list of FREE room brightening ideas.
To see more posts like this follow us on Facebook, Instagram, Pinterest and sign up to receive weekly emails- where we share upcoming deals, printables and more.
---
This post contains affiliate links that help keep Treasured Tidbits up and running at NO cost to you.  To discover more about it please read our disclosure page here.
Save
Save
Save
Save
Save
Save
Save
Save
Save