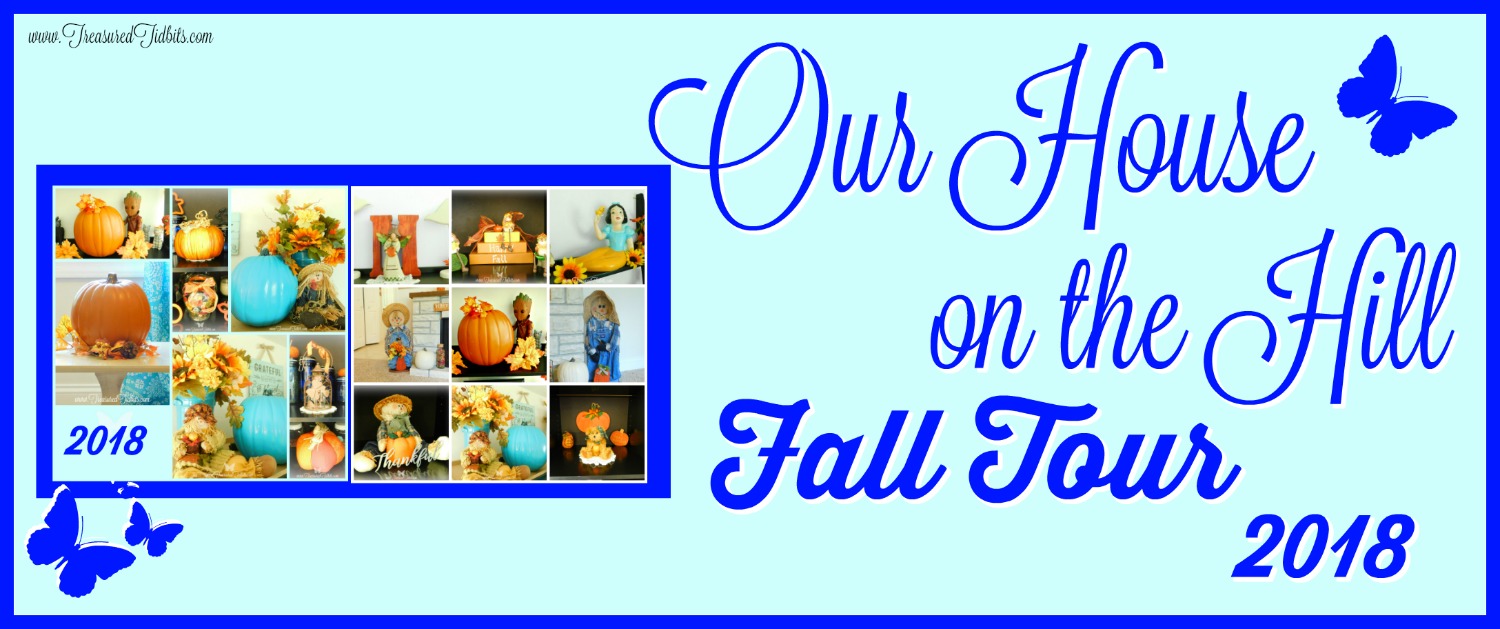 Welcome to the first fall tour of Our House on the Hill.
In reality it is actually our second fall residing at Our House on the Hill but with moving, my daughter's serious health decline and my limitations, we chose to forego sharing our home or decor for more than a year but we are back and super excited to share it with you today!
Are you ready?
Fall Tour 2018
Our House on the Hill
Disclaimer:  Some of you may be a bit overwhelmed by just how much we love fall, so consider this your warning.  This post is overflowing with photos and not your average fall tour blog photos, but real, use what you have and have fun fall photos.  Be sure to leave a note telling us what you think.  Too much?  Too little?  Too boring? Too eclectic?
The entry.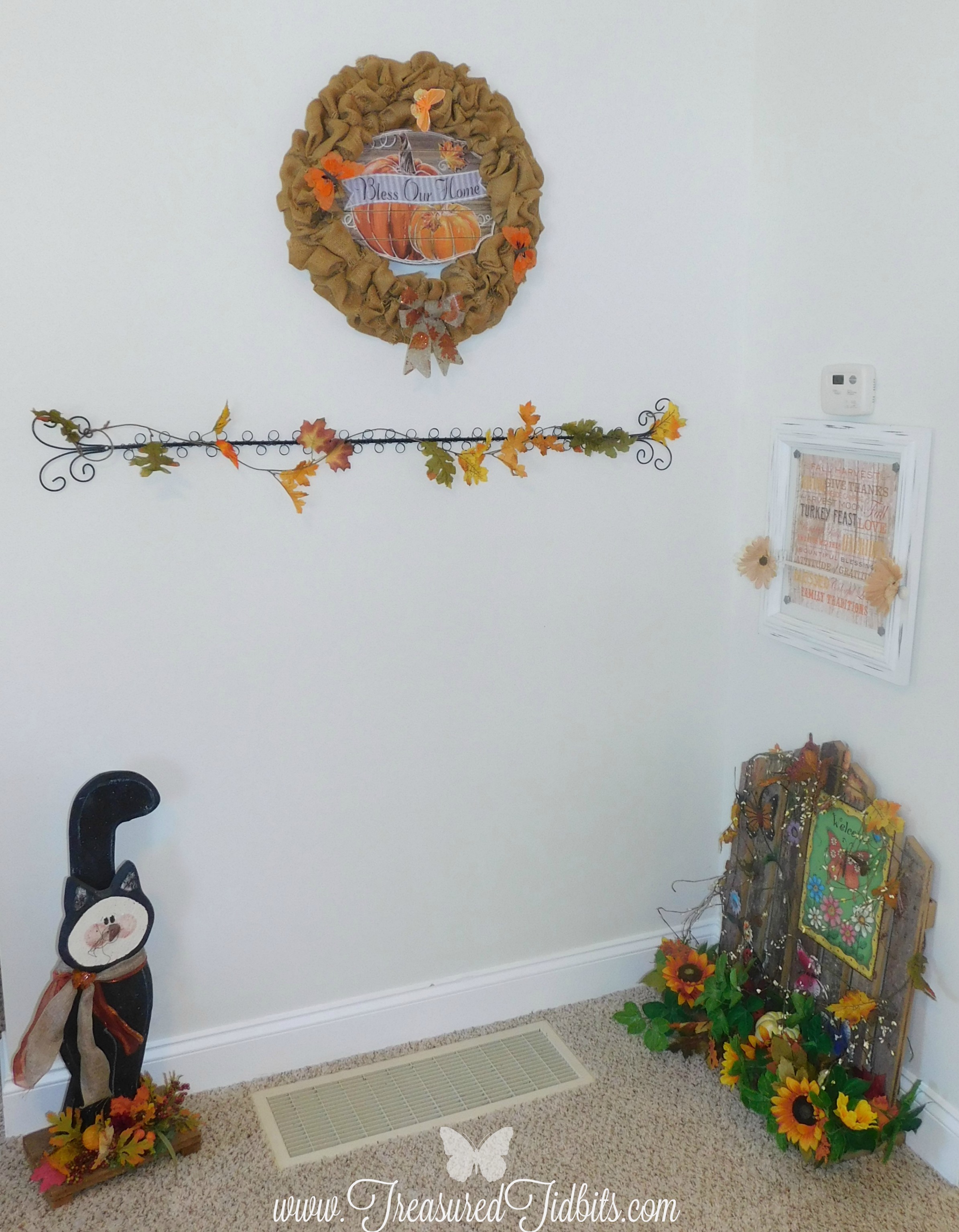 For this currently awkward entrance area we chose to spruce up our everyday entry items with inexpensive Dollar Tree accessories and flowers we already had.  Isn't it gorgeous?
How about a closer look?
Isn't Mr. Kitty looking dapper with his butterfly scarf, crooked nose and little garden patch?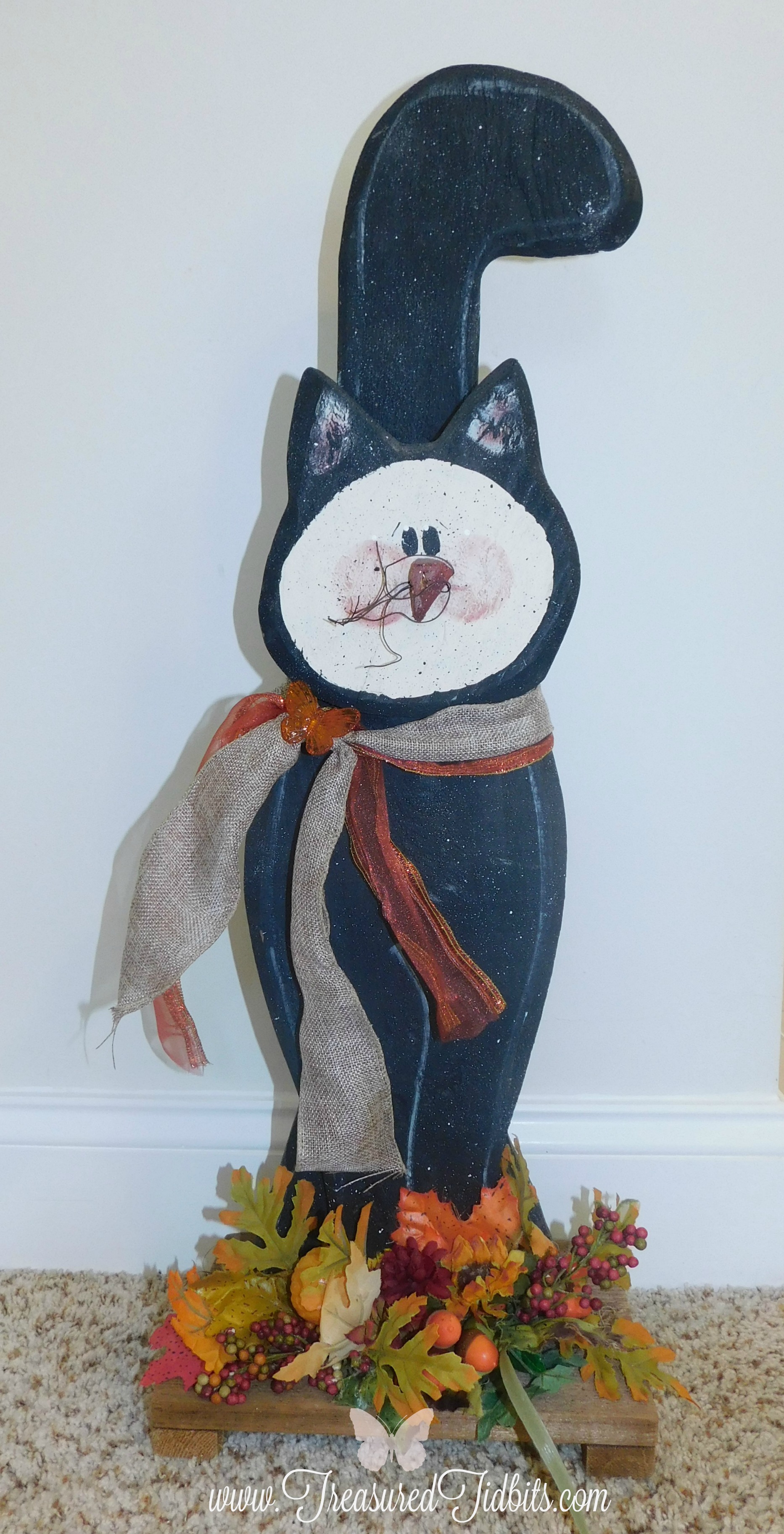 Our interchangeable wreath.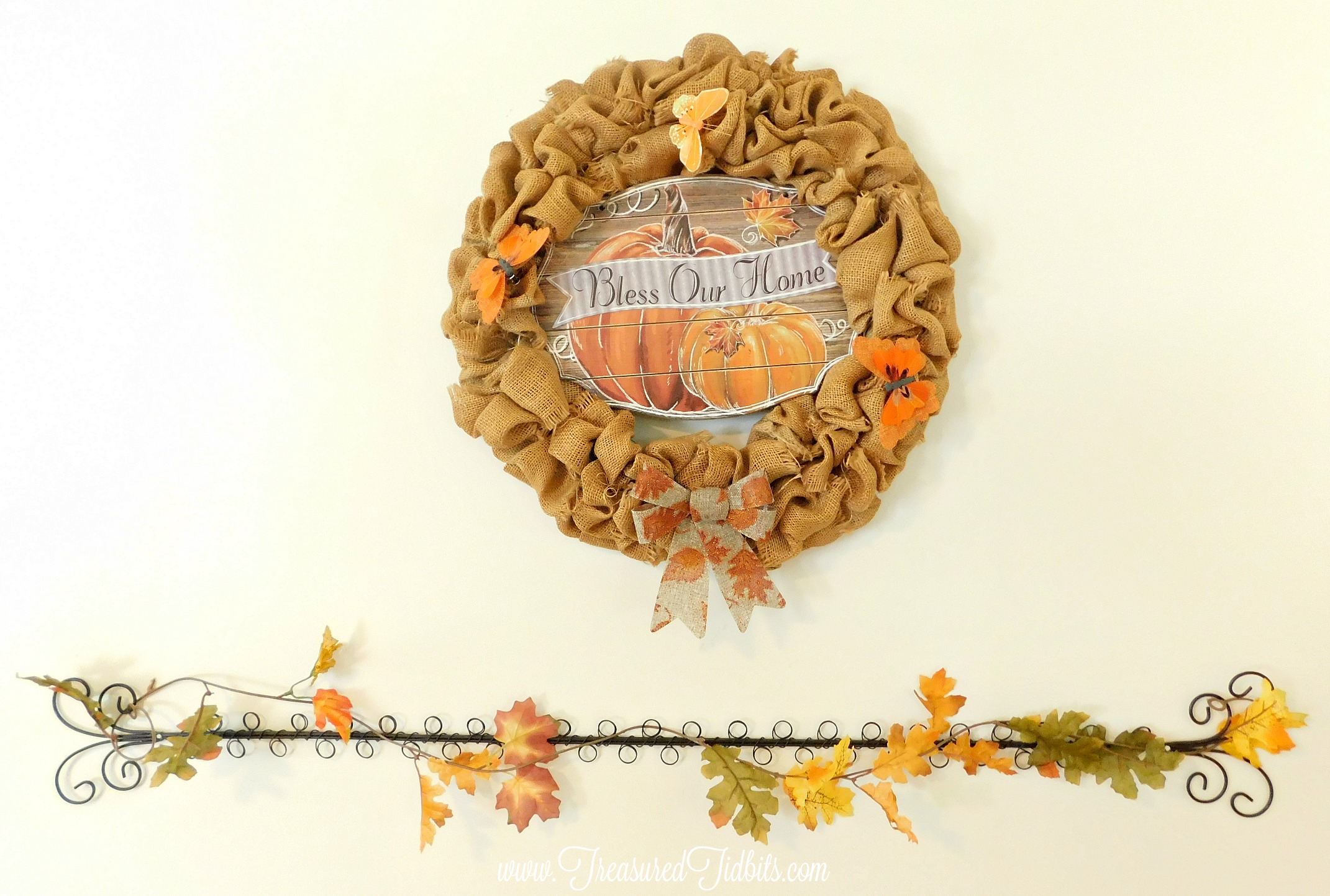 Yes, I said interchangeable, it was created by adding three Dollar Tree items to our year round plain burlap wreath base.  It's so much easier and affordable to store interchangeable accents and one wreath, than it is to store four or five different wreaths.
What about this fun fall fence?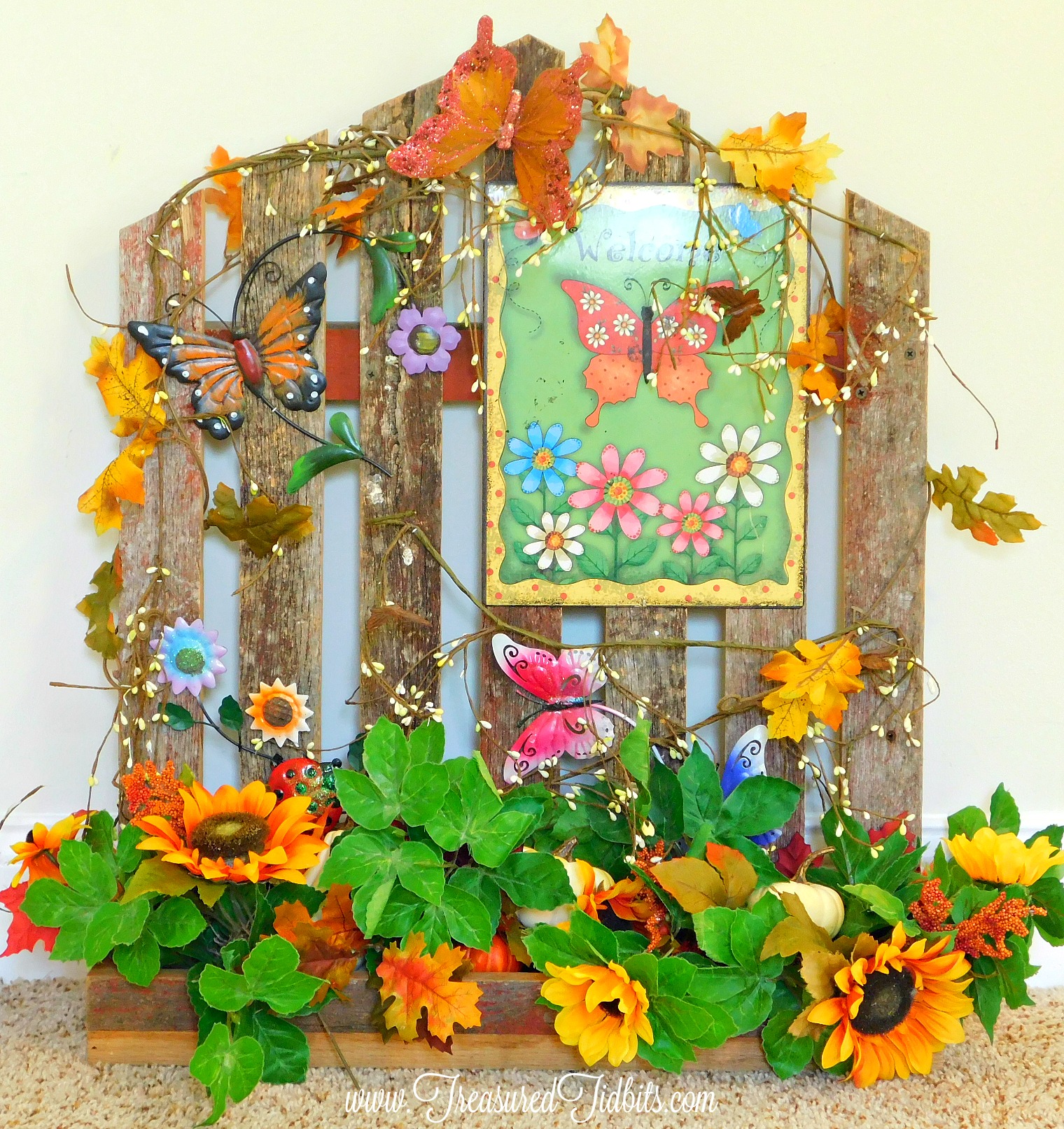 It was gifted to me a few years ago around this time and it suits this space so well we decided to make it seasonal, just like Mr. Kitty and the burlap wreath, by adding some fall flowers, pumpkins and more.  I was pleasantly surprised how it turned out.
And how about this fireplace?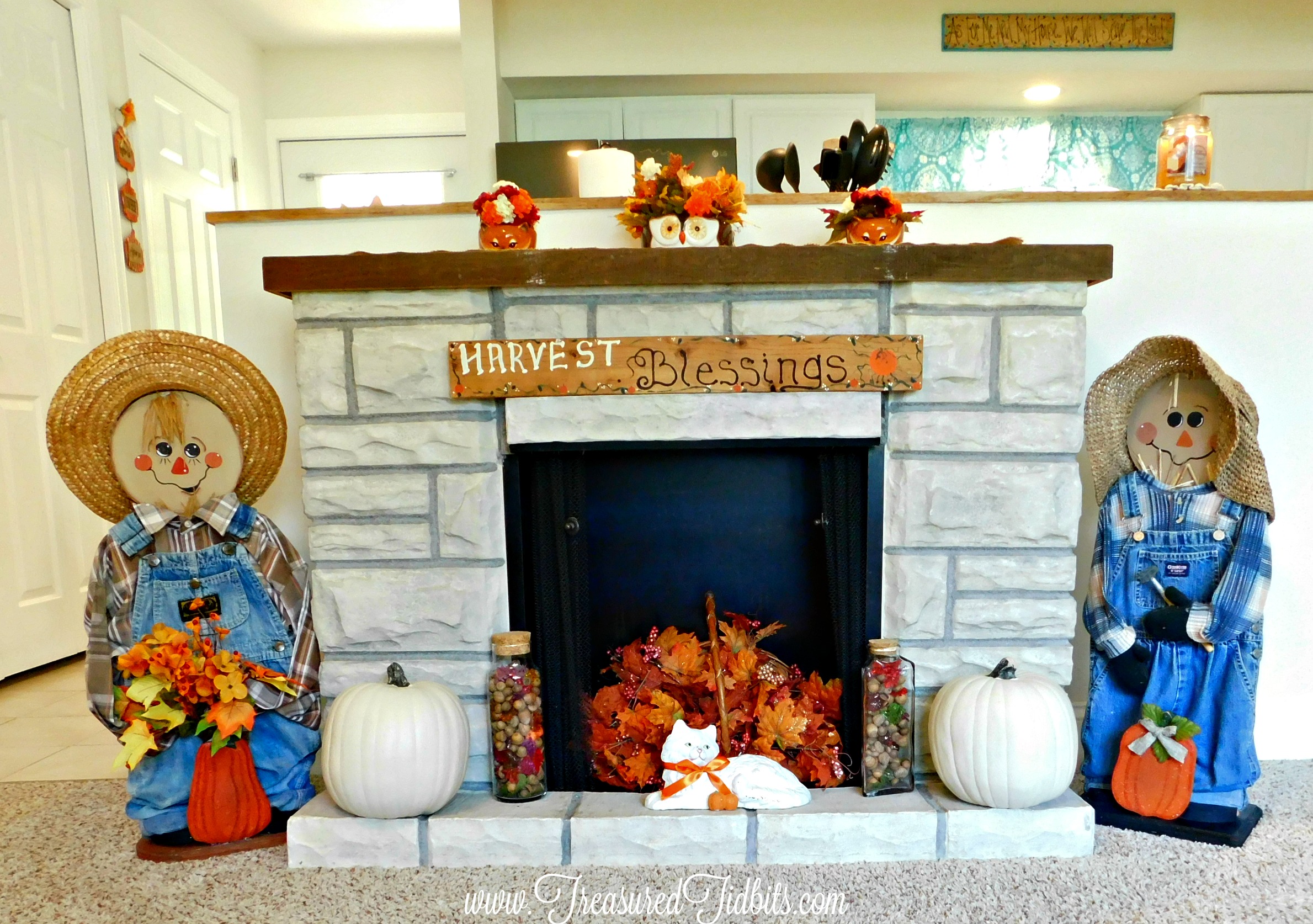 Is it not absolutely adorable?
Would you believe it is all repurposed or recycled items?
I bought one scarecrow from a neighbor's sale and created a matching pint size friend so he wouldn't be lonely.  Work is much more fun with a friend, don't you think?
You should see what happens when they catch the Halloween spirit.
The gorgeous owl and foxes were free cycled from a friend and were perfect for holding the floral balls we created just last year using push pins, styrofoam balls and left over floral pieces.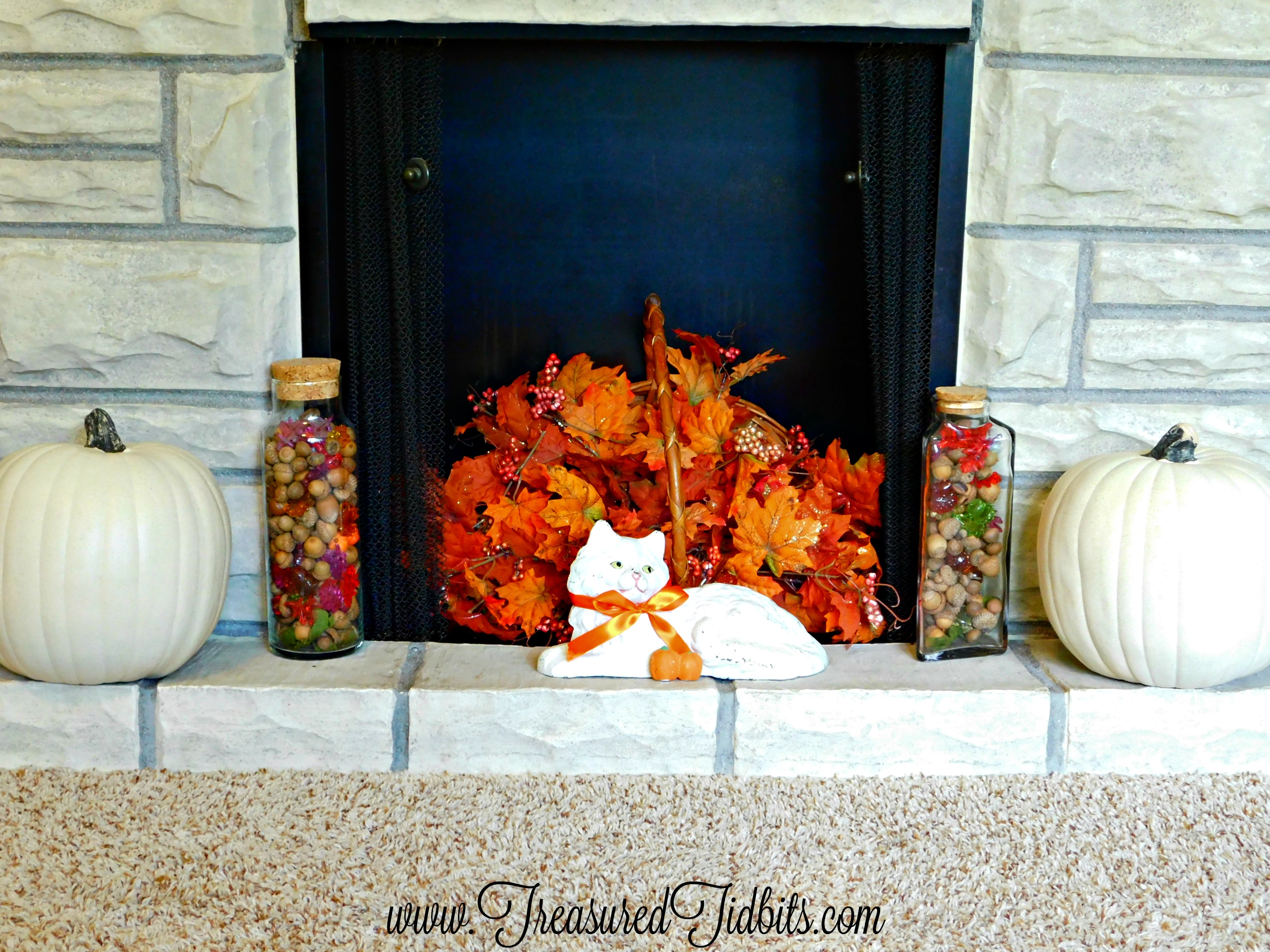 Since we never use the fireplace, we made the executive decision to remove the fake logs and add this warm, cozy fall basket.  This basket was created over 10 years ago and has been to three different homes, multiple crafts shows and is still going strong.  I love the rich, warm colors.  Don't you?
We flanked it using clearance pumpkins that I scored for less than $5 a few years ago from Hobby Lobby and some leftover craft jars, real acorns and some seasonal acrylic mini leaves.  Simple, sweet and budget friendly.  Just what I like, how about you?
Facing the fun little fireplace is this cozy seating area complete with our handmade slipcovers sprouting the handpainted, slightly off center, words "Thankful" and "Blessed".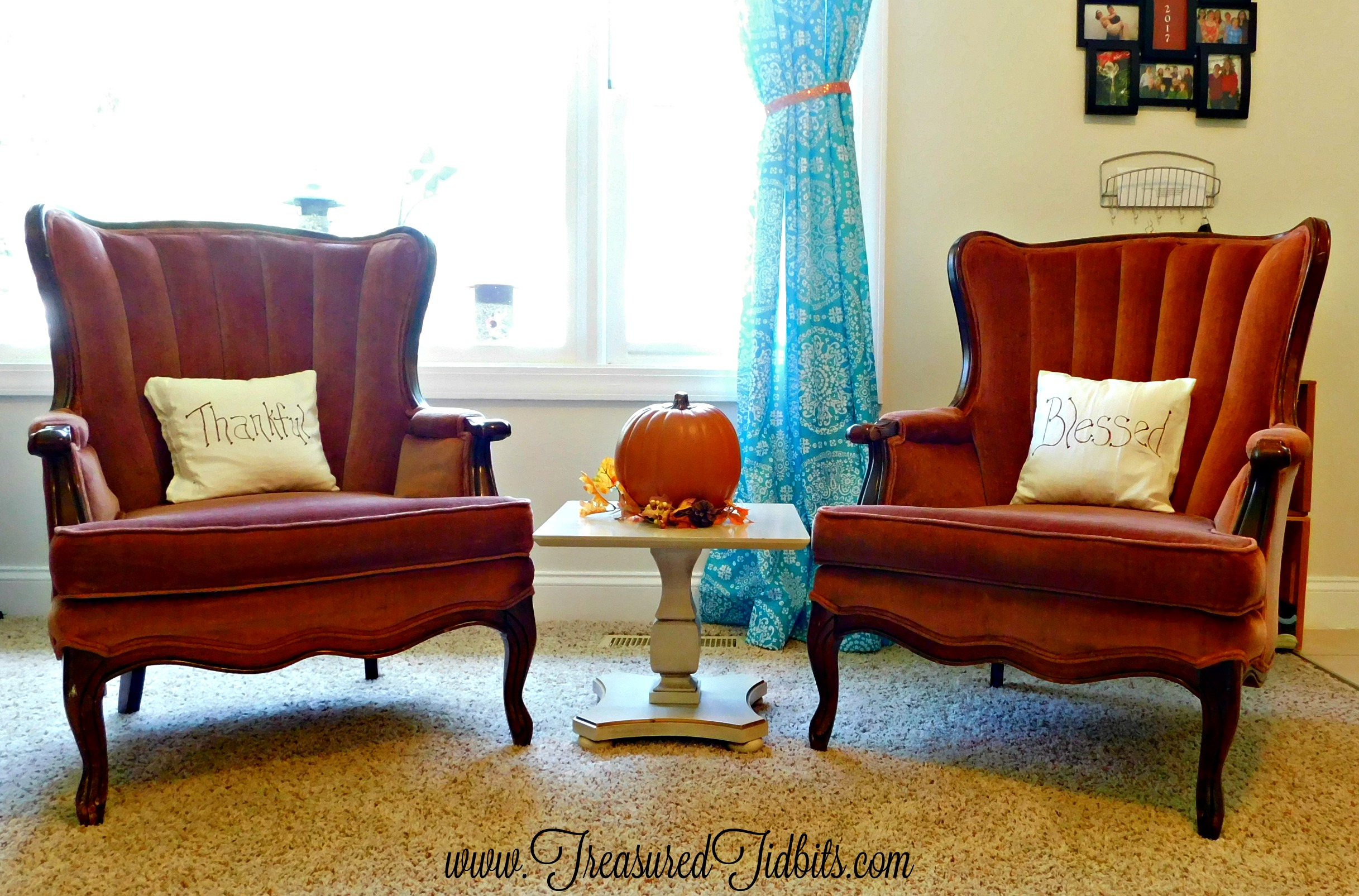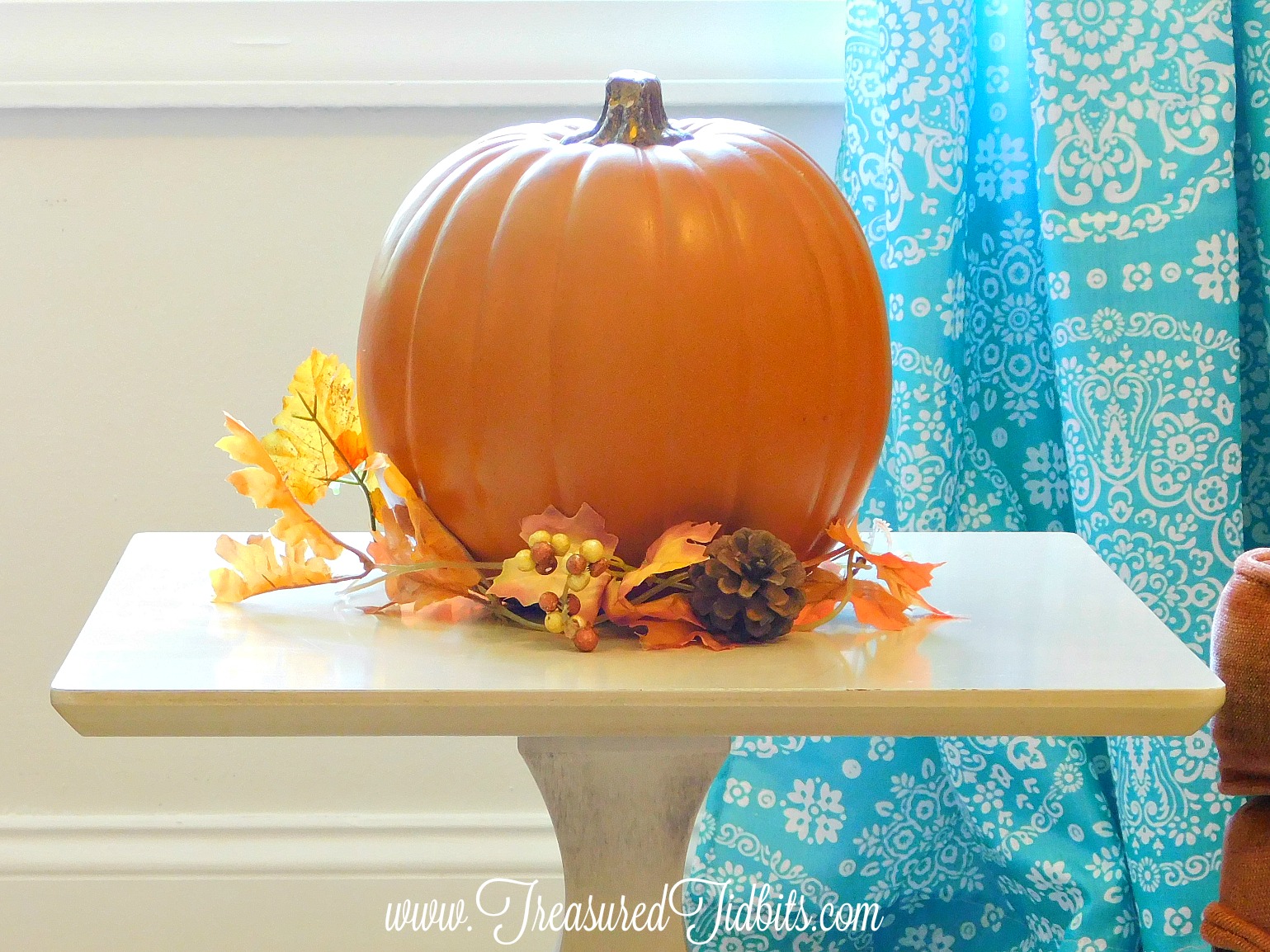 I just love the warm colors of fall, especially on boring white walls, and this year I was determined to create some luxurious swags using only the flowers we had on hand.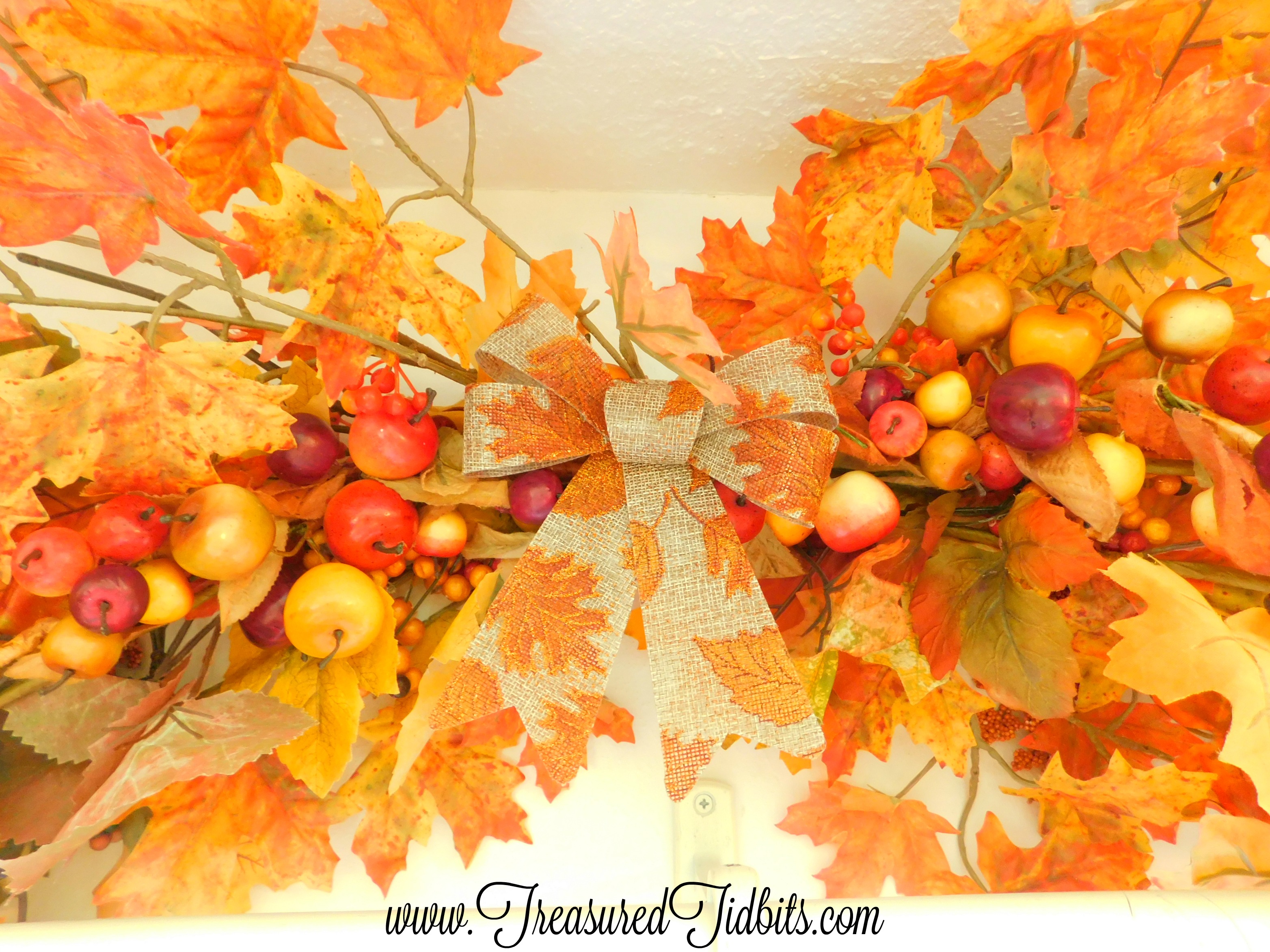 Confession #1:  I may have been a little eager with how full I created them, but I love the way they turned out.
Confession #2:  It may have taken longer to hang them properly than it did to create them.  🙂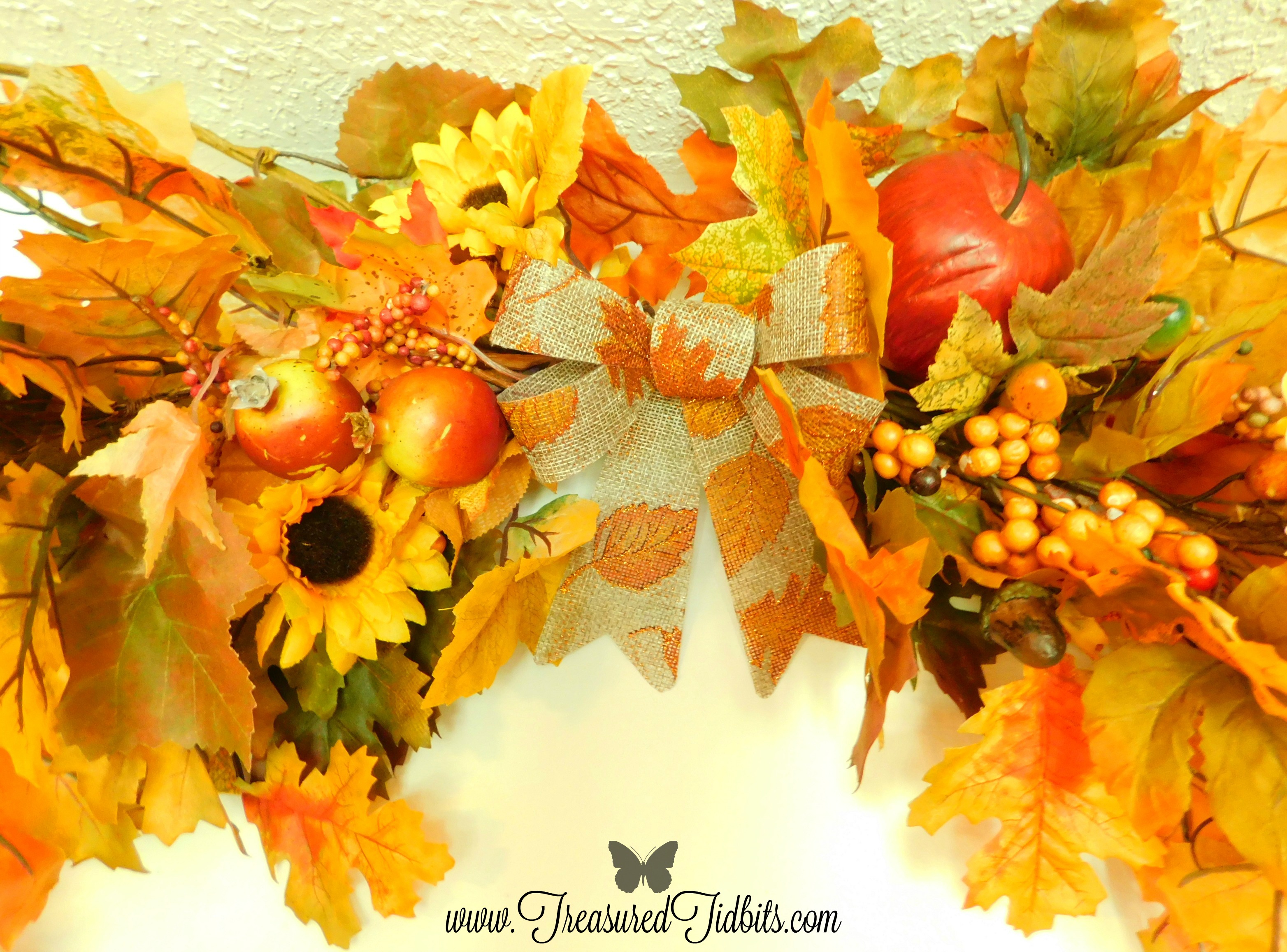 The little burlap bows are the only new items used, and those were 2/$1 at our favorite Dollar Tree.
The Living Room
We chose to carry the sunflower theme into our living space this year, as well as a few unusual but famous whimsies.
Can you spot them?
Hint they are in lots of movies.  😉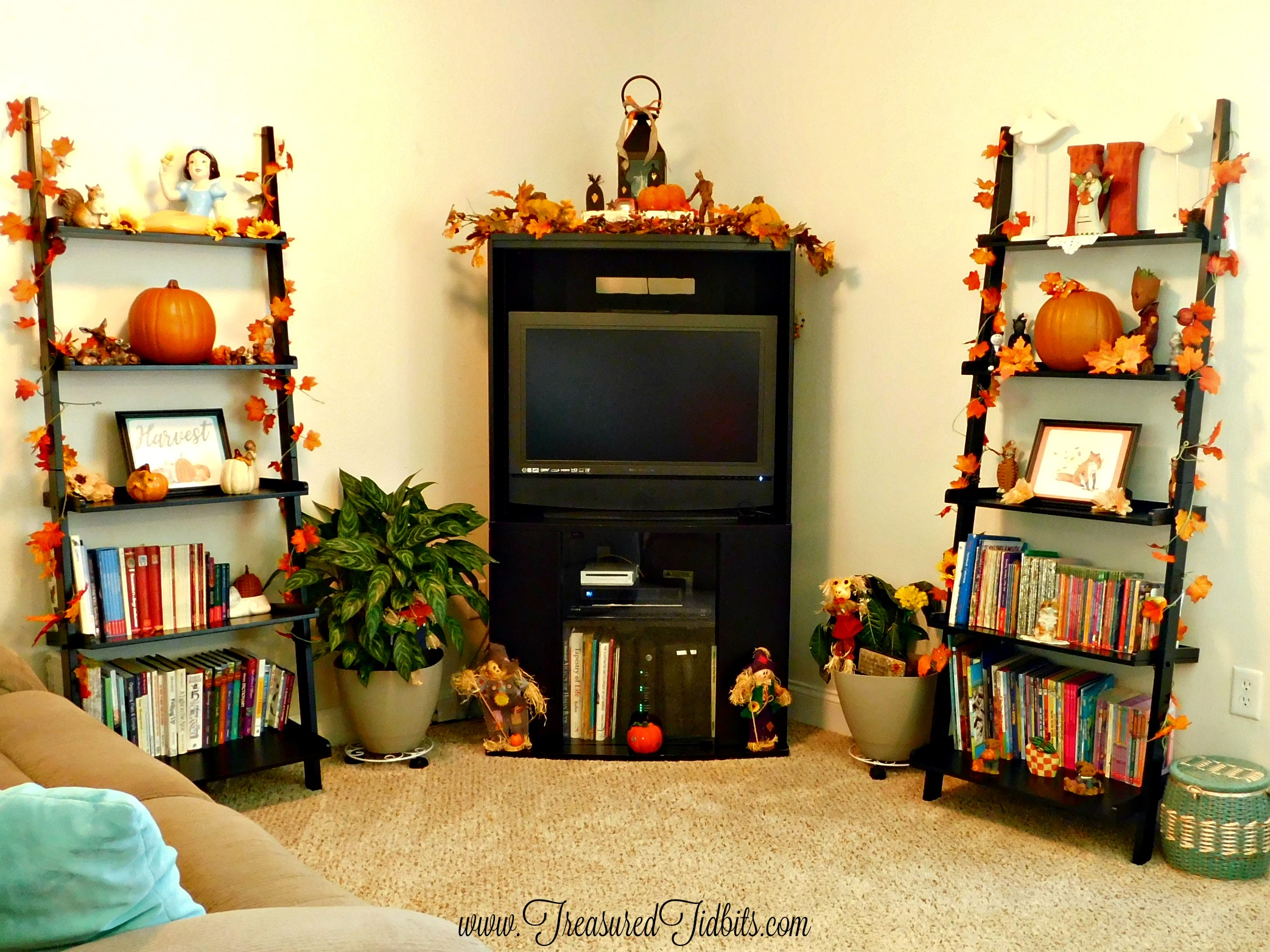 Here's a closer look……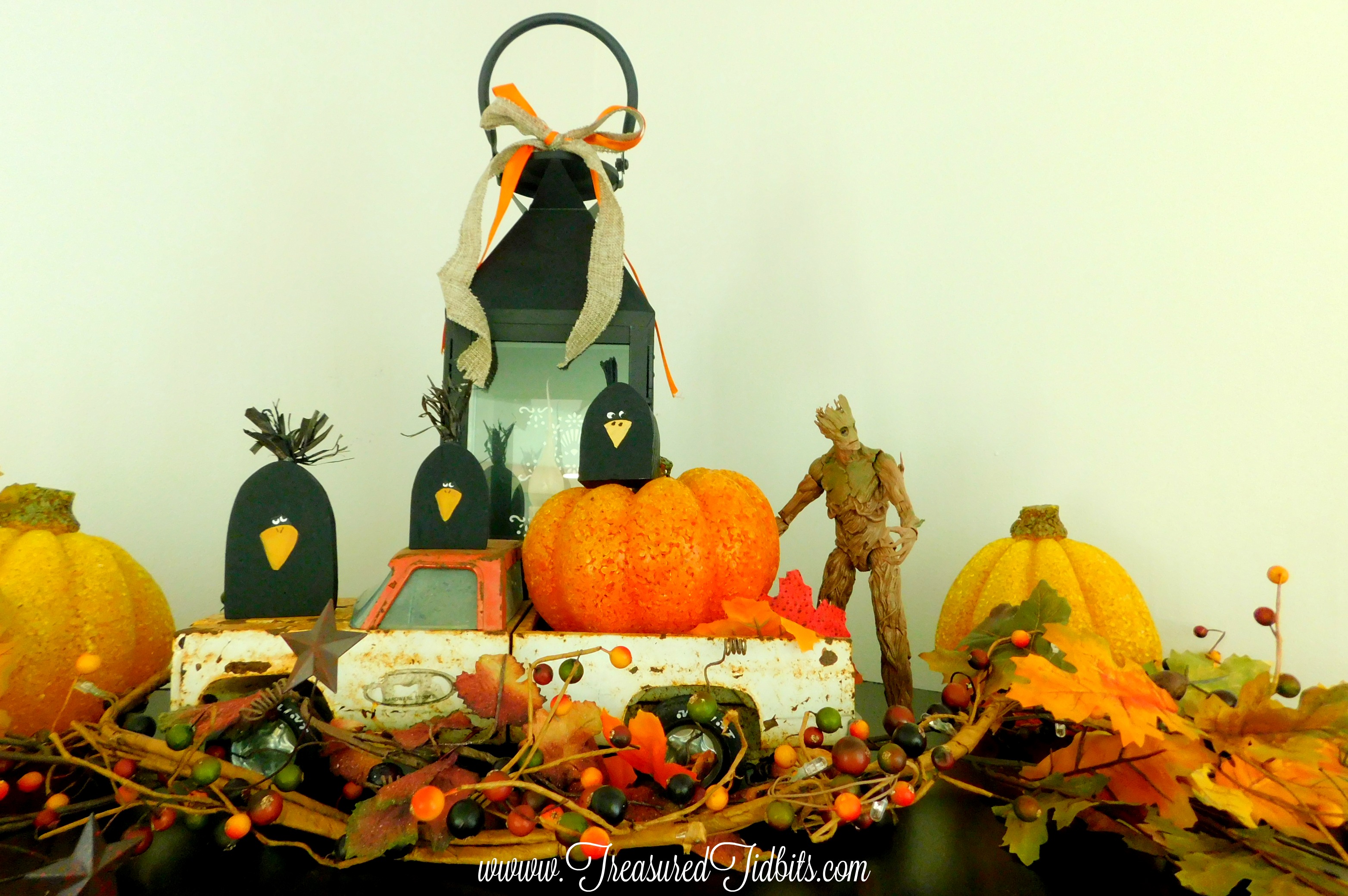 Who else has a full grown Groot helping with the pumpkin harvest?
Or a teenage Groot guarding the pumpkin patch?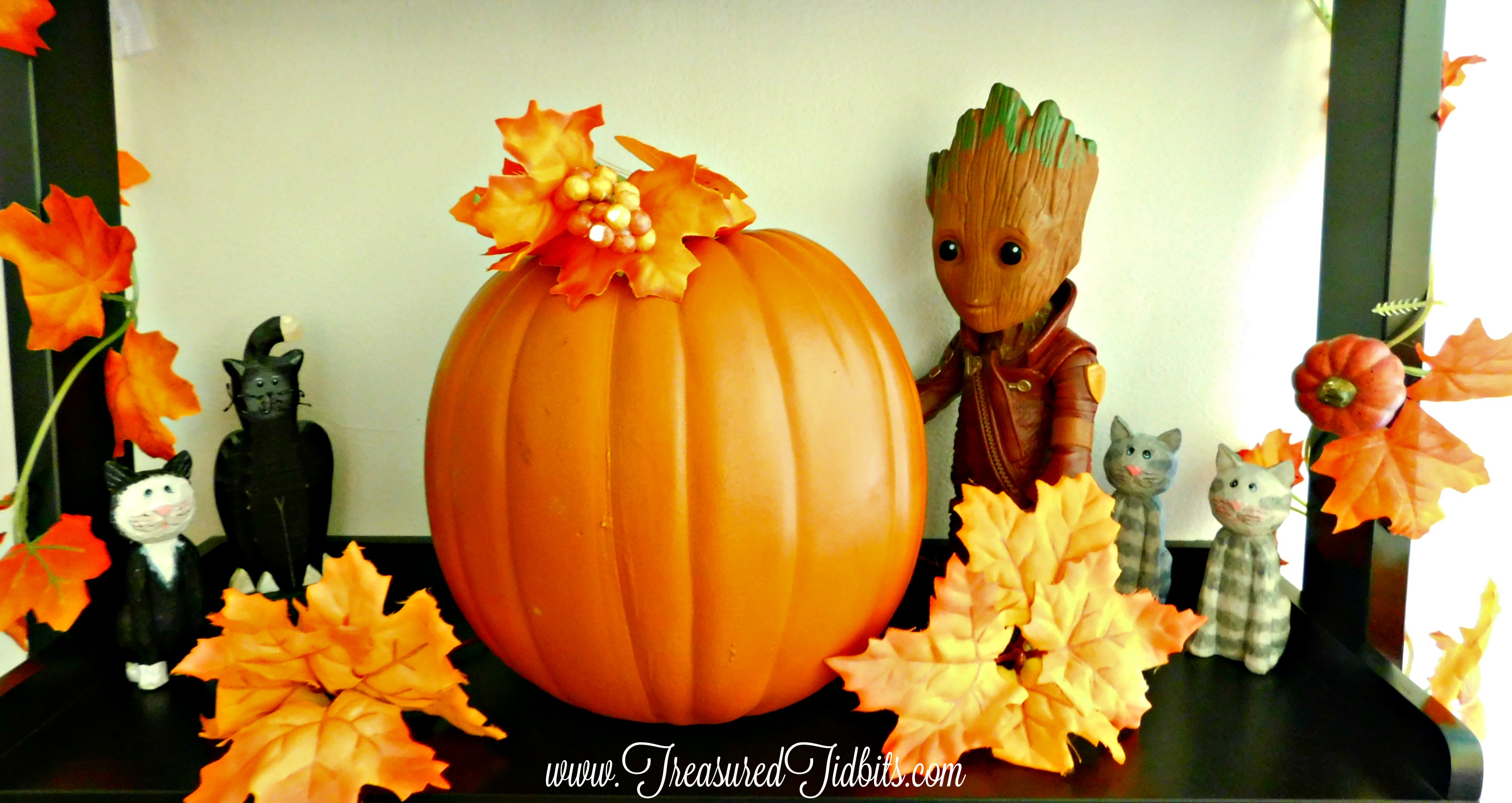 I told you this was no ordinary fall tour, didn't I?
If you didn't notice, Snow White is protecting her flock on the other shelf as well and looking beautiful as ever while hanging out with her furry friends.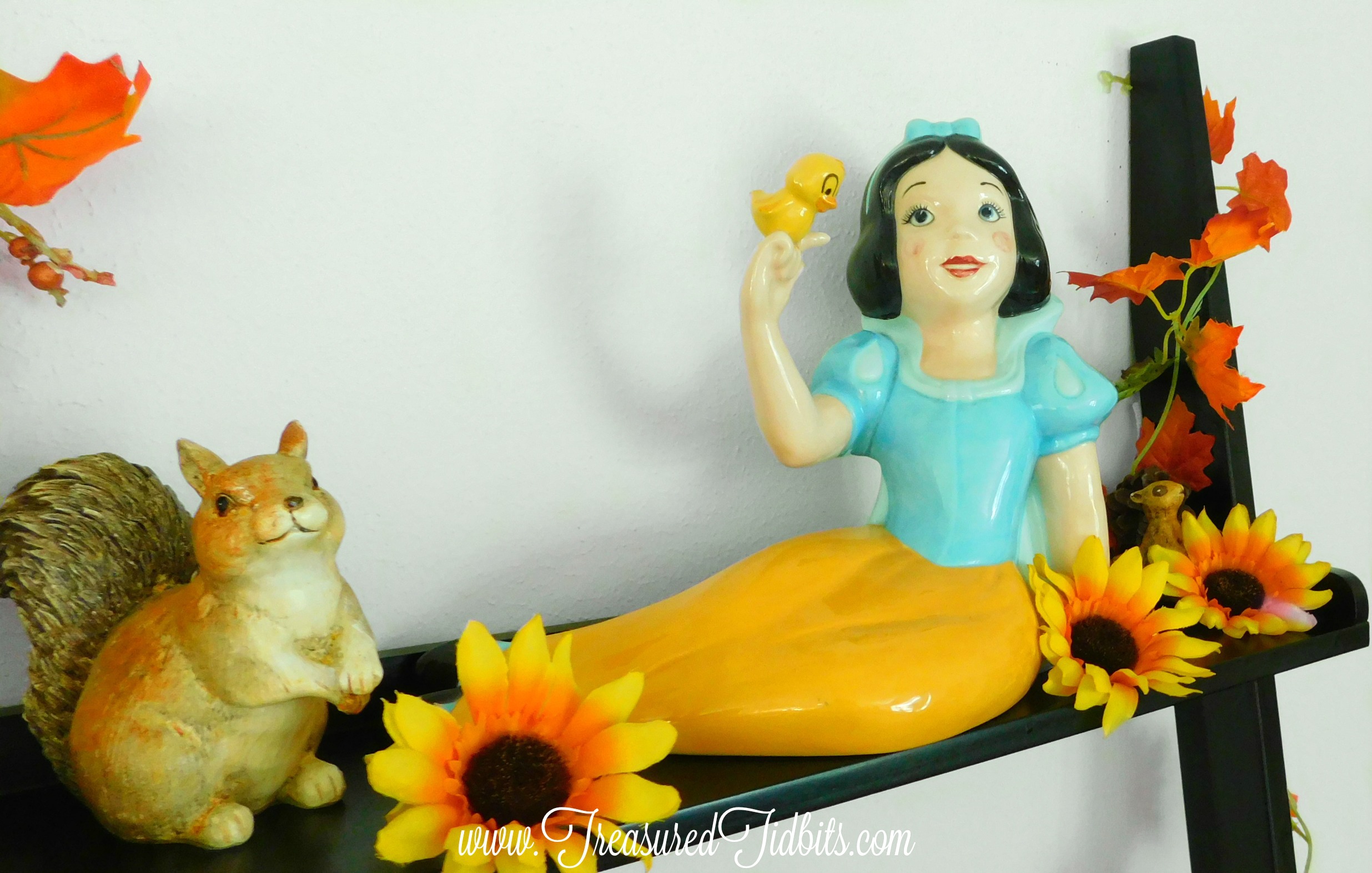 The gorgeous fall printables you see can be found for FREE at Belleza Mia Jewelry 12 Free Fall Printables.  The Harvest image comes complete with the words "Hello Fall" but with my printer acting out I was unable to get a good print with the letters, so I compromised by adding a silver Harvest from our local Dollar Tree.  I absolutely love how it and the fox photo turned out.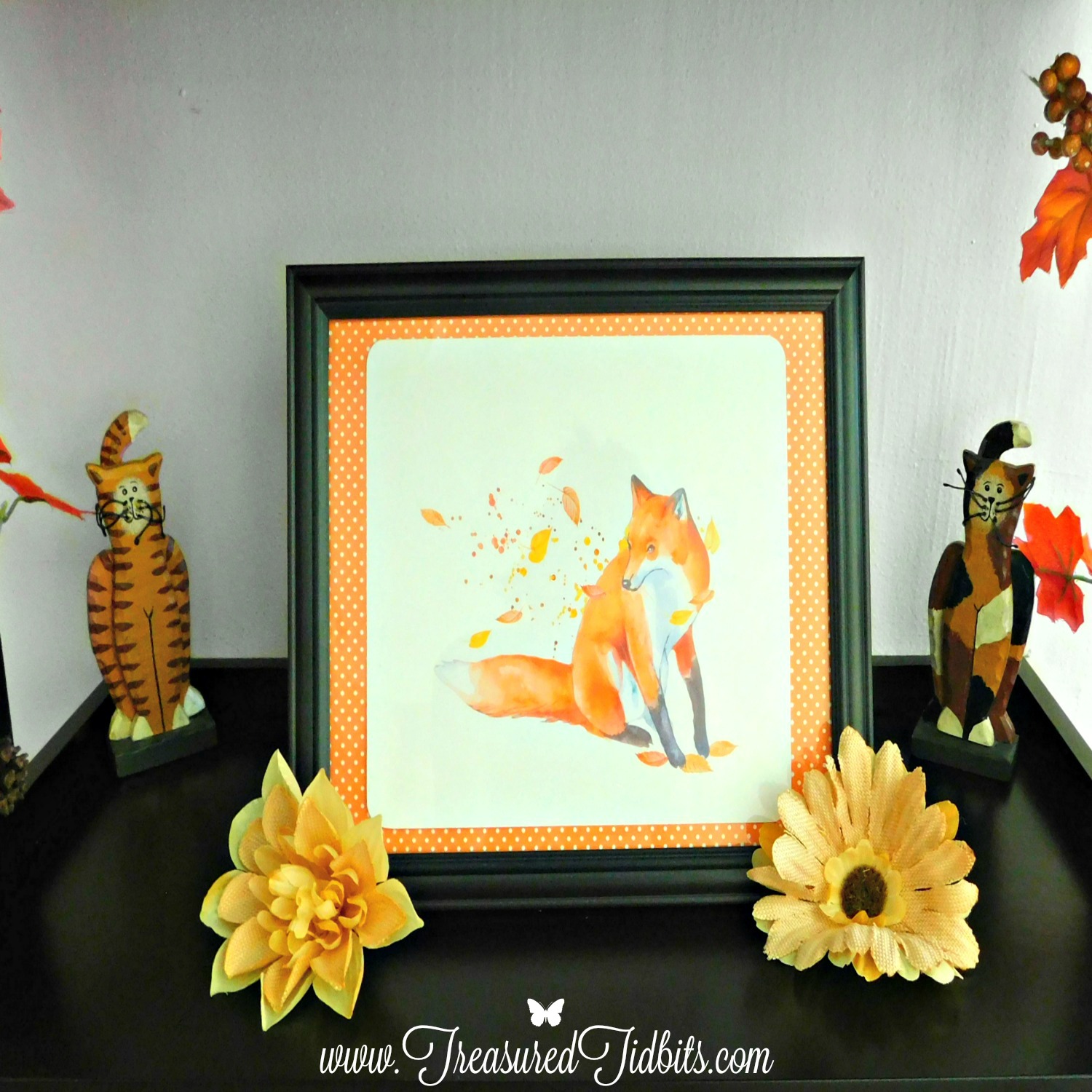 The Dining Room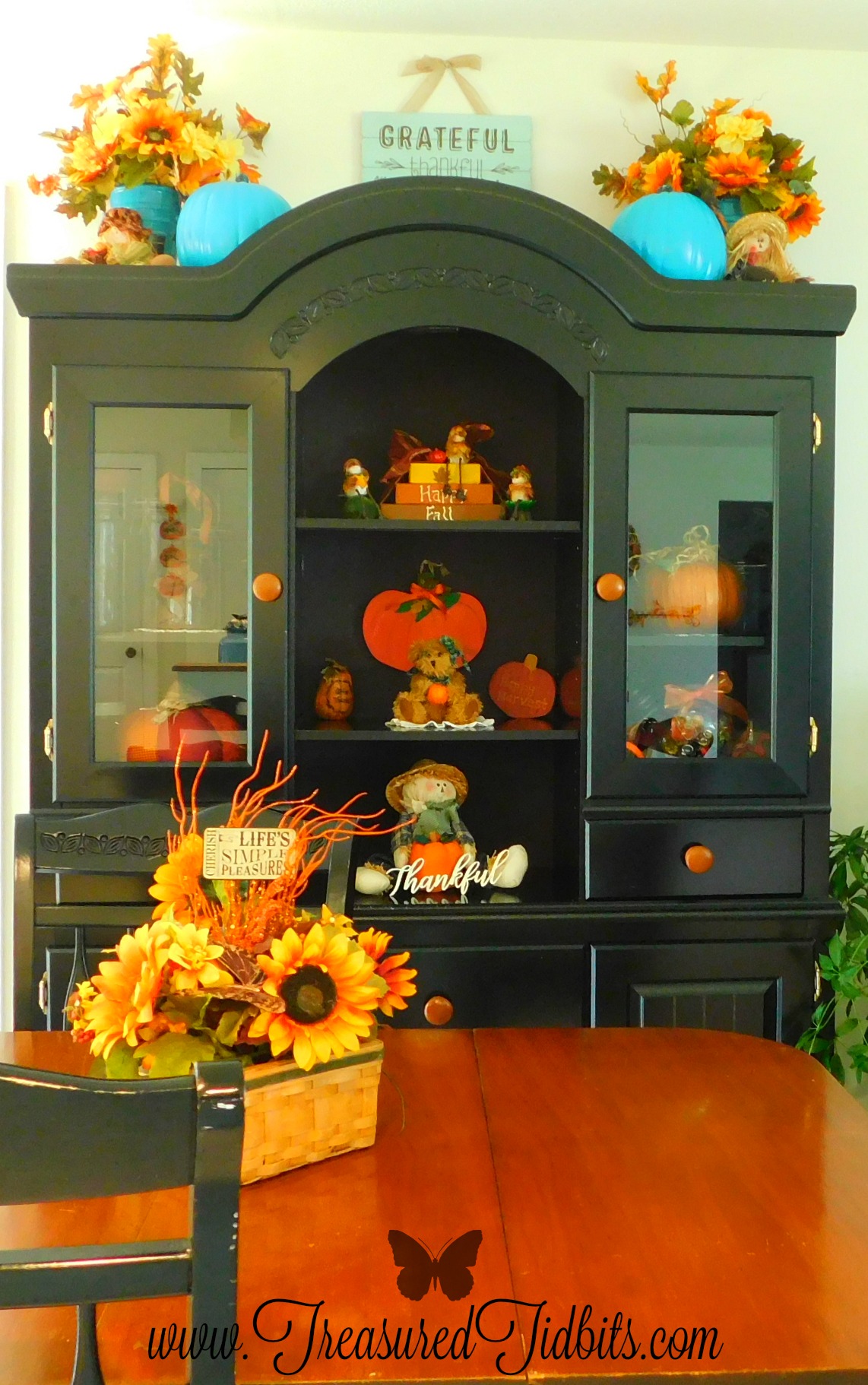 What about this buffet?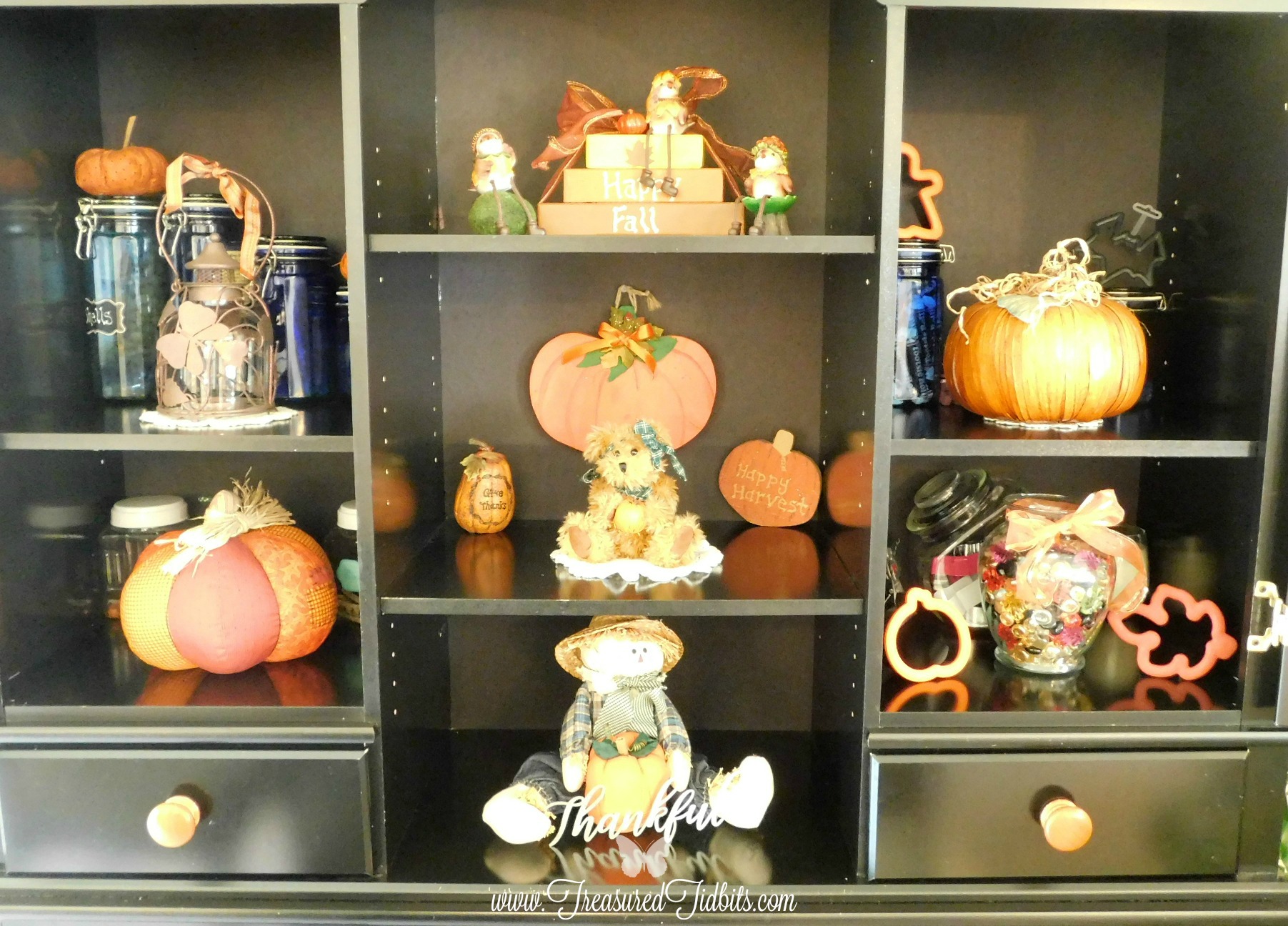 Isn't gorgeous?  So rich, warm and inviting?
Once again, we went against the grain and used items we created or had on hand, but we absolutely love the result.  I say "we" because both my girls and even the new foster kitten assisted in creating the displays.
The entire thing just fills me with joy…….
From these whimsical fall birds sitting on gnome garden supplies and our handcrafted stacked blocks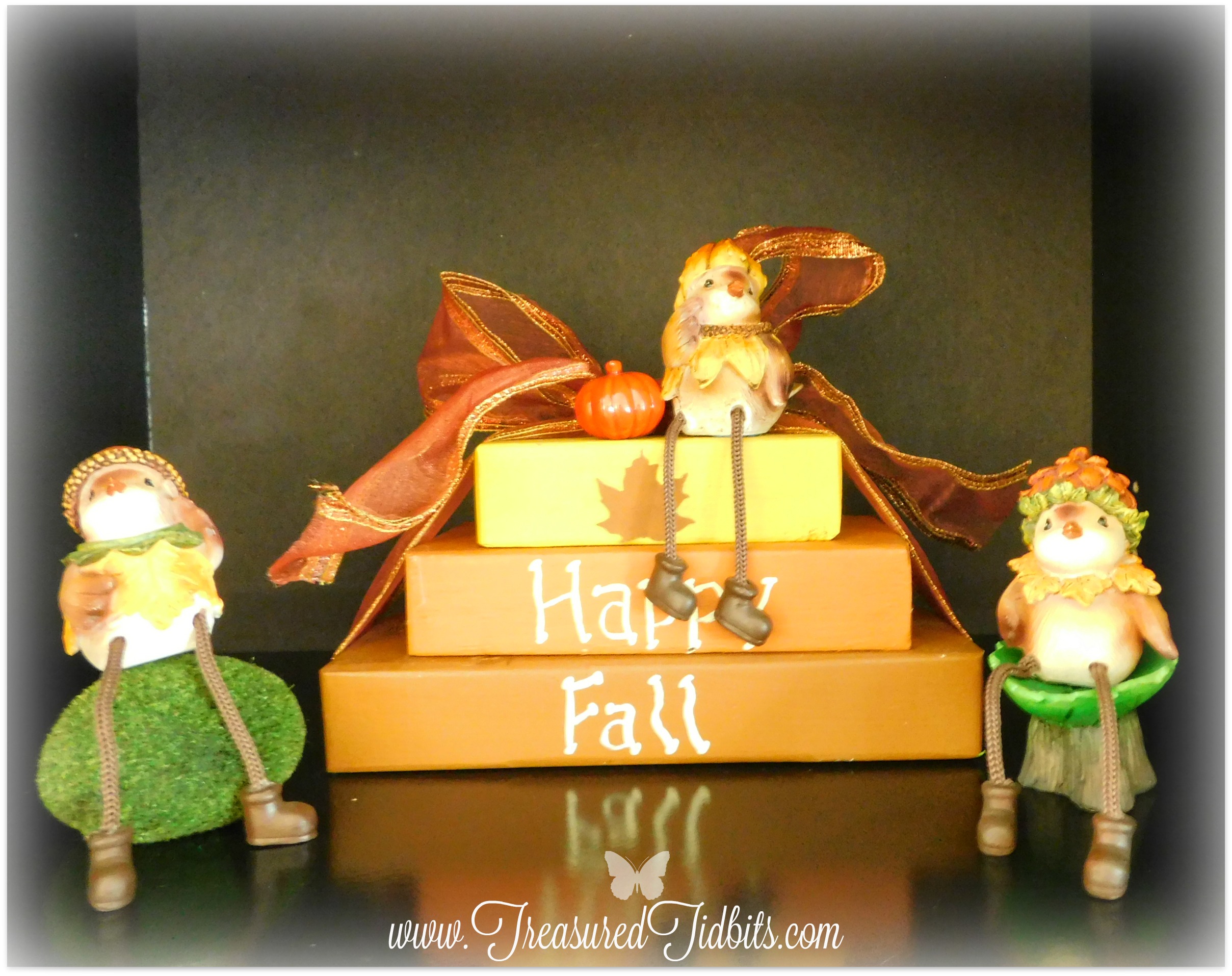 to our second hand scarecrow holding another silver word sign from Dollar Tree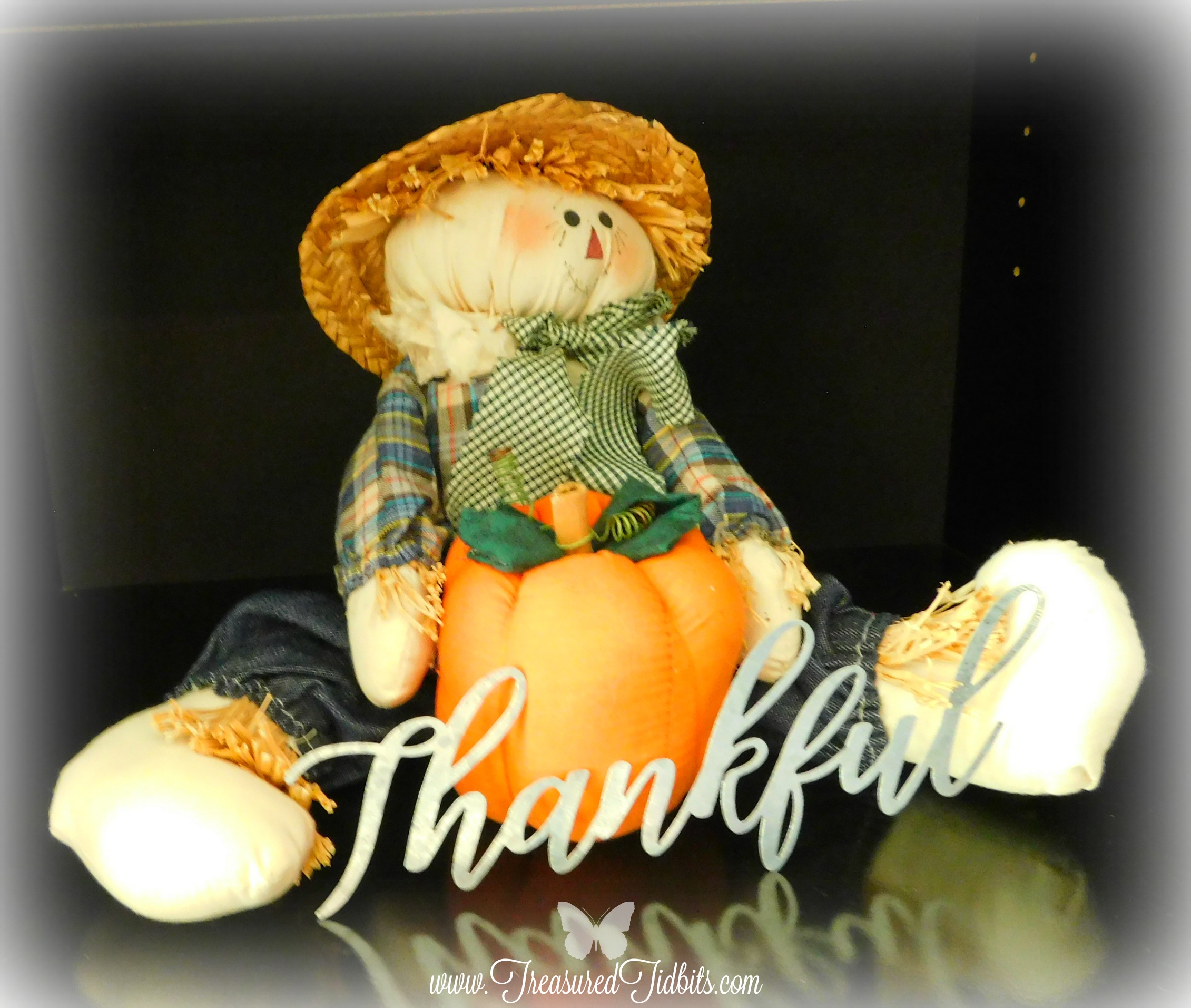 We even decided to empty the side cabinets and incorporate more pumpkins, a recent gift,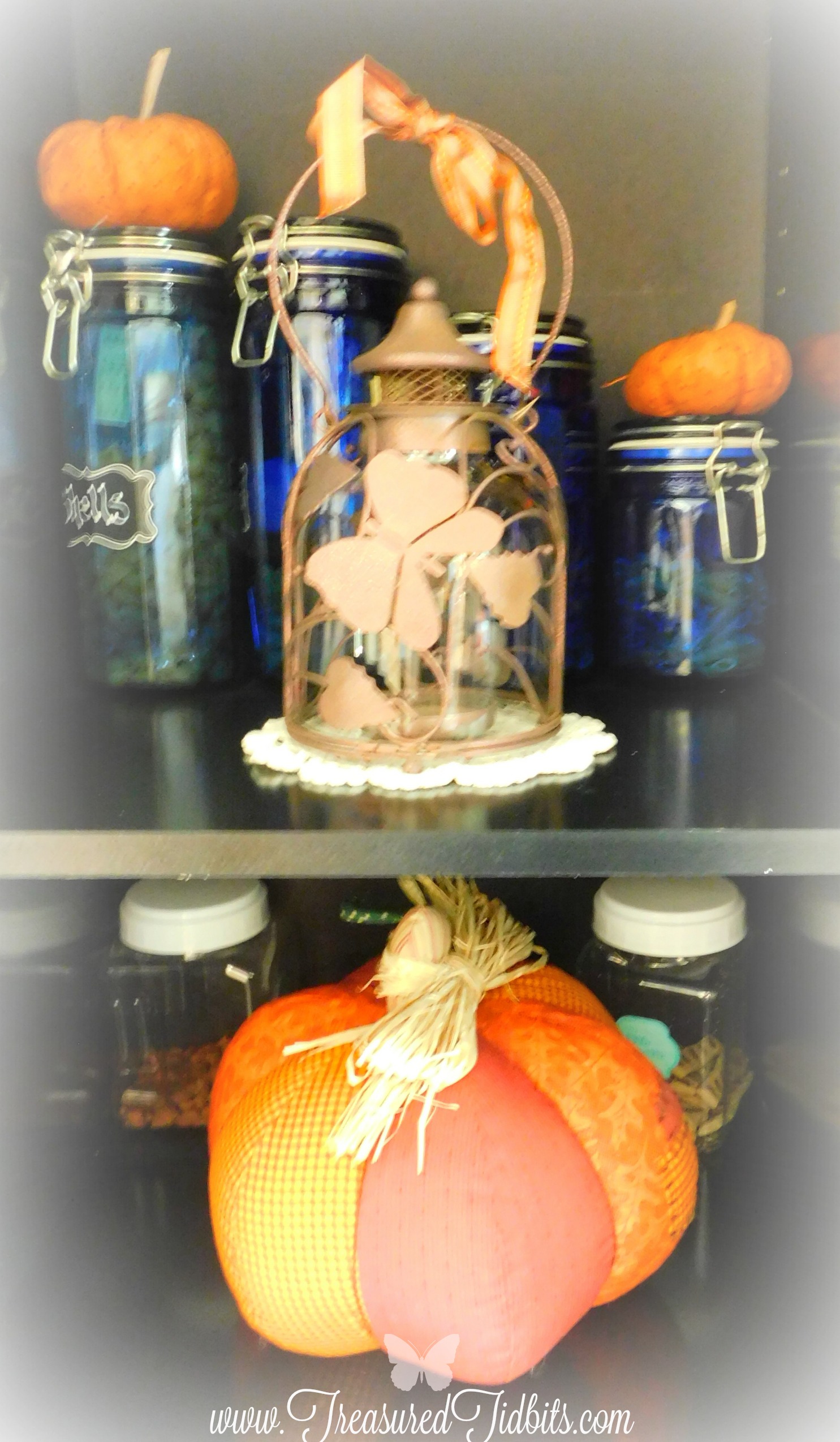 More fall glass beads and believe it or not cookie cutters.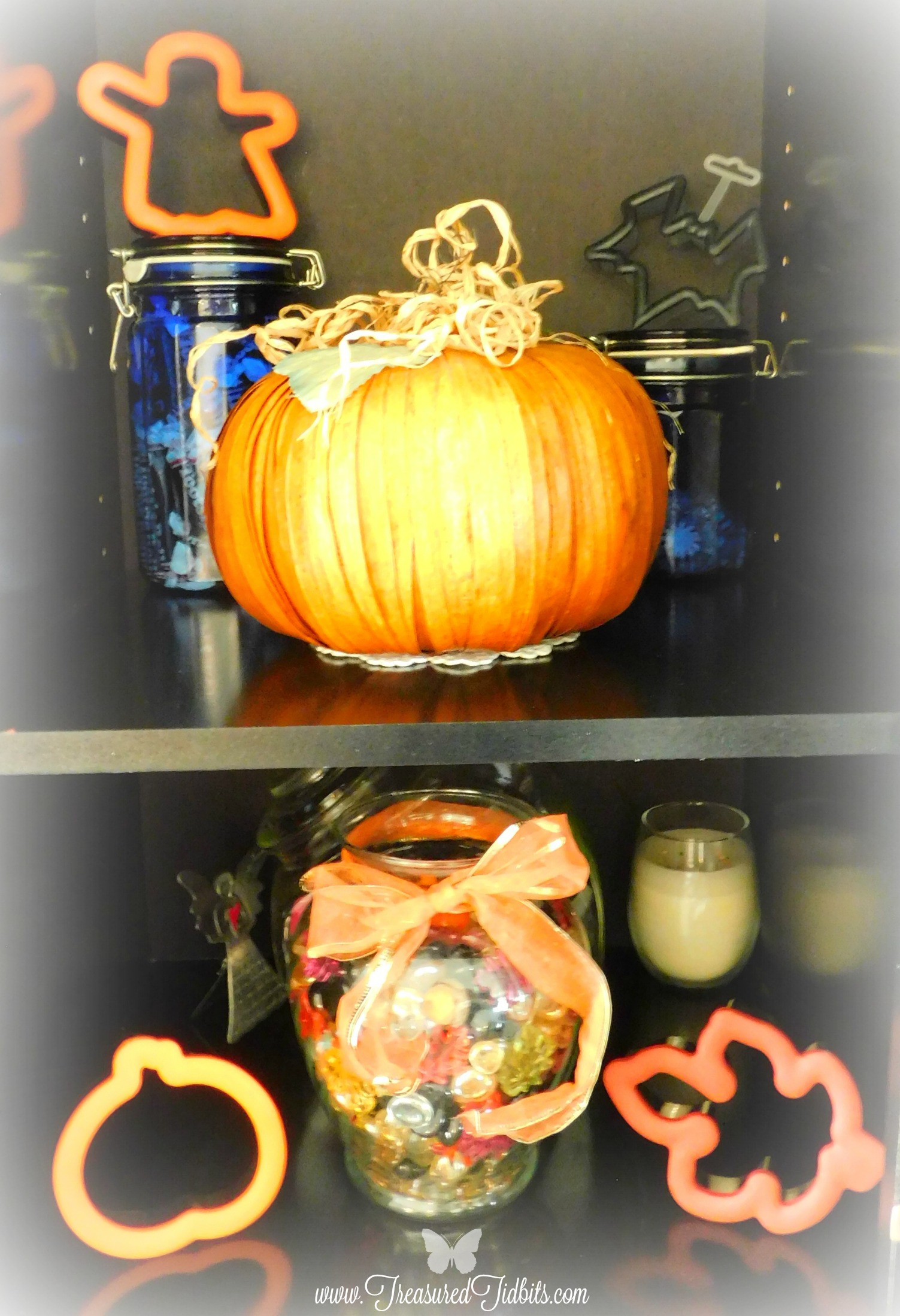 I mean why not?  They add a burst of color and have to be stored somewhere right?
Did you catch a glimpse at the top of the buffet earlier?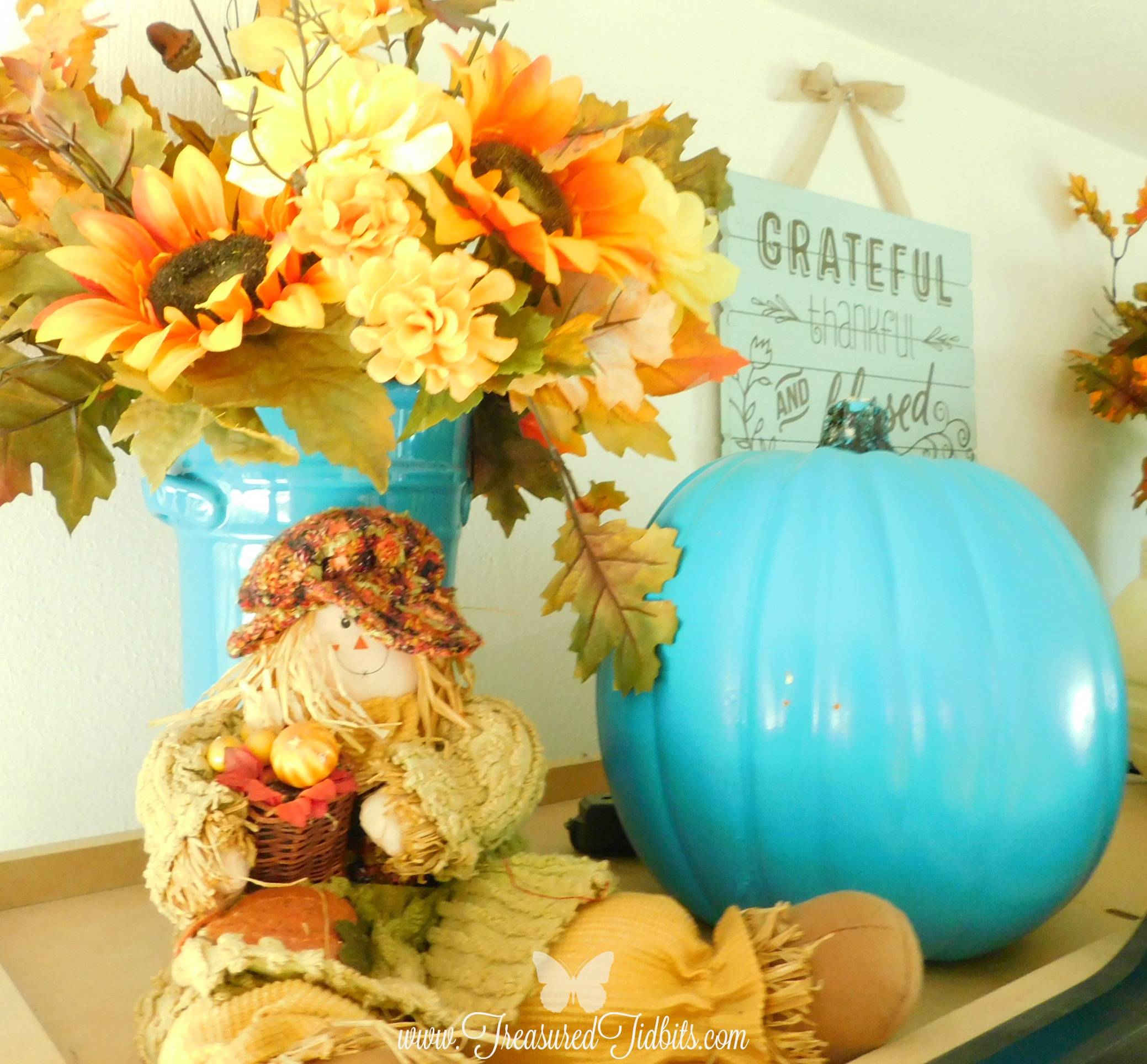 The floral arrangements were just as much fun and easy to create as the swags we shared earlier.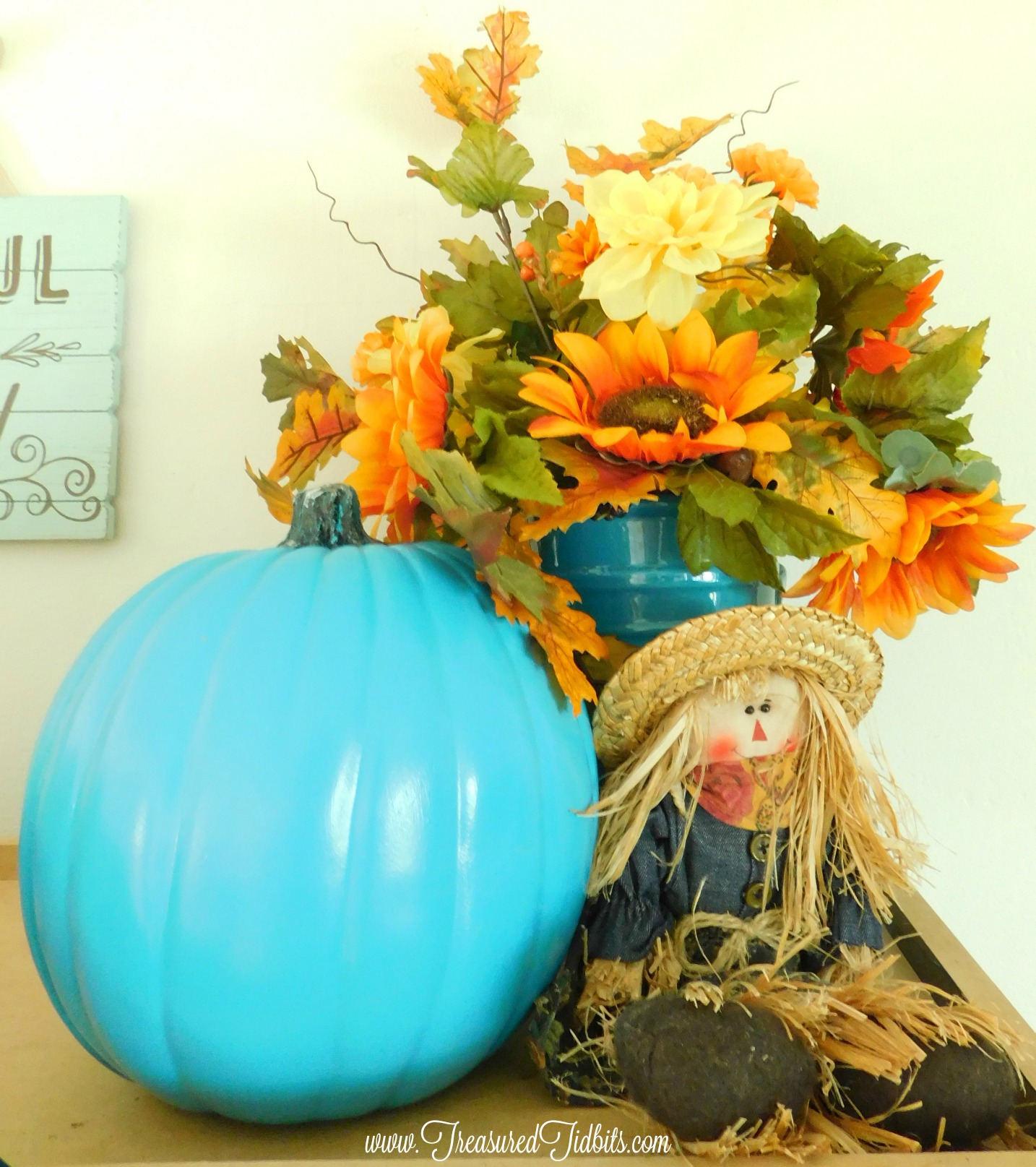 Yep, I used items we already owned and refused to break our zero budget to purchase anymore but I truly love the way they turned out, and the fact I was able to create a kitchen window and table bouquet to match, tying it all together.  What do you think?
Dining Room Table Bouquet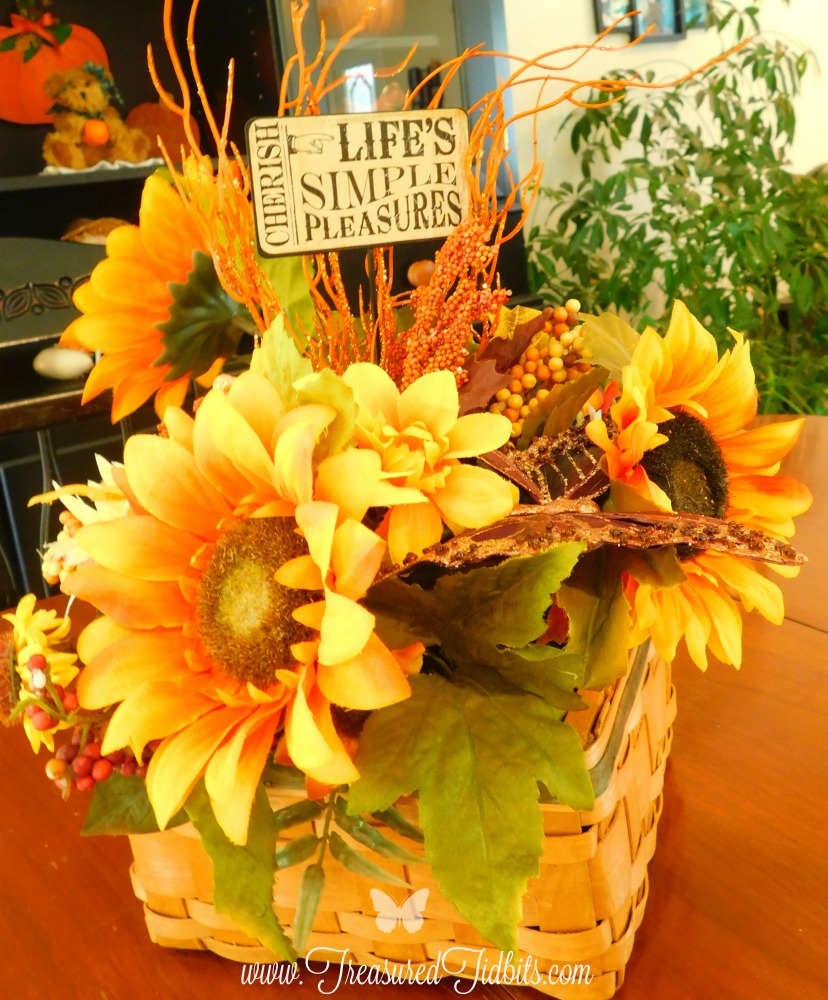 Kitchen Window Bouquet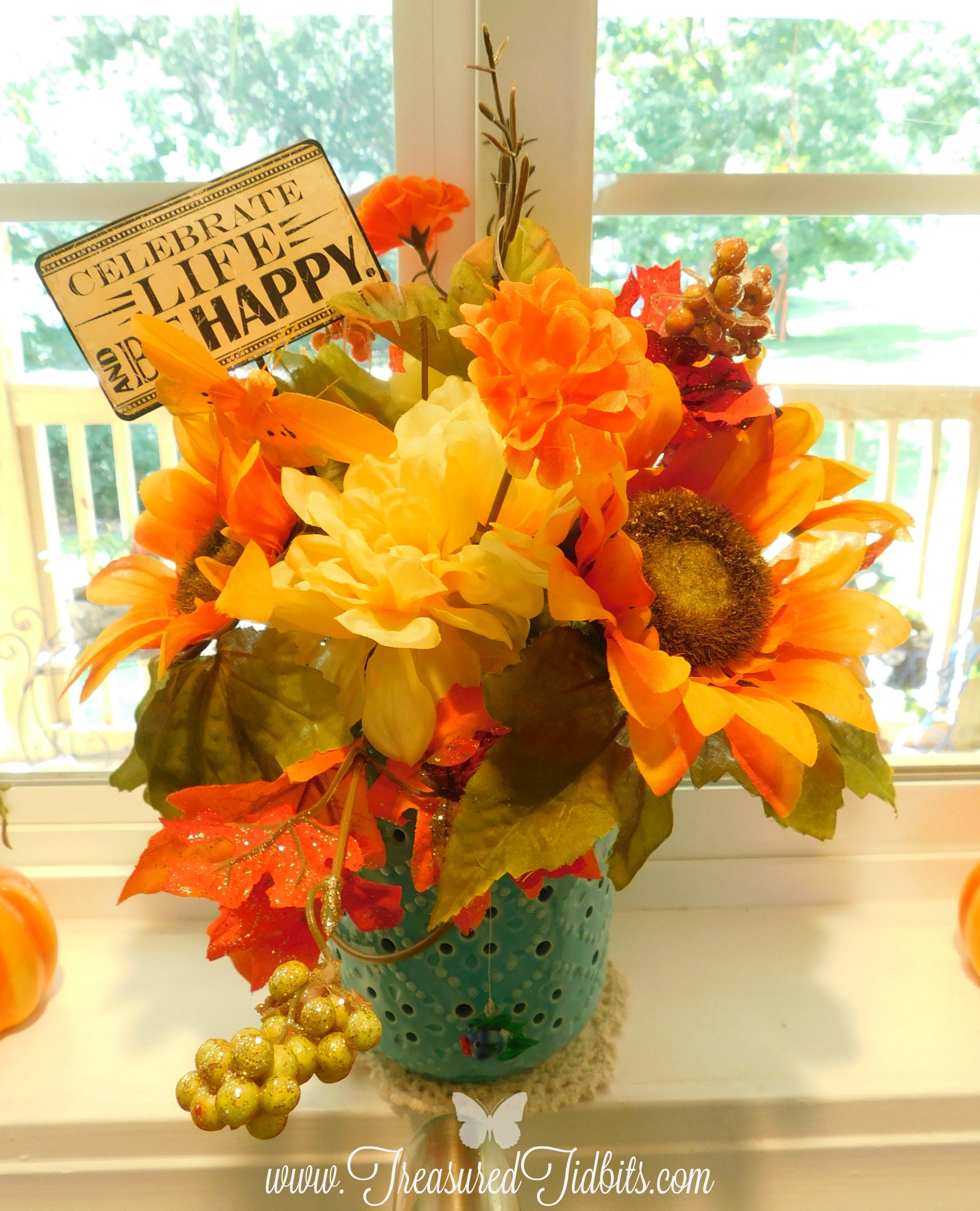 Kitchen Window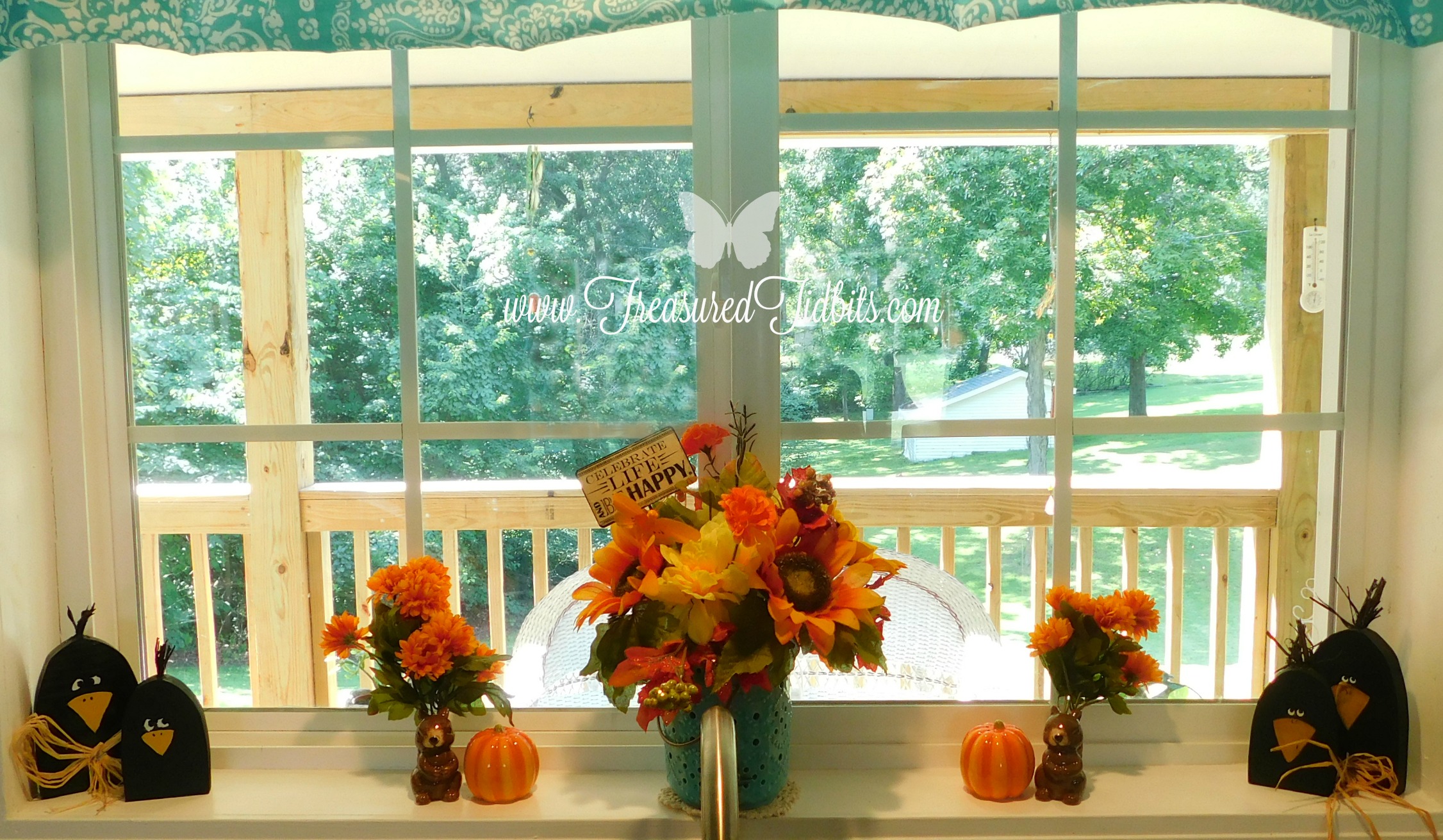 Are you wondering what is up with all the crows?  Me too.  Lol.  We discovered these crows when clearing out my grandparents estate and my kids insisted we had to have them, so here they are supervising our daily dish washing.  To be honest, they have grown on me and so has the warm feeling I get knowing they were created by my granddaddy in his workshop.  💕  Want to see how we organize and decorate our kitchen during the rest of the year?  Check it out here.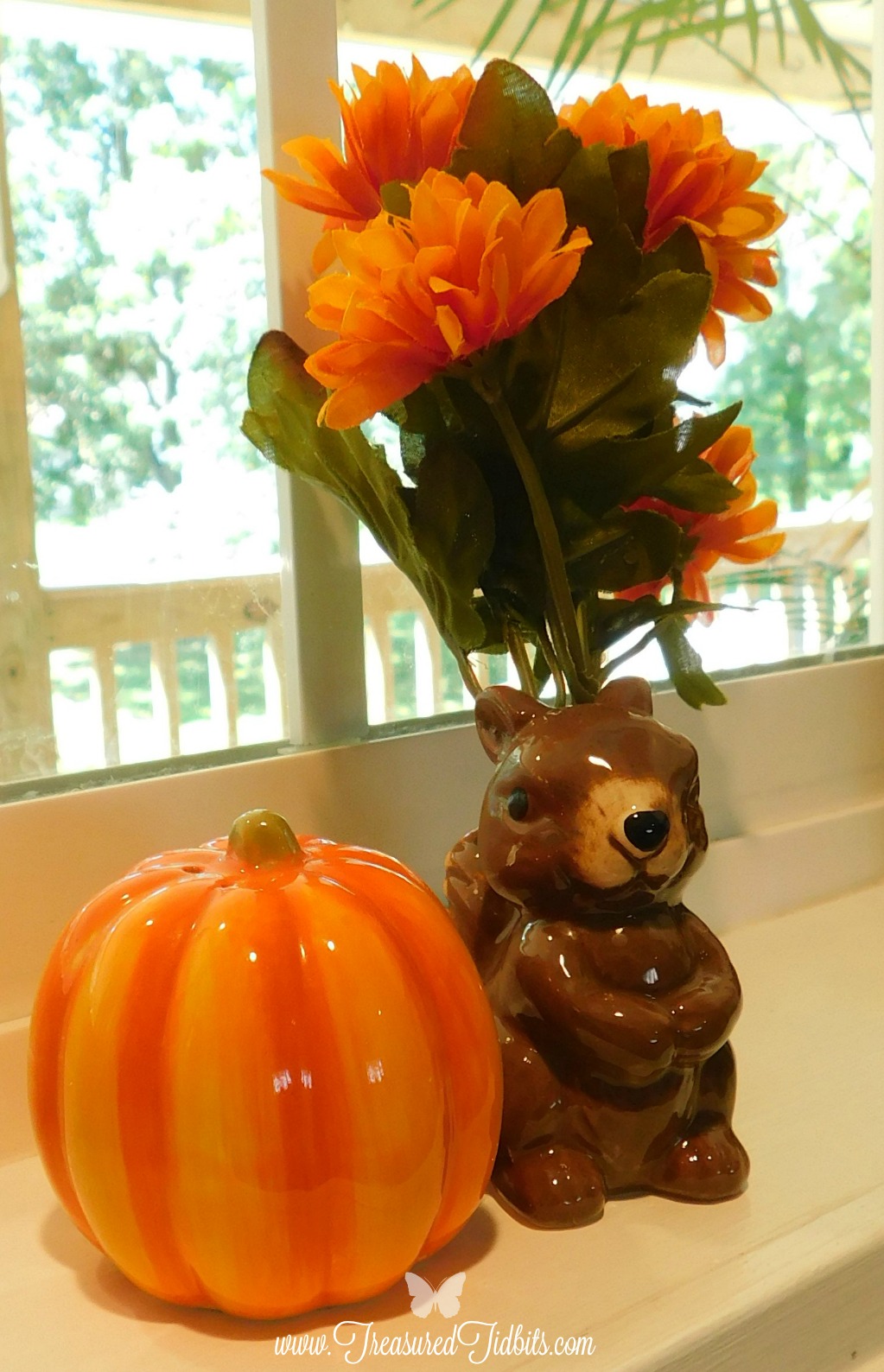 The squirrels and pumpkins are actually salt shakers from Dollar Tree that my youngest daughter decided to "upgrade" with some fall flowers.  It turned out pretty cute if you ask me, and it brought a smile to her day as well.
---
Ready for more?
I told you we love fall didn't I?
I will spare you the bathroom and bedroom decor here, but you can follow us on Facebook and Instagram for a peek at those.
I can't resist sharing a peek at the hallway though.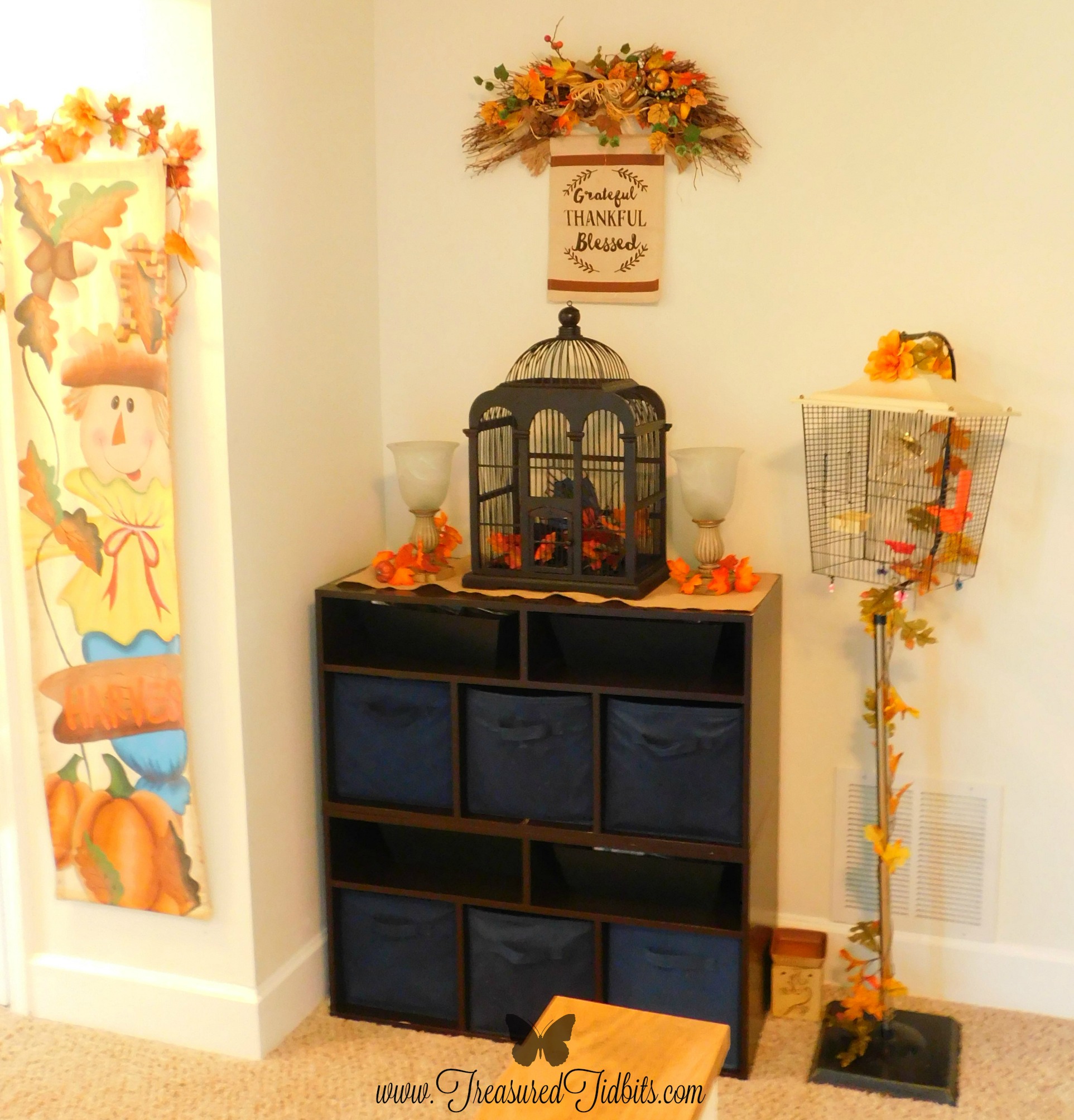 Isn't is pretty?
All thrift store or Dollar Tree items added to our regular decor, but the transformation is so warm and inviting, don't you think?
---
What was your favorite part of today's tour?
The flowers?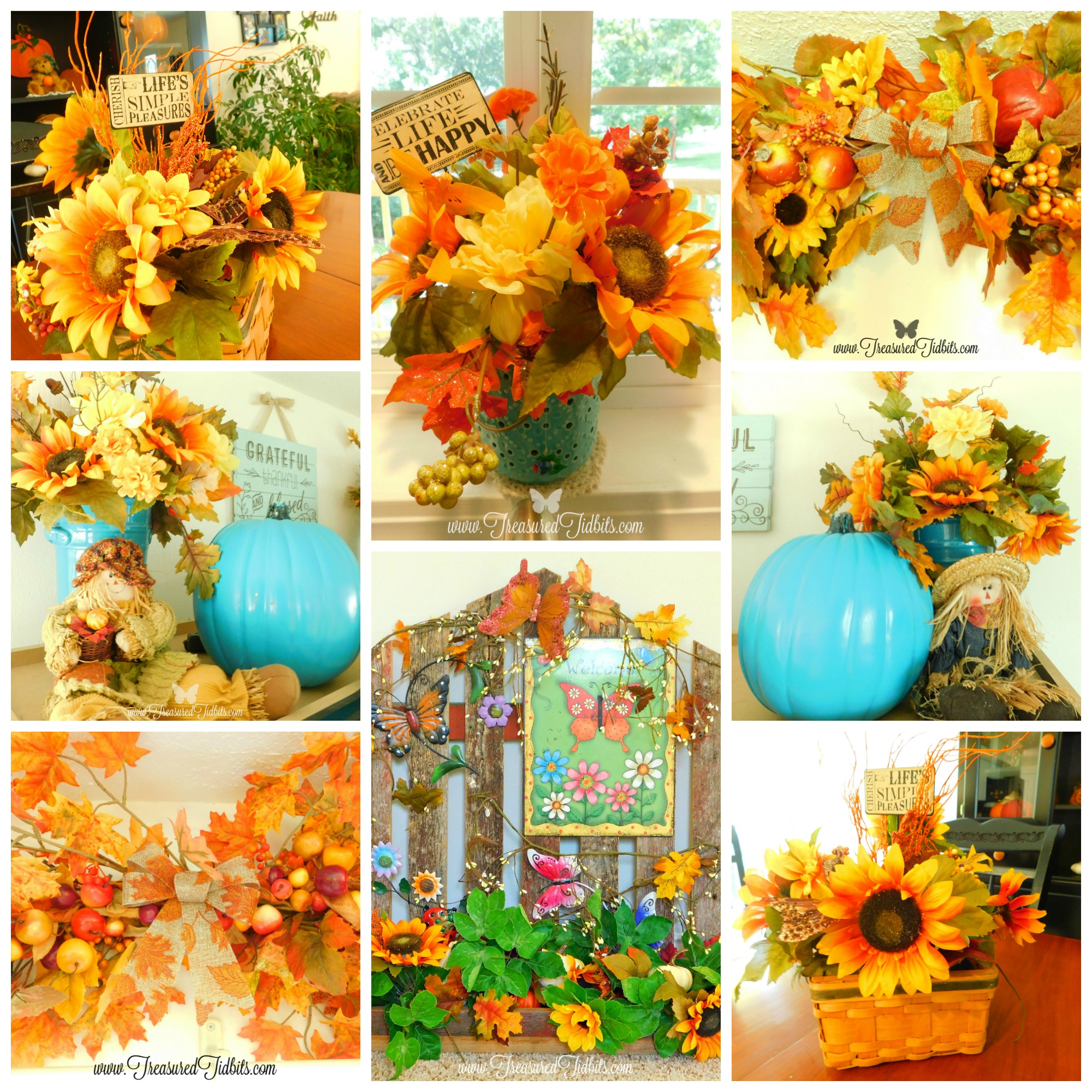 The whimsies?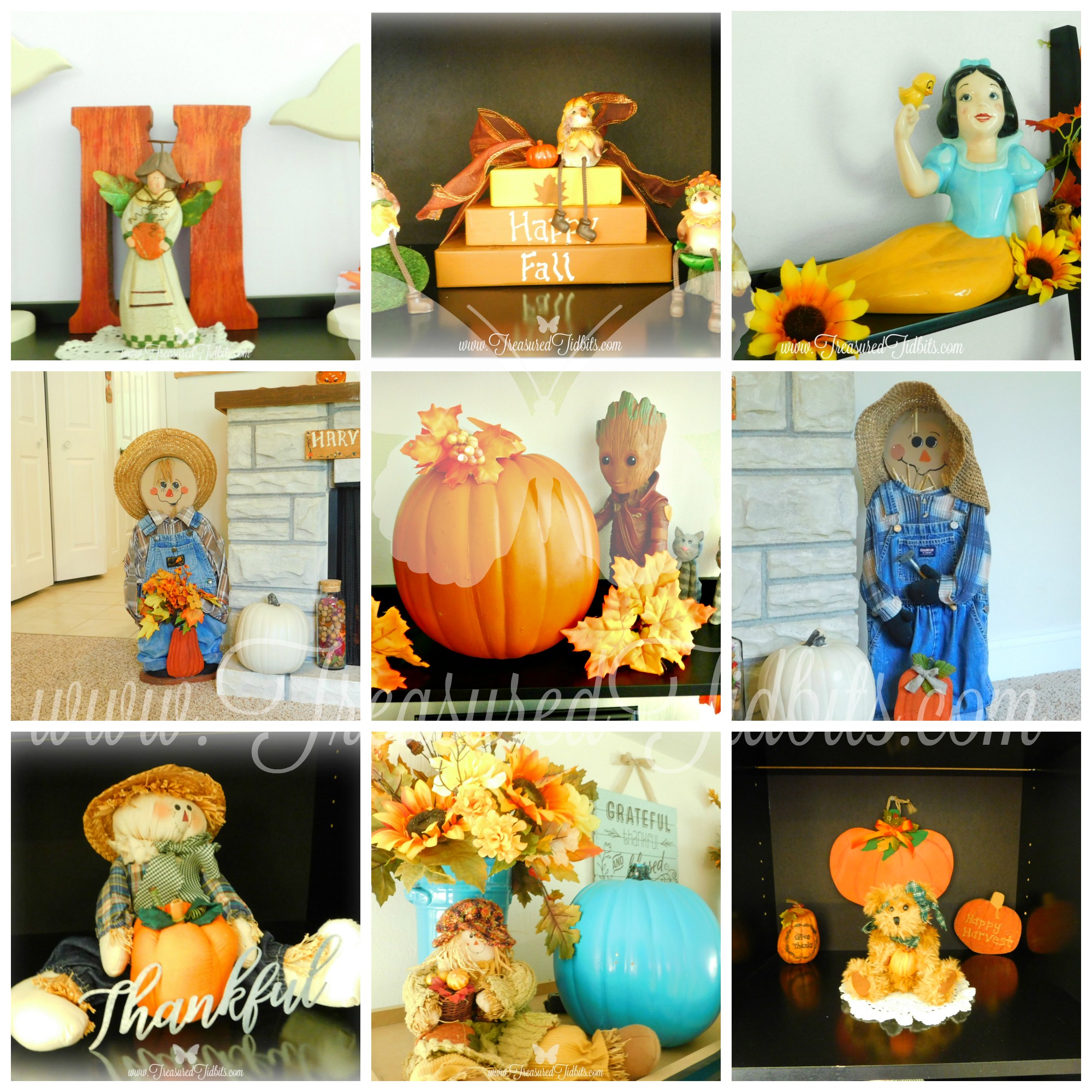 Or perhaps the pumpkins?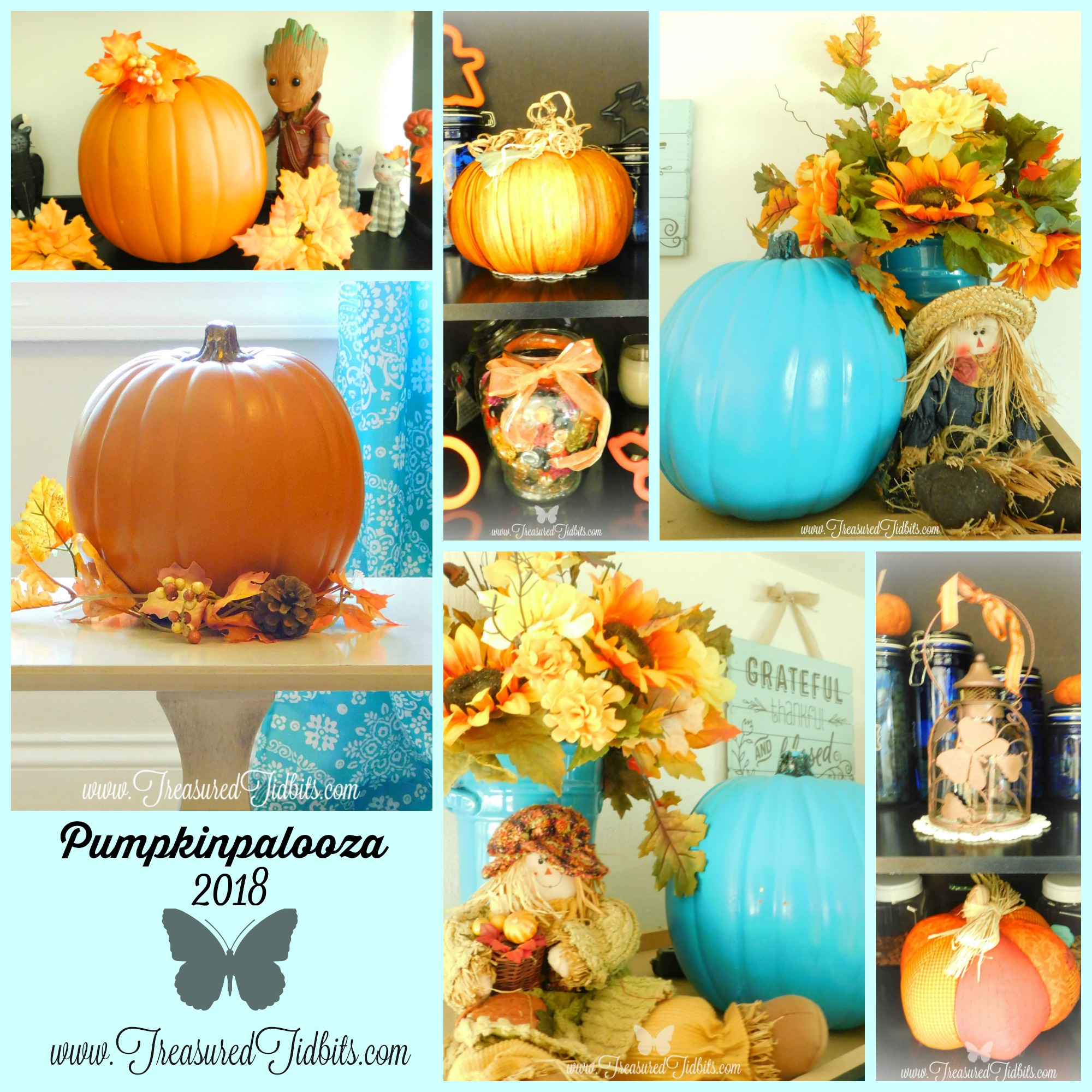 Be sure to let us know in the comments below.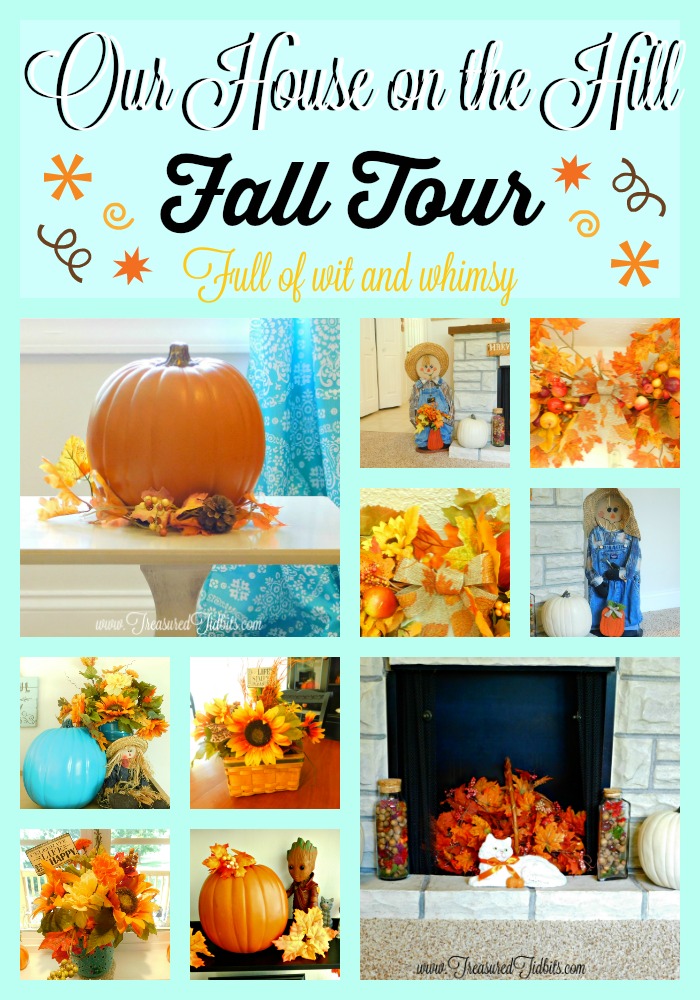 ---
Be sure you don't miss future tours, organizing posts or craft ideas by following us on Facebook, Pinterest and Instagram.
Some of the links in this post are affiliate links and may result in a small compensation if you click on them, at absolutely no cost or effect to you.  To learn more, visit our disclosure policy here.
Want to know what our home looks like year round including hidden organization?  Click here and view the rooms of your choice.
This post is linked up with a variety of others @
Talk of the Town @ My {Re}purposed Life
Home and Garden Thursday @ A Delightsome Life
A Morning Cup of Joe Linky Party @ The Cottage Market
Flaunt it Friday @ Chic on a Shoestring
Our Mini Linky Party @ Our Mini Family
Happiness is Homemade Link Party @ Ducks 'n a Row