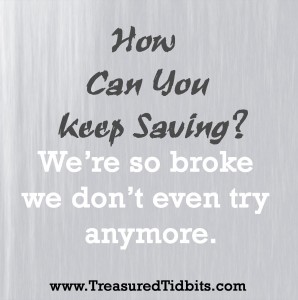 In this post I hope to answer a few questions we have come across as we have shared our goals and setbacks for January 2016, as well as my opinion some advice.
Please note:  This post is not directed at any one person, but it is a compilation of responses to comments we have received since we have committed to and shared this goal.  This includes complete strangers we have met in the store that have heard my daughter and I talking about saving and stopped me to ask how we hope to accomplish it.  Some of you may feel it is directed at you.  It is not!  But if something strikes a cord with you please use it to your benefit.
#1- How can you keep saving after you hit such a big bump in the road?
Yep, we are still trying to save despite the setback I shared last week and the fact we now have higher co-pays, deductibles and insurance fees for our daughters.
Let's be honest, there have been a few times in this past month I have considered changing our goals, lowering our expectations or just throwing in the towel, but then I pull out our year-long budget spreadsheet, say another prayer and remind myself that we can do this.
One little furnace repair shouldn't stop us.
If we are being completely honest, my focus was truly put to the test this week as my van was shaking and shimmying down the road.  I wondered just how far my faith and goals could go as we patiently coaxed it along at less than 45 miles per hour on the highway.  We pulled over a few times, turned it off, restarted it, said a few prayers and by the last 10 miles it was acting fine again.  By the way, this isn't the first time it has done this but three mechanics later, we still don't have answers.  It just likes to toy with my nerves.  I think.
Despite all the above and more we are determined to continue saving.  For tips on how we are doing this check out our Ways To Save Series.
---
How Can You Keep Saving?
"We are so broke I don't even try anymore!"
If I had a dollar for every time I heard this statement or something like it.  I.would.be.rich.  No saving needed.  I don't have a magic formula, money tree or fairy godmother.  I wish.
I have determination.  Determination to make a change.  Determination to have less stress, less stuff and less "working for the stuff".
Note:  You can spend 4 hours to make $4o and buy drive through for you and the kids OR you can spend less than one hour menu-planning, cooking, shopping and washing dishes and have the same food for $10-$15.  What is the better deal?
Our income has greatly improved over what it was even three years ago, but that doesn't mean we are rich or that saving is easy.
Yes, we are debt free except for our mortgage, but that is because we chose to pay our "rental" property and van off early.  Then, buy a car we could pay cash for because we chose to save the money we could have otherwise blown.
No, we have never had credit cards.  No VISA, American Express or Mastercard CREDIT CARDS in this house.  If we cannot afford it, we simply don't buy it, OR we rearrange our budget to make it work.  We have always lived that way and will continue to live that way.  We have borrowed money for our vehicles and homes, but even now we are planning to pay cash for our next vehicle.  Although this is a sore spot with some family members at times.
---
The top three things I would say to those I have spoken to in the past week is:
1.)  Stop spending!  You do not have to have that new floor this month.  You do not have to give your kids $20 to spend at concessions every week.  You do not have to buy those new shoes when you are out shopping with the girls.  You do not have to spend money at a friend's party just because they hosted one.  You do not have to eat out three times a week.
2.)  Slow down and take the time to invest in your family and home.  Yes, it may take a few hours a week to make some freezer meals, but it will save you a few hundred dollars a month.  Yes, it may take a few hours to set up a TRUE budget and review your debt, BUT it is worth it!  Yes, your family may complain and whine, but in the end it will be better for everyone.  Everyday that you continue to spend and charge is another month of your life you will spend paying off just the interest charges on those items.  Was that pair of shoes your kid wanted really worth it?
3.)  Do it!  If you have an old car, extra house, boat, furniture, instruments, motorcycle, or a basement full of clothes or antiques that you don't want.  Step up, clean them up and SELL them!  NOW!  Stop lolly gagging around and use the money to pay down your debt.  Their value is not going to increase as they age.  As a matter of fact, they may depreciate, so every day you procrastinate is another day you lose money.  Instead of spending the weekend at events, shopping, going to the movies, or laying in front of the TV and spending your time complaining about the debt and work involved, get your family together and EAT THAT FROG.  Your space will be cleaner, you will feel better, much less stressed AND your budget will improve.  (I imagine your health will too.)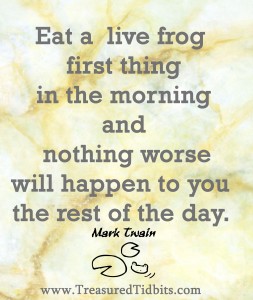 Confession:  As I am writing this, I am remembering we have an empty lot, three pieces of furniture, a huge stack of items for Ebay and a clarinet I have been supposed to sell for the past three years.  They have become a part of our surroundings and I forget to pursue selling them.  At first we were asking too much and I just stopped trying, now the furniture has scratches, the clarinet has aged three more years and we have paid taxes and maintenance on an empty lot.  Their value is

definitely

going down.  Guess what I am going to tackle this week?  Yep,

ALL

of the above.
What are you going to do to tear down your debt or increase your savings this week?
To join us on our journey and follow our ups and downs as we try to save $10,000 this year be sure to follow us on Facebook, Pinterest, Instagram and sign up for emails below.
I can't wait to see what this year has in store for everyone!
Remember sharing is caring and if you enjoyed this post please share it through social media, and maybe even leave a comment below.
This post contains an affiliate link at no cost to you.  For more details click here.
---
This post is linked up at a variety of link ups.
For an extensive list of the link ups we enjoy and link to click here.
This post is linked at the following parties:
A Bowl Full Of Lemons-One Project at a Time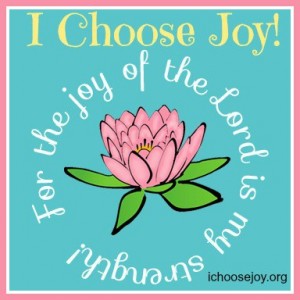 Save
Save
Save
Save
Save
Save