How We Organized Our Outdoor Toys
On a Zero Budget

Warning these will not win me any awards but they are part of the system that is working great for us and it was absolutely FREE.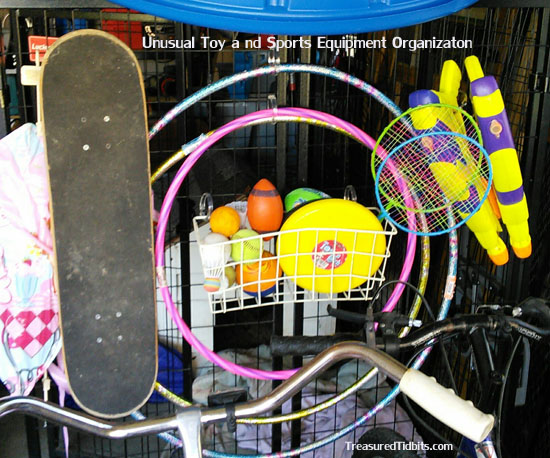 I would imagine our toy storage solution is very different from the average home.   As I have mentioned before we have a 4 x 8 foot dog cage stored in our garage.
(Yes, it is inconvenient but our dog sleeps there at night.)  This time around I decided to work with the gigantic dog pen rather than against it.
I used 25 cent shower curtain rings to hang a basket for small balls and our hoola hoops, skateboard, kites and larger squirt guns directly onto the dog cage.   The don't fall easily off and they are easily accessible above our bikes and right inside the main door.   This works great because the kids can be playing outside and step two feet in the door and grab the outside toys of their choice.   No digging, searching, hollering for Mom or making a mess.
We placed the larger, regularly used balls in our small red wagon (another $10 rummage sale find) instead of the bottomless trash can and the bats have been transferred to this pallet organizer that is doubling as storage for our wood slats, walking sticks, fence posts, garden supports and slats of wood.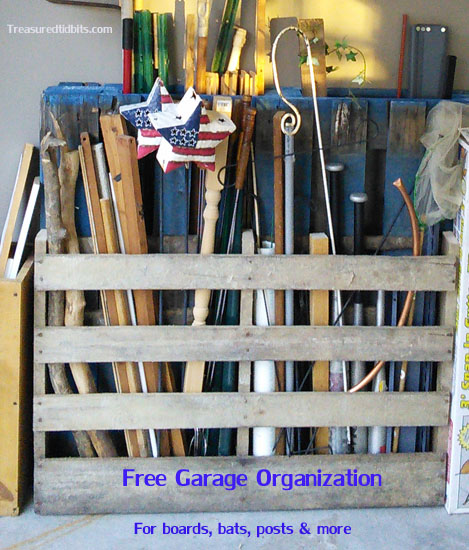 The rest of the toys and odd shaped items items were returned to a smaller version of our original stackable outdoor toy storage baskets..  Yep, by the time we purged and reorganized all the outdoor toys we only needed two baskets and the wagon plus end of the dog cage.   NO MORE bottomless trash can or mountain of baskets.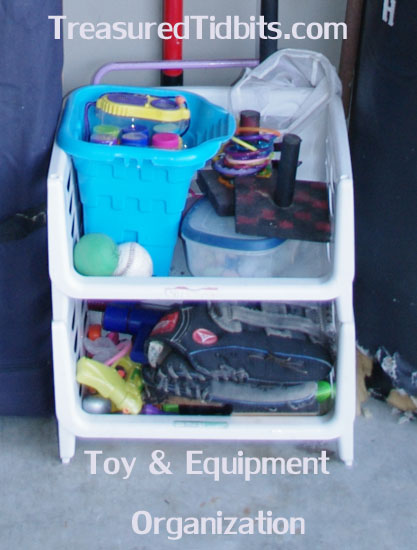 Since my children are older now and two of them are unable to participate in sports and activities we were able to really downsize and make the outdoor toys section of the garage manageable.
---
Here is what our toy/sports equipment looked liked before the final purge and reorganization.
(Keep in mind this was after the initial heavy purge.)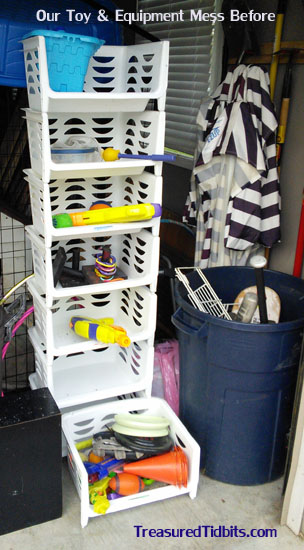 Prior to this the baskets were overflowing with toys and broken squirt guns.  The trash can could not contain all the balls (most of which were full of holes or missing chunks) and the hula hoops and skateboards were just tossed wherever they rolled or landed.
Obviously, the old system wasn't working too well and to be honest it took up entirely too much space. Now that everything has been purged and organized we can reach what we want to use in a matter of seconds.
We removed 4 basketballs, 2 almost new soccer shin guard sets, unused baseball (t-ball) gloves and tons more that hadn't been used since we moved into this house 3 1/2 years ago.  They had a mit of sentimental value but most of the items had deteriorated beyond use.
I did not throw away anything useful, it either went into our rummage sale, free pile, recycling or to the community store.
---
Questions I Asked During Our Toy Purge
Is it broken?
Does it work?
Are my children too old for it?
When is the last time my children used it?
Do other children come and use it?
Can a family member get more use out of it than we can?
Do I want to store it for another season?
Do I really need x number of balls?
I also involved my children with ALL of these questions (especially my son), after all, they are the ones who use them.
---
For more posts on garage and garage organizers click the following links:
Planning Your Garage Organization
Purging Your Garage Step-By-Step
9 Simple Lawn & Garden Tool Organization Ideas
DIY Bicycle Storage in Less Than 30 Minutes for Under $30
7 Outdoor & Garage Storage Ideas For Toys & Equipment
For more great ideas follow us on Pinterest, Instagram, Facebook and sign up for weekly emails.
---
This post contains an affiliate link for details read our disclosure policy found here.
Save
Save
Save
Save
Save
Save