Our Small Space Kitchen Organization
Today I thought I would share our small item kitchen organization.
I don't know about you, but one of the hardest things to keep organized and easy to find are the small plastic containers we use for everyday storage.
In an ideal world they would ALL be matching Rubbermaid and they would all interlock and stack beautifully.
I have discovered that keeping them in the smallest cabinet we have helps immensely in finding the items we need quickly.
Less space equals less area to search since teenagers are famous for not always putting items exactly where they belong.
As the above photos show, we store the longer, thinner containers on the top shelf with lids, the medium lids (to containers stored elsewhere) on the second shelf, (as well as the collapsible bowls and lids I bought from Tupperware and seldom use).
After admitting things like this- the song "Let IT Go" flows through my head- BUT I still can't bring myself to do it.  All in good time.

The lowest shelf holds all the mini containers we use for snacks, lunches and leftovers in the fridge.  Those lids are stored on the same shelf in a handled basket, ready for quick removal and speedy match-up.
Spice Storage
The third most challenging thing to store in our kitchen is the spices.
Our solution was to use two Rubbermaid can organizers.
Bending often exacerbates my struggle with EDS, so many of the kitchen organization ideas we use are just as much out of necessity, as beauty.  I prefer to continue cooking and cleaning for my family, and as we purge the kitchen we will be adding lots of organizing items to make this possible.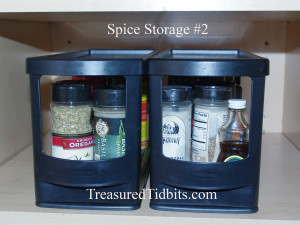 Since spices often vary in size, width and height, I have found that the soda organizers work perfectly.
They store upright, slide out for easy access on both sides and are see through.
Of course, the mini spices store better in the miniature drawer next to our stove but roll all over the drawer when stored loose.
Only during this last purge did I discover a FREE solution for this.  Finally.
I labelled the top of each spice container so that I can just look in the drawer, grab what I want and start cooking.  Then I sorted them in clean, clear, re-purposed lunch meat containers we had saved.
The mini drawer has always been our place to store jello, pudding, small drink mixes, to go bars, etc… because it is the perfect height and no space is wasted, but NOW it is even better because I can find what I am looking for without digging around.
A plus?  This solution was FREE!  Why didn't I think of it sooner?
---
Our Baking Drawer
This should read "baking mix" drawer.

I have found the perfect place to store our boxed cake, brownie and cookie mixes.  As you can see, the second drawer down, next to the oven is the perfect depth.  We organize them front to back by expiration date and try to consume them accordingly.  My new goal is to begin baking from scratch, but because my lil' angels like to tell me at the last minute they need something for this or that, I will probably keep a few prepackaged mixes on hand.  I do buy them for $.79 or less after coupons and discounts.
That is it for today.  Later we will share our pantry and lazy susan purge.
Please remember that we keep it real.  You will see real messes and real changes, but no staged "House Beautiful" photos.  My goal is to make our home convenient, livable and as pretty as possible for myself and my family while struggling daily with EDS and the challenges it presents.  This means everything may not be as pretty as I might like, but it will be as practical as we can afford and accommodate.
---
Want to read more about our journey?   Follow us on Pinterest, Facebook, Instagram and sign up to receive weekly emails.

This post contains affiliate links for more on this click here.
Save
Save
Save
Save
Save
Save
Save