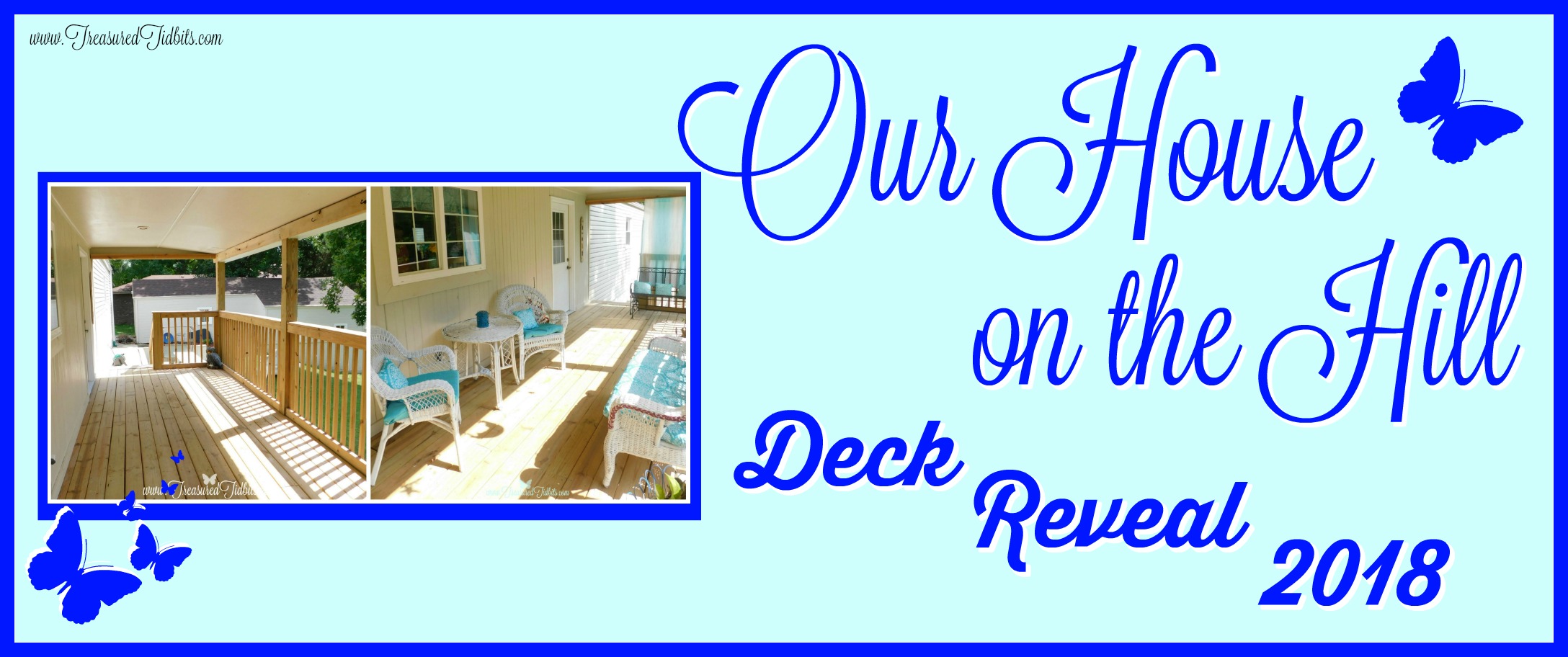 Welcome to our little oasis!  Last week, I shared a tour of our House on the Hill just before we moved in, and today I want to share our elevated deck, a.k.a. outside oasis.  We love the serenity, quiet view and country oasis our elevated deck offers.  To capitalize on that oasis, I have adapted it to fit a few of our needs, while sticking to a budget.  A very tight, budget.  You will discover during our reveal that most of the items we used to give it appeal and warm, cozy feelings are items we recently inherited, purchased second hand, received as gifts or had in our stash and cost us ZERO dollars.  How can you beat that?
During this reveal I will share how and why we created the space we have and share a few links to help you create your own.😀
I promise it was fairly simple and very inexpensive.
Let's get started.  Shall we?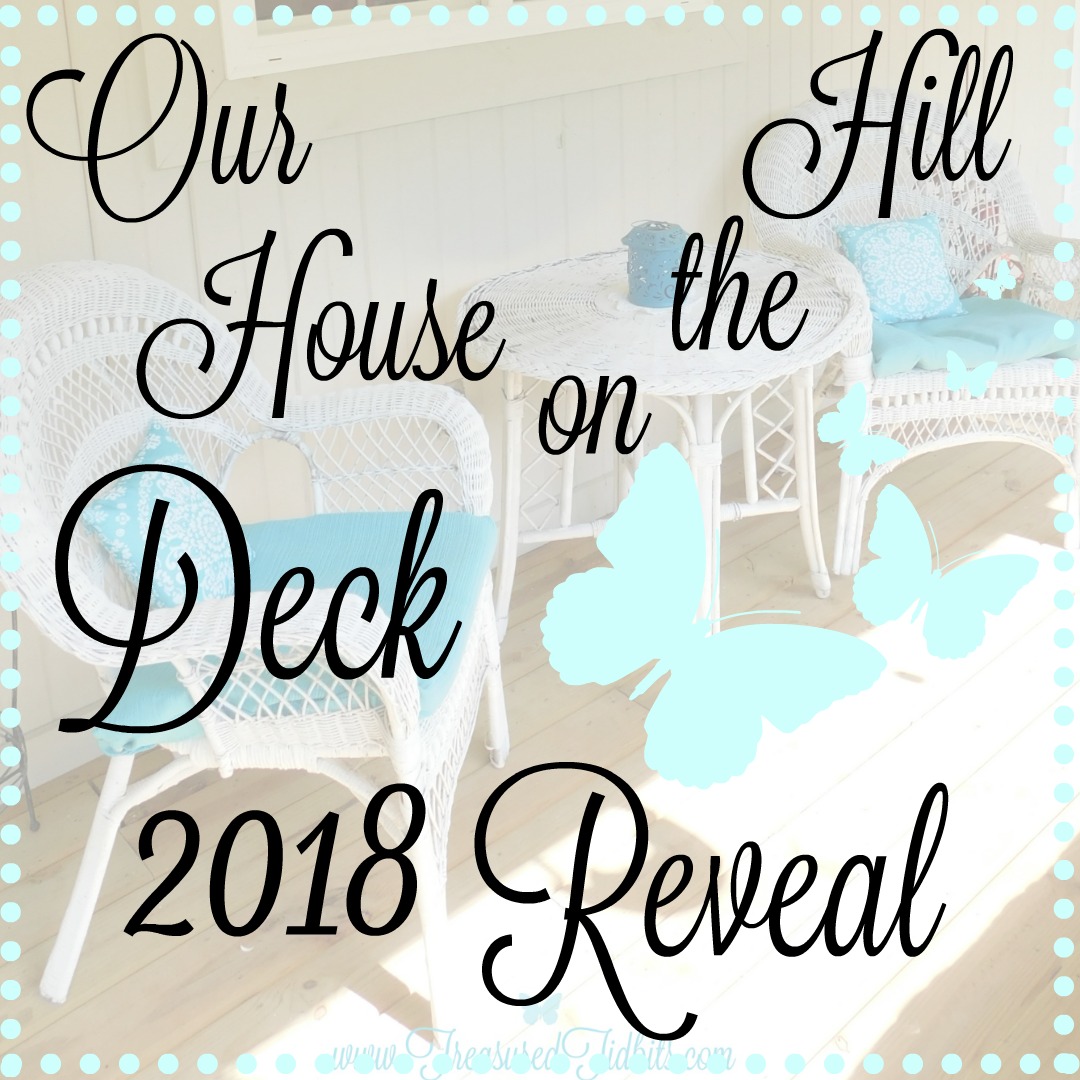 Here is a peek at the empty deck.  Yes, it was a brand new addition when we purchased our home last July, which I absolutely love because who doesn't love fresh and new?  We added the hooks and nails, etc… over the last few months to make it our own.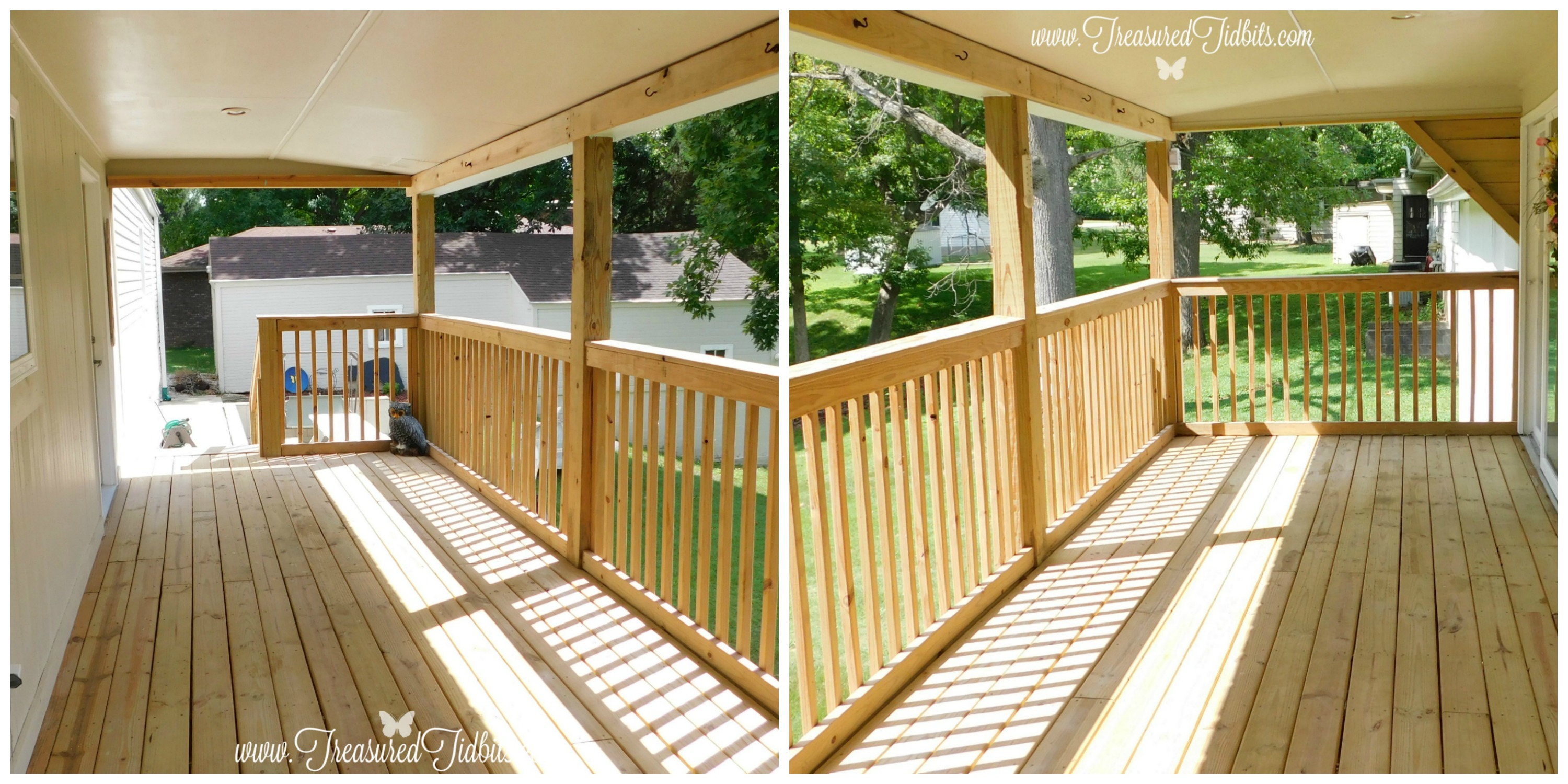 It is quite long, as you can see.  I use it for a little bit of everything including crafting, transplanting, relaxing, hosting parties, airing laundry and various other daily tasks.  I also use it when I need to escape the house and count to 10. 😇 But please don't tell anyone.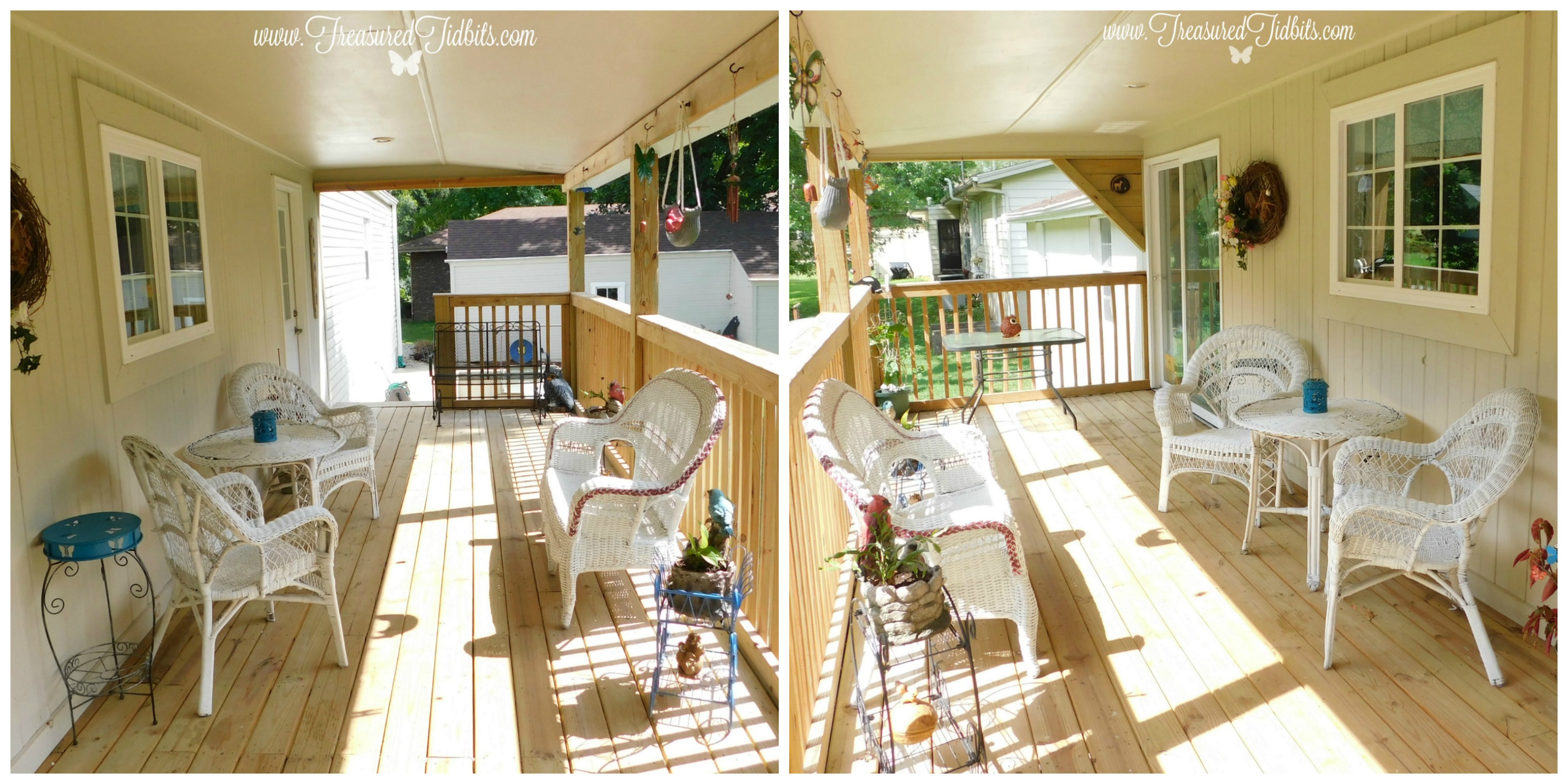 We began by simply adding our previously owned furniture.
We brought our glass table, rocking glider, Cinderella plant stand carriage, 3 pc wicker table and chairs.  My mother gifted me the settee from an estate sale across the street.  Can you believe it went for only $25 and it had never been outdoors?  It is in excellent shape!  The plants, owls, a few wind chimes, and the blue plant stand wagon were inherited from my late grandparents and were added just recently.
As you can see, it was useful but not too welcoming with only the bare furniture.  Factor in the huge struggle my daughters and I have with being exposed to direct sunlight and it falls a bit short at certain times of the day.  After searching online for ideas, I decided to add some color and removable sun protection with these gorgeous, sheer ombre curtains.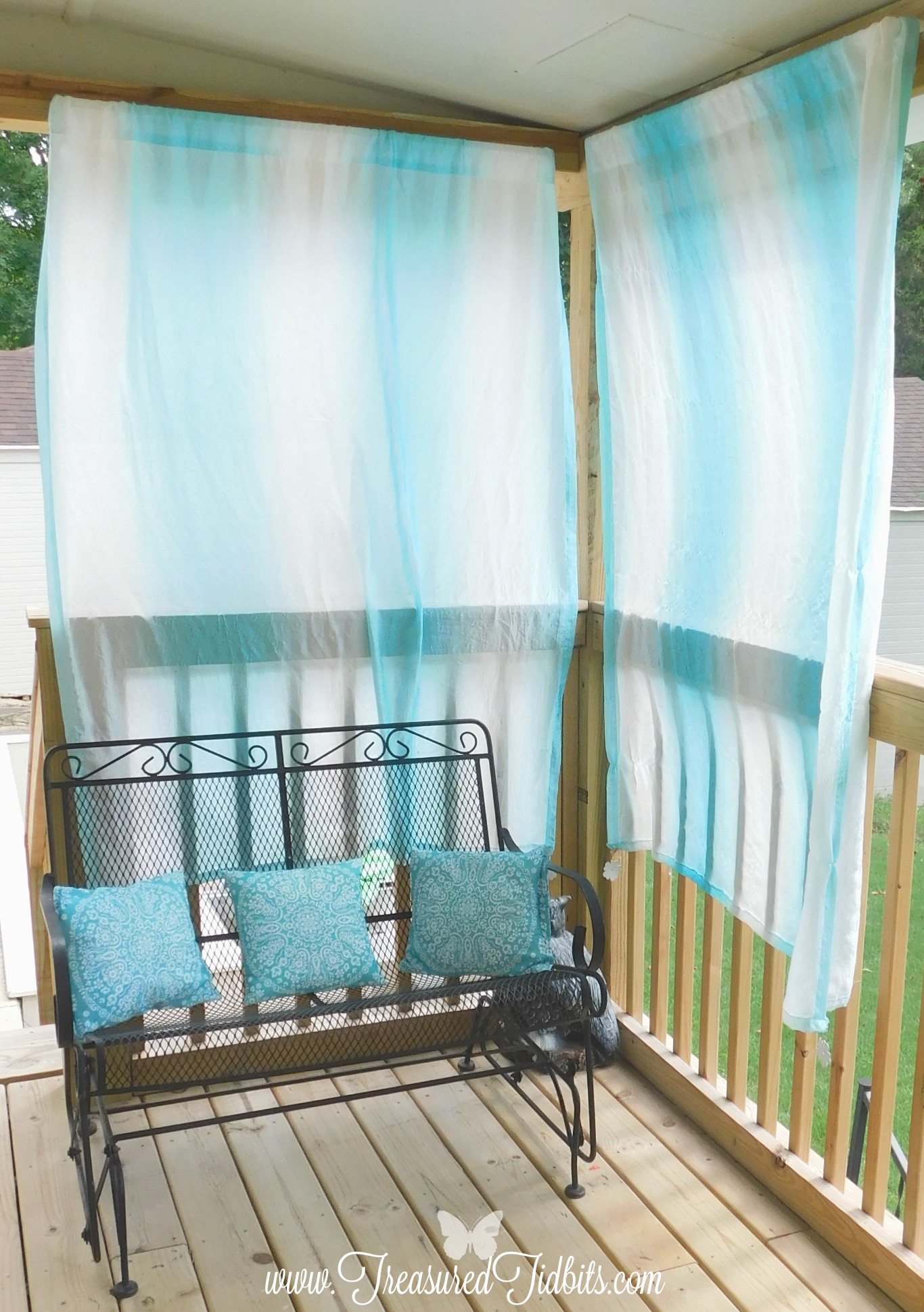 They are perfect for letting the light through while blocking the burning rays of the sun, not to mention save me from a few crow's feet as a I squint at my nemesis, the sun.😎
Want to know how we made it work for less than $5 out of pocket?  Simple.  We adapted curtains we already owned by cutting and stitching them to fit the space.  Ours are shorter because our dog often hangs out on the deck and I did not want them to be her afternoon snack.  She may be 17 years old but she has the heart of a puppy and chews on everything. 
Then we purchased two plain, ordinary curtain rods mounted them to the inside of the deck (on the corner) and added the curtains, Voila!  An instant filter sun oasis.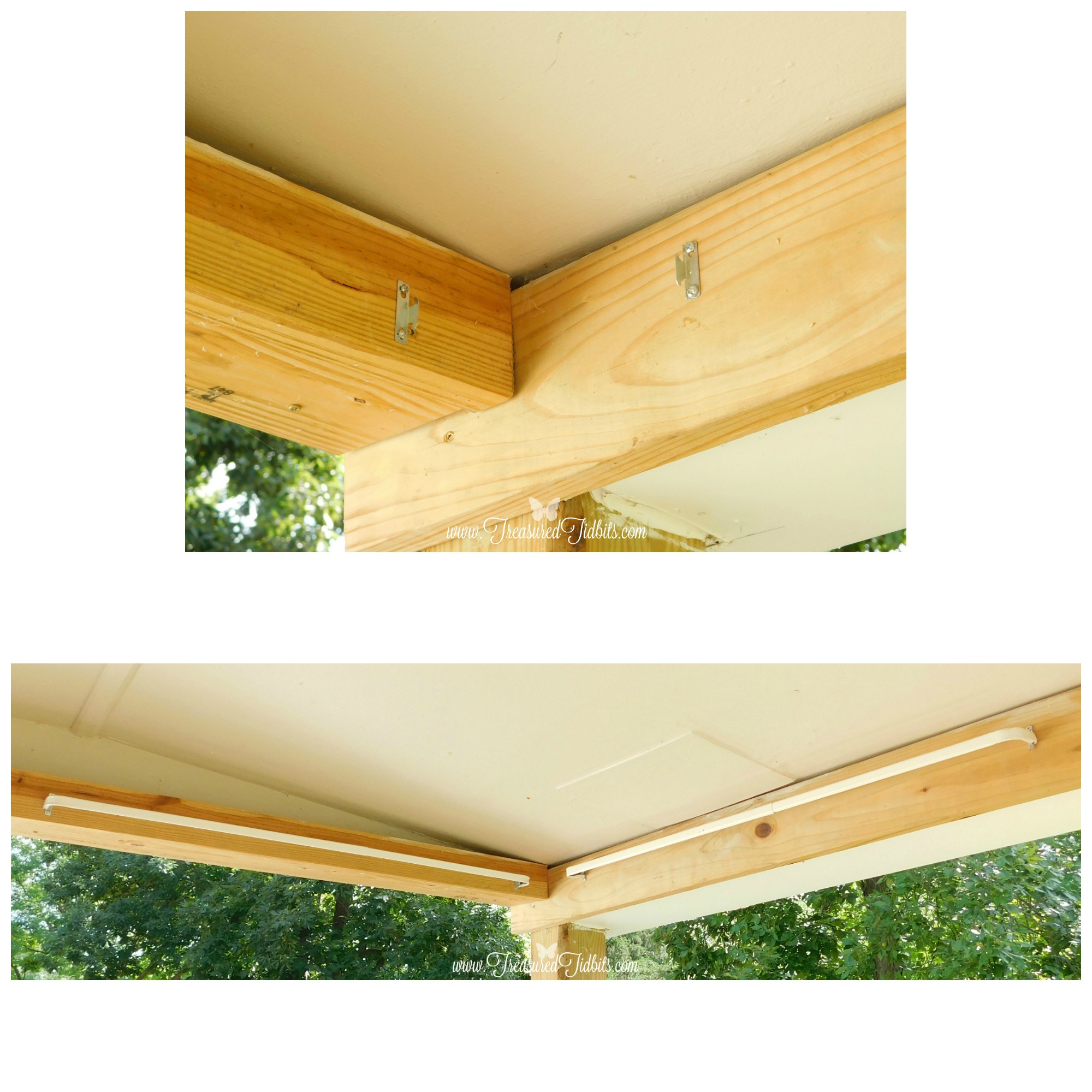 Tip #1:  Use table cloth weights to keep the curtains from billowing too much.  They can be found at most stores with a lawn and garden department.  We purchased this set of 4 at our local Dollar Tree.
Tip #2:  Keep in mind, not all materials are compatible to storms.  We personally, remove our outdoor curtains and wind chimes during heavy winds.  It can turn brutal fairly quickly here in central Illinois.
Of course, I used my go to colors and carried them throughout the deck while sticking to our budget.  The wicker loveseat, came to me with this heavy, corduroy cushion on it.  BORING!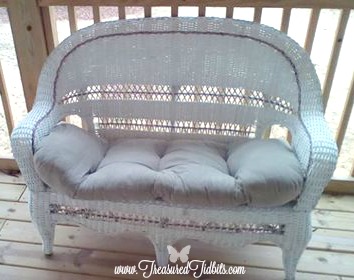 But thankfully an amazing friend took pity on me and came to my rescue, helping me create a removable slip cover from these gorgeous water resistant tablecloths.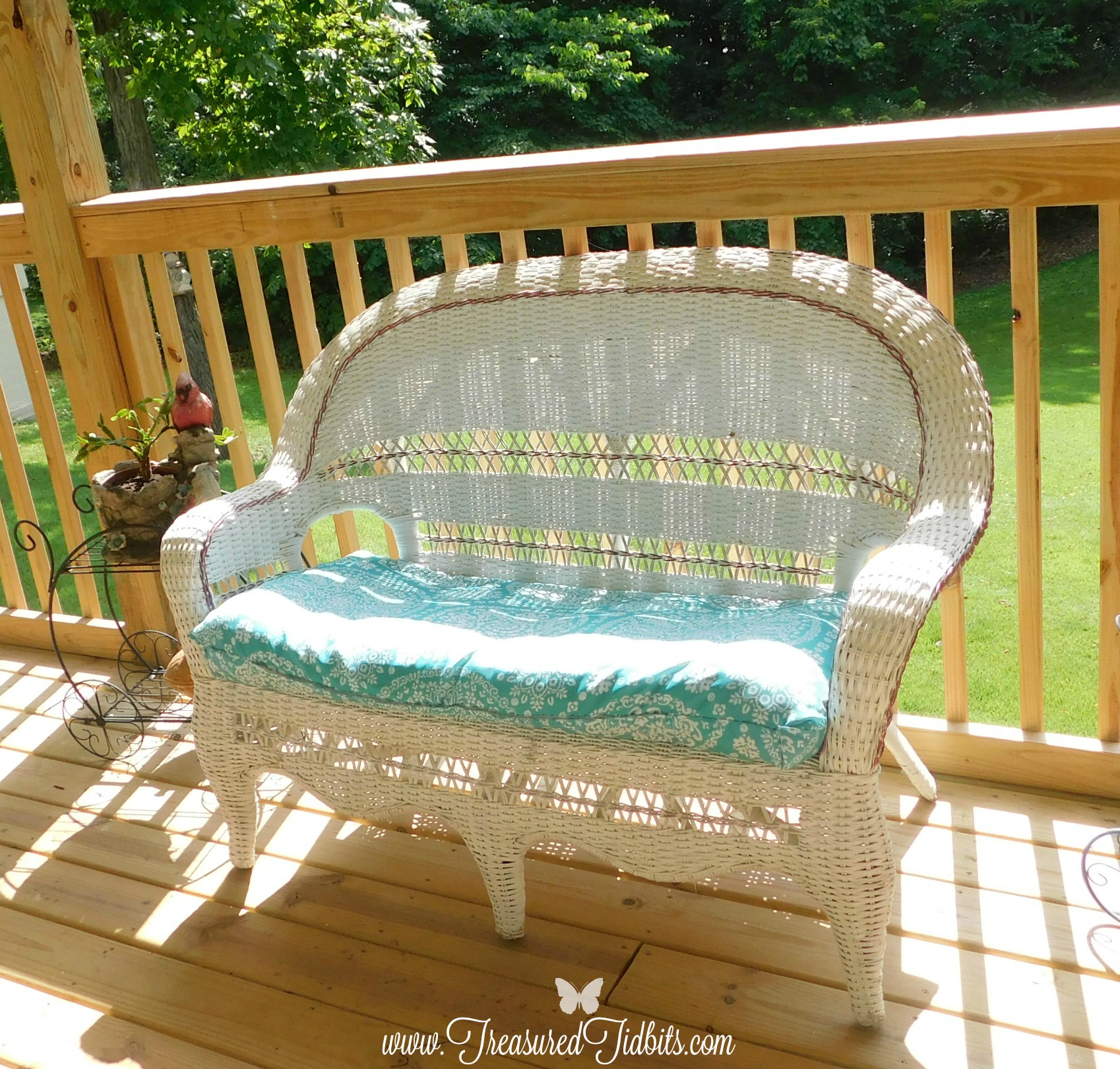 She not only planned and created this masterpiece but helped create matching pillows and indoor curtains as well.  I bought every one of these tablecloths I could find on clearance.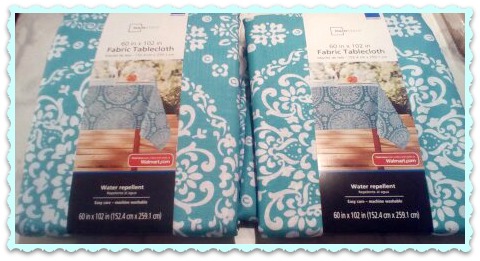 After two years of hunting, I was too excited not to.  LOL  I am beyond picky when it comes to spending money- in case I haven't mentioned that.  I also have had the first two table cloths since spring 2017 and kept them in storage, waiting for the perfect time to use.
She simply cut the tablecloth to fit around the cushion with room for stitching.  Stitched all but the back edge, added a some velcro to make it removable.  We made them removable because I plan to change the cover with the seasons.  I mean, who needs multiple cushions when you can wash, store and fold the cover so much easier.  She then adjusted the corners to match the round corner of the cushion and VIOLA!  We had a gorgeous new cushion cover.  I love it!  I couldn't be happier.  It was a triple win day.  Not only did we create some beautiful pieces, we saved money and we were able to visit and catch up.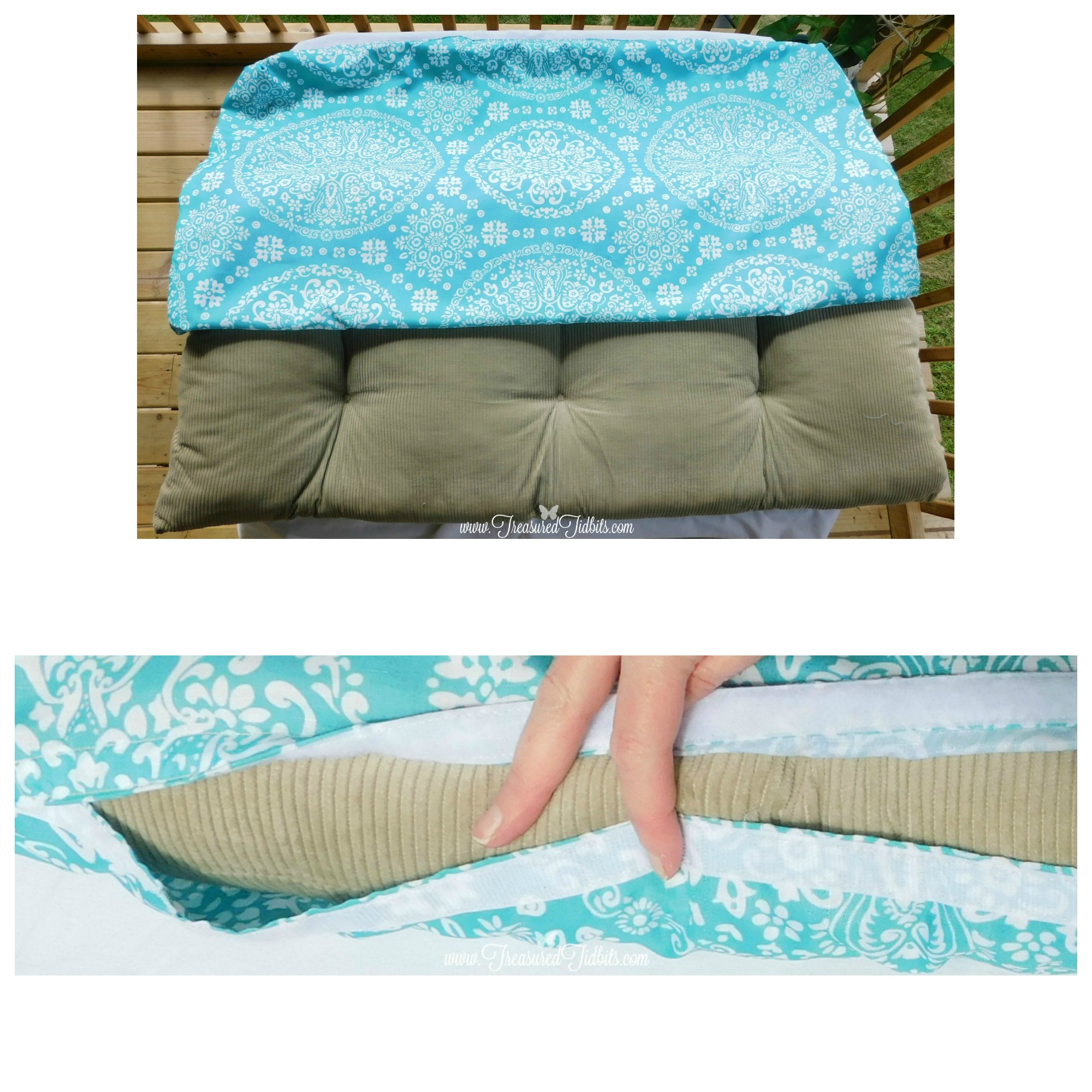 We also created these small reusable, thank God for velcro, toss pillows that I use both indoors and out.  We use them indoors when we aren't on the deck because they are just too pretty not to enjoy.  And as I mentioned earlier, frugal is my middle name.  What do you think?  Are they gorgeous or what?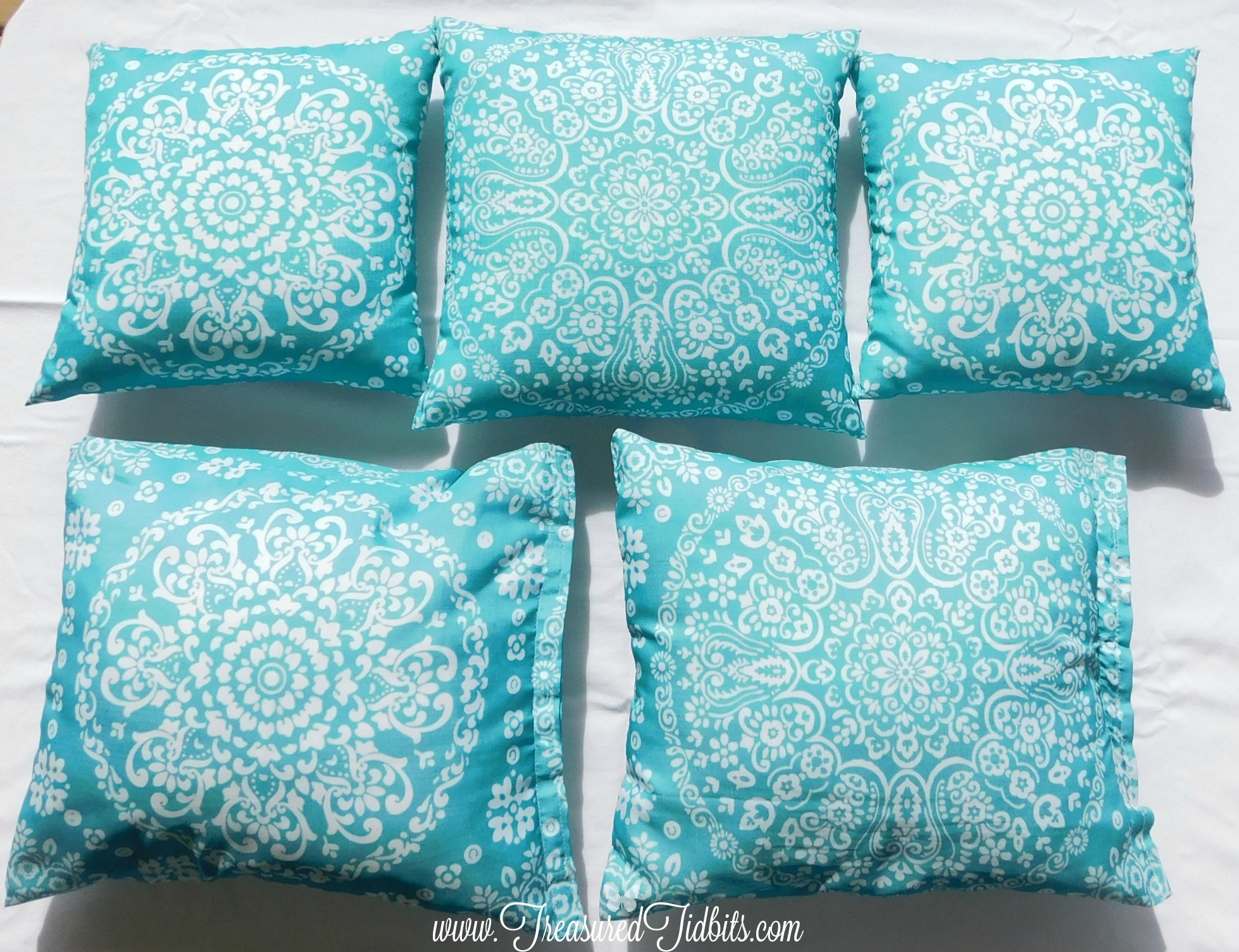 The toss pillows were a bit more challenging because of the mandolin pattern and various size designs.  We wanted to make certain each pillow featured a mandolin in the center for focus and beauty.  With some time and effort we did just that, and I say we because I even managed to create one. 😮
If you look closely, the pillows have been sewn in a variety of ways, using both the envelope and sleeve method.  Both ways feature my all time favorite decor secret, sewn on velcro, so that just like the cushion cover I can change the pillow covers for the holidays and conserve space.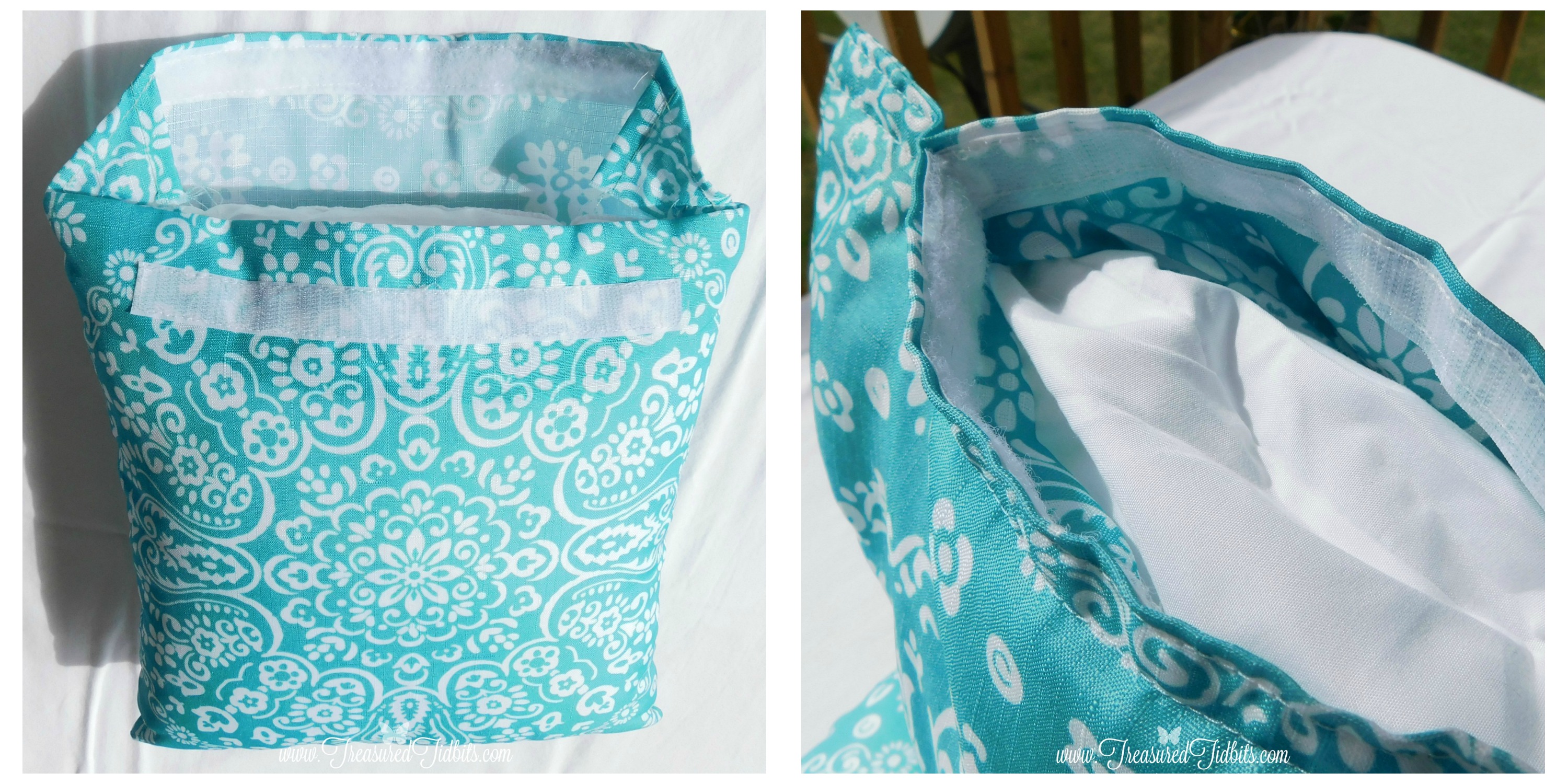 It is so much easier to wash, dry and store the removable slip covers than it is to store 5 pillows.  Don't ya think?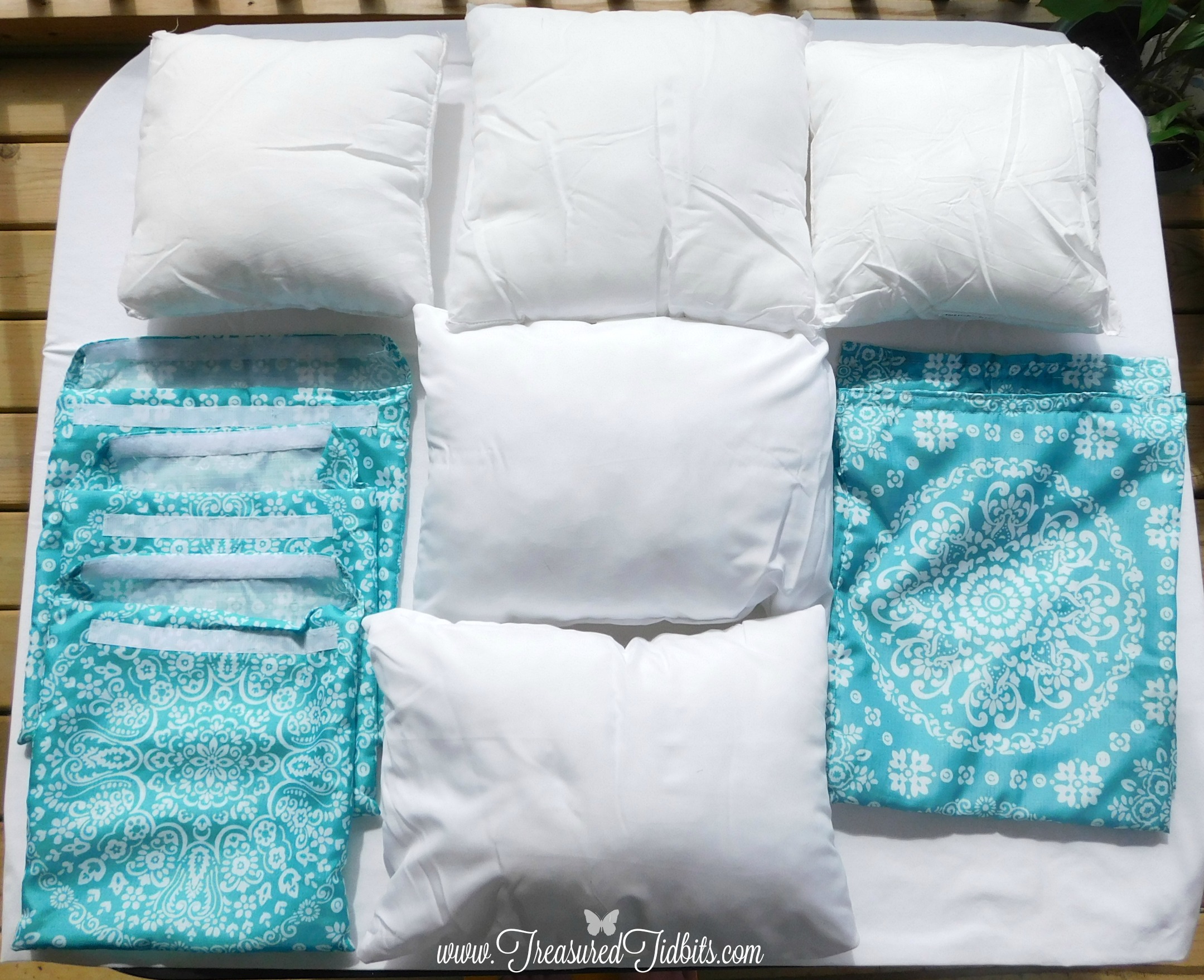 I am sad to say, the chair cushions are over 3 years old and do not have removable slip covers BUT I do hope to create some in the next few months.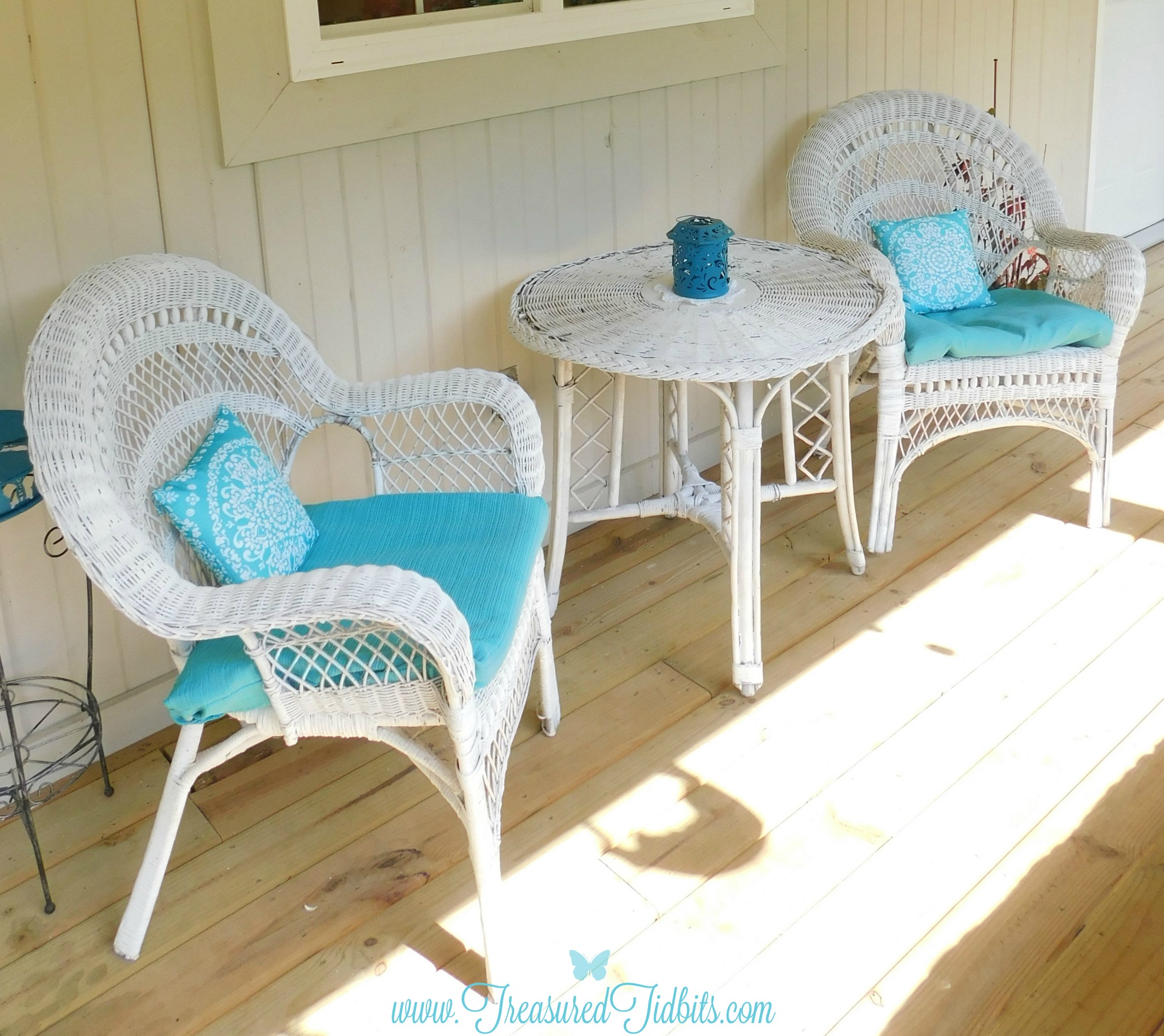 Isn't the finished look amazing?

The entire thing (not counting the previously owned furniture) cost approximately $39.00
Matching thread $2.00 -Walmart
Sewn in Velcro $3.00 -Walmart
Pillow Forms ( I only bought 3) $15 -Walmart
Tablecloths  $8 -Walmart
Curtains (2) $5 -Resale shop
Curtain Weights $1 -Dollar Tree
Curtain Rods (2)  $5.00 -Walmart
Of course the tablecloths and curtains were purchased long before the move, but I wanted to be fair when estimating a realistic cost for reproducing this look on a budget.
Want to know what we paid for the furniture we used as well?
Glass Umbrella Table $10 -Auction
Black Glider $0 -Inherited
3 Pc Wicker Set $40 -Resale shop/Antique Store
Cinderella Plant Stand -Gifted
Blue Plant Stand & All Plants -Inherited
I have included links in the post to similar items on Amazon.  Some of those links are affiliate links and may result in a small compensation from Amazon if you click on them, at absolutely no cost or effect to you.  To learn more, visit our disclosure policy here.
Can't get enough of Treasured Tidbits?  Follow us on Facebook, Pinterest and Instagram where we share more each day including other sites, deals and inspiration.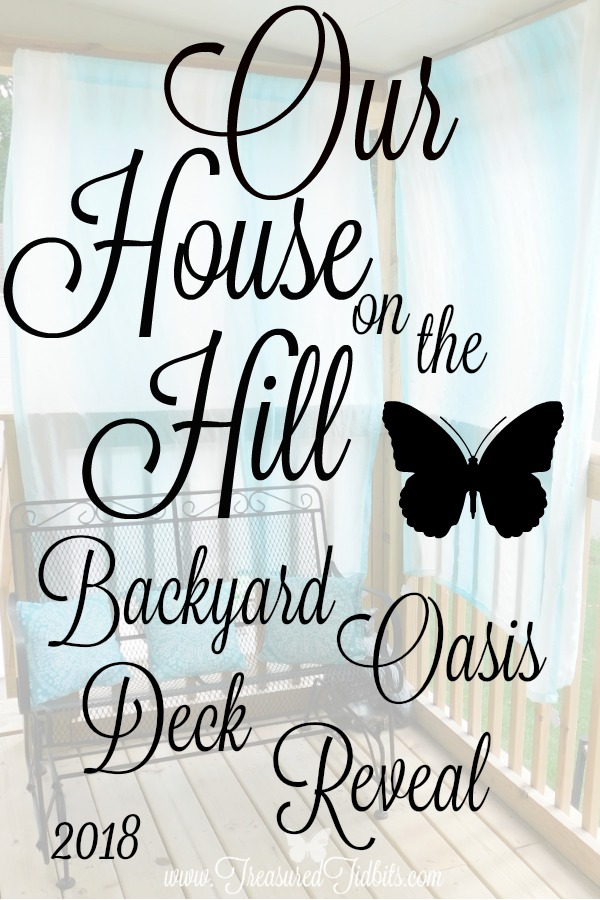 Just for fun, here's a few close ups our hanging decor and uninhibited view.  What happened to the sunkissed pig?  My girls brought him home from my grandmother's estate in desperate need of a coat of paint.  Watermelon pink was what we had.  Isn't he adorable?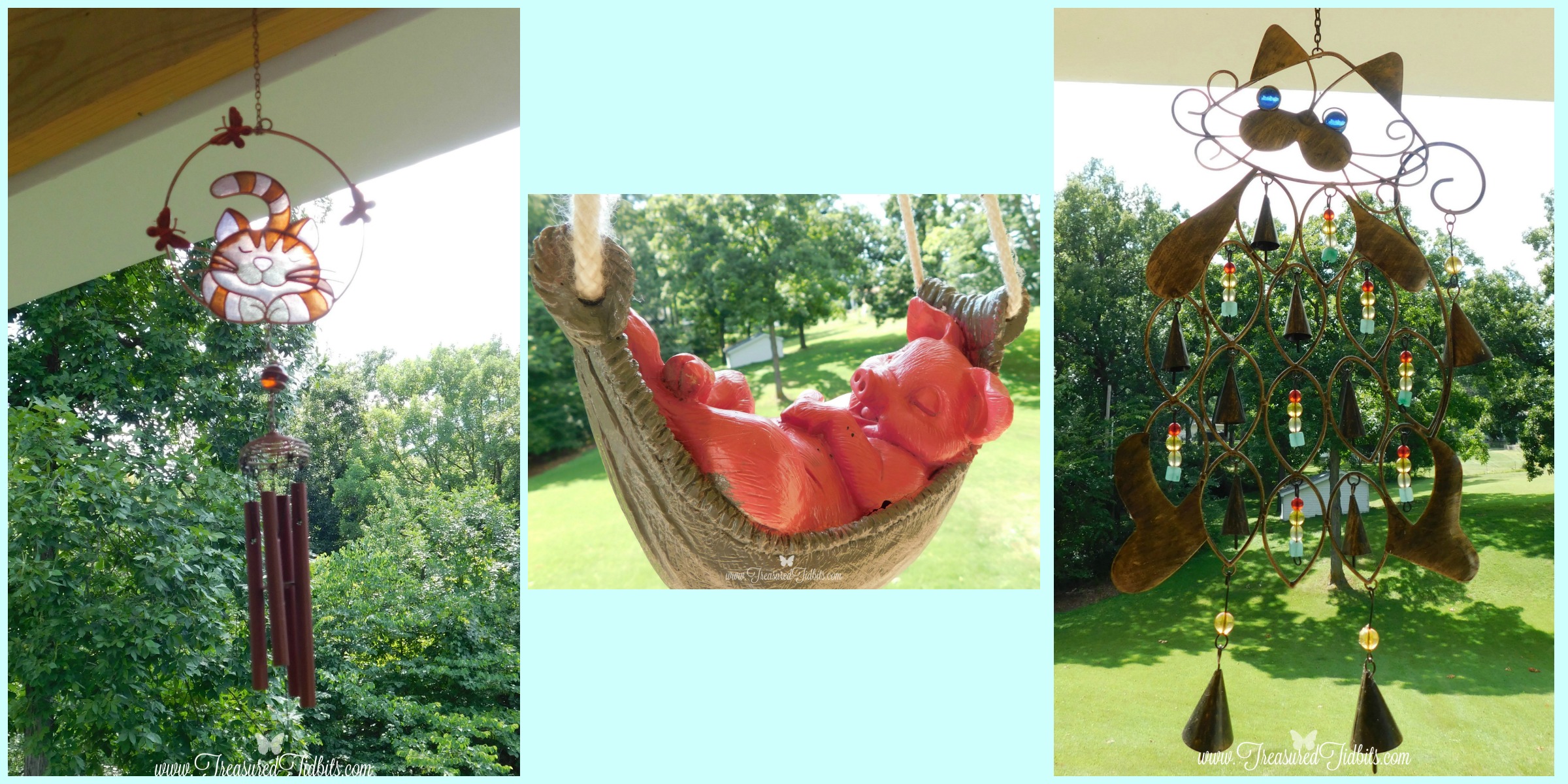 This post is linked up with a variety of others @ Inspire Me Monday @ Domestically Speaking
MMM Block Party @ Keeping it Simple Crafts
Inspire Me Tuesday @ A Stroll Thru Life
Sizzle into Summer: It's a Party @ DIY by Design
Talk of the Town @ My {Re}purposed Life
Home and Garden Thursday @ A Delightsome Life
Friday Favorites Linky Party @ Simply Sweet Home
Artsy-Fartsy Link Party @ Artsy-Fartsy Mama
Flaunt it Friday @ Chic on a Shoestring
A Morning Cup of Joe Linky Party @ The Cottage Market
Our Mini Linky Party @ Our Mini Family