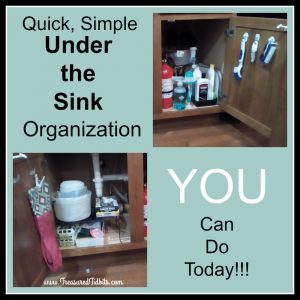 What's Under YOUR kitchen sink?
What would you like to keep under your kitchen sink?
What do you use the most that is under your kitchen sink?
These are 3 VERY important questions to ask and answer before you begin organizing under your kitchen sink or anywhere for that matter.  When we recently replaced the floor in our master bedroom I asked myself these questions about every. single. drawer, hook, shelf and cubby BEFORE a single item was returned, and the results were AMAZING.  So many things were located in our master bedroom that had NO reason to be there.  NOT returning them has been so restful and freeing, not because we disposed of everything but because we found new, appropriate homes for it.  A quick look under our kitchen sink made me quickly realize that the same thing has happened here.  It's full of "whatever" and could be organized much more efficiently with little to no expense and effort.  And I could do it RIGHT NOW so I did.
THIS is the BEFORE.  Now, I must admit that I KNEW I was planning an overhaul for this area and therefore neglected it for the past few months.  It is a dirty mess.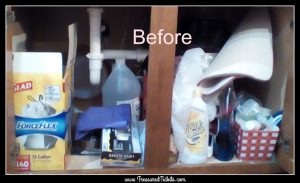 This is AFTER and it cost me absolutely nothing.  Everything I used, I had on hand, and I actually did this at 8:00 at night as I was writing this post.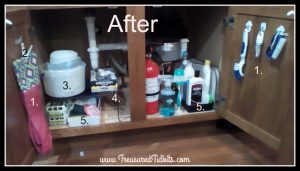 It took less than an hour from beginning to end including cleaning up this mess that my hubby made when asked to add Dawn to the countertop dispenser and taking photos for this post.  Note:  The command hooks took a bit longer to dry but I was able to type while they were doing their "thing".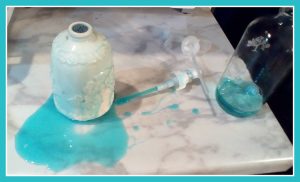 A break down of what I used and how I used it.
Command Hooks  I purchased these on clearance over a year ago.
Clothes pins  I had hoarded saved/repurposed these from a broken project.
Ice Cream Bucket to corral the trash bags.  It is so much easier than scratching my arm on the enormous box.
Stackable shelf from Clever Container to elevate the disposable gloves and trash bags.  We use disposable gloves to clean up when animals have accidents or someone is ill.
Shallow containers  I had these stashed away from other projects we have done.  Yes, I have a stash of organizing "containers" in a drawer in the basement.  Maybe this spring I will invest in some pretty colors or add some pretty Washi tape.
Sealing container to hold extra dish washer tabs.  It needs to seal in order to keep them from disintegrating.
---
Here are a few more great ideas for organizing and controlling the items under your kitchen sink.  

I shared Amazon links and photos but many of these items can be found at your local dollar or department store.
Use an over the door organizer to hold bottles, brushes, sponges and more.
Add a corner shelf like this one from iheartorganizing.  I absolutely LOVE the lay out they have here.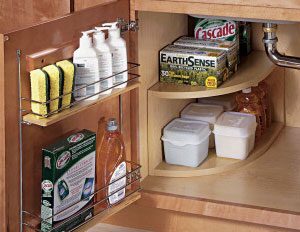 Command hooks with a basket– Simple, removable yet so helpful.  Another great idea from iheartorganizing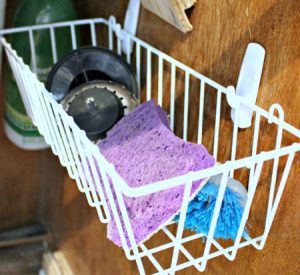 Install a rod to hang your bottles from.  This great photo and idea comes from BlissfullyDomestic.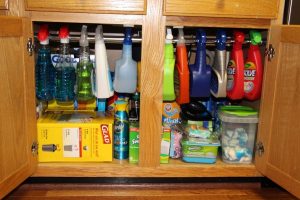 Mount trash bags to the wall or door for easy distribution and more cabinet space.  Photo and idea courtesy of SimpleOrganizedMe.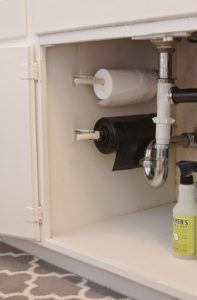 Mount paper towels to the door as well.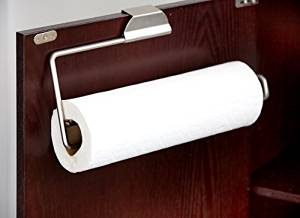 Keep your Walmart bags in a Clorox dispenser decorated to match YOUR decor.  Just follow this great picture tutorial at Tater Tots & Jello.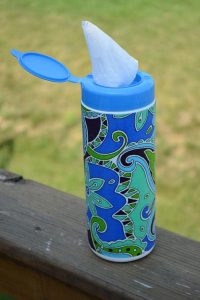 Over the door towel bar.  It can be used for bottles, towels, rags and more.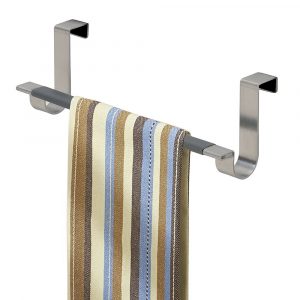 Sliding drawers.
| | |
| --- | --- |
| | [easyazon_link identifier="B00XZHQSO2" locale="US" tag="treasuredtidbits-20"][/easyazon_link] |
Pretty, stackable baskets
And of course,  Command Hooks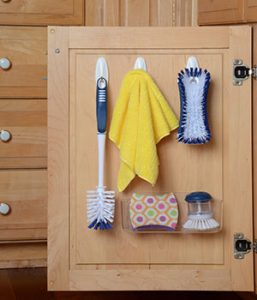 There are so many ways to organize this space, but it all comes down to taking the first step and making some decisions.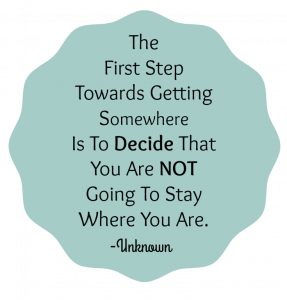 If you need just a bit more motivation be sure to follow our "Under the Kitchen Sink Organization" Board on Pinterest & sign up to join our 30 Day Organizing Challenge.   Learn more about it here.
---
This post contains affiliate links at no cost to you.  For more information on what this means follow our disclosure policy here.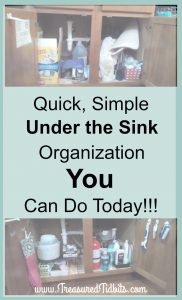 Save
Save
Save
Save
Save
Save
Save
Save
Save
Save
Save
Save
Save
Save
Save
Save
Save
Save
Save