15 Unusual Uses for a Pampered Chef Pan Scraper (besides cleaning dishes)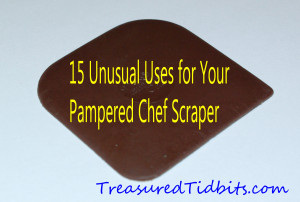 Due to the fact that my "illness" limits my abilities to keep my hands wet or use a lot of strength or repetitive motion I have learned to adapt and use whatever items I have on hand to help me.
The Pampered Chef Pan Scraper has been a house saver on many occasions.
  Very often, when I tell people what I use they look at me like I'm crazy and then contact me later to tell me what a great idea it was.
None of these ideas came because I am a genius.  (That I am not.)
Most of them were born from a lack of finances (to buy expensive cleaners), on-hand supplies and the fact that we own a rental property and people can leave the strangest messes in just a few short months.
Here are the 15 things I use my SEPARATE Pampered Chef Scrapers for (I own several so that I don't mix food scrapers with YUCK! scrapers)
1. Removing price stickers and tape residue from wood crafts and other products.  It may not get the residue that settles into the wood but it makes it manageable to remove with nail polish remover and a cotton ball if it does leave anything behind.
2. To remove nail polish from hard surfaces that nail polish remover may damage (such as walls, hard wood floors, tables, cabinets, etc…)  We have experienced this at the rental several times and since that house was on the market (before the fire) removing it without damaging the home was VERY important.
3. To remove stuck on candy, gum, suckers, food etc…  (As I said, I cannot have prolonged exposure to water or repetitive motion such as trying to scrub something and have found that the scraper will take most of it away immediately while soap and a little water will clean anything that is left.)
4. To help defrost the freezer.  I don't know about you but I hate waiting for the freezer to thaw and have found I can loosen the ice on the sides with my scraper with no harm to me (very important) or my freezer.
5. To remove DRY pools or drops of paint or stain.  Another REALLY important one at my house.  I am a very messy crafter especially when we have a toddler here, but I know that if I let the spot dry, instead of smearing it with water, I can scrape it right off with no stain or damage to my floors, walls, counters, sink or table.
6. To remove detergent and fabric softener build-up in public (or personal) washing machines.  This may sound odd but with severe allergies to many of the "fragrances and additives" that these have, my family has spent a bundle on "washing and rewashing" clothes to get the "pretty" smell out.  That smell causes nasty allergy attacks and we have learned to take steps to avoid it.  We simply check the washer's detergent and rinse intake area and if there is a build-up wipe it out with a rag (to be thrown away) or a paper towel and scrape it with a PC scraper.  This saves a ton of time and money.
7. To remove old caulking or where you missed that edge and dripped in the middle.  We have used it on sinks, bathtubs etc…  Any hard surface that you don't want to scratch or use abrasives on.
8.  Instead of a razor blade on windows when cleaning the edges of paint or caulk.  This is much safer than using a razor blade, a least for me.
9. Cleaning the edges of your appliances where they meet the counter.  We ALL drop little particles of food in there and I, personally, cannot move my stove everyday to clean and my vacuum attachment won't work thoroughly in such a small space.  Yes, I have tried.  I used to use a butter knife but it would scratch my appliances and sometimes me.  The scraper is so much better and less damaging.
10.  Removing built up, cooked on grime on the stove and inside the oven.  Yes, baking soda does wonders but those thick goopy piles (thank renters for teaching me this) will come right off with a scraper, allowing you to concentrate on the other messes.  I can even use it on my electric stove top when we have a spill and it doesn't leave scratched or a nasty residue that I have to rinse 10x to remove.
11.  Removing the Kool-aid, juice spills, melted fruit bars or popsicle gooey messes that end up stuck to the inside of your fridge and freezer.  No more scrub, scrub, scrub!  Simply scrape it up, wipe the residue away and enjoy your day.
12.  Cleaning the grooves on your appliances.  Around the door frame, in the handle, the fan, the grill,and all those little connecting spots.  It will slip right in those little grooves and remove the build-up.  (My mom called the other day and was moving her fridge for the 1st time.  My sister was helping her and said she had been scrubbing this spot for 30 min. because it was "gooey" mess and taking forever.  I told Mom to drag out her Pampered Chef Scraper,  described it to her, and just a few minutes later it was taken care of.)  I've learned to just grab it for EVERYTHING!
13.  Clean the wax build-up that accumulates at the edge of your cabinets and floor after you mop a few times.  The scraper will take it right off and doesn't harm anything.
14.  To remove the accumulated ring of gunk around the sink, faucet, tub, etc…  Cleaning with vinegar will also assist in keeping that build-up under control.
15.  To remove the food and mud build-up that somehow accumulates on the seats, door and cup holders of your vehicle.
There are many, many more uses but this is plenty for now.
I am about to host a Pampered Chef Show but I am in no way reimbursed for this post.
I have never used another brand of pan scraper but I imagine any durable one could be used.
You would simply want to be certain that it is strong enough and doesn't have a rough edge that will scratch other surfaces.
We encourage you to like, share, tweet, re-pin and tell others about this post.
As always, comments and suggestions are welcomed and encouraged.
Thanks for stopping by and let us know if this article helped you!
Check out our other top articles here.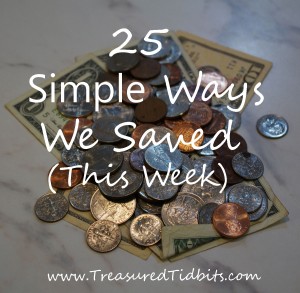 #15UnusualUsesForAPamperedChefPanScraper