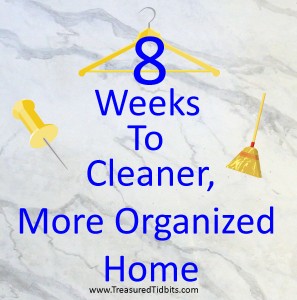 Welcome, to our new series, 8 Weeks To a Cleaner More Organized Home, where we work together to clean and organize our home.
 ( I chose these 8 weeks so that my home will look great for Thanksgiving guests and before I decorate for the holidays).
       In this series we will address your home from the entrance area to the guest bedroom and just about everywhere in between, taking it one step, one location at a time.   Whether you have a single bedroom apartment or 4 bedroom mansion we hope to offer support, guidance and tips to work with you through the process of "sprucing up" your home.
Each Sunday we will offer tips, tricks and suggested tasks for the following week including "bonus projects" for those whose homes are already fairly orderly and clean.   Each Saturday I will happily share my progress with before and after photos of my own home as I take this journey with you.  IN addition our private Facebook group (sign up here) will share other bloggers tips, tricks, ideas and encouragement soooo if you haven't signed up for the Facebook group yet you might want to do so now.
    The 8 Week Plan
Week 1: Take advantage of the cool weather to address you driveway, flower beds, porch, entrance, front door, hall and hall closet.
Week 2:  Living room & Family Room
Week 3:  Dining Room
Week 4:  Master Bedroom
Week 5:  Guest Bedrooms and/or Children's Bedrooms
Week 6:  Guest/Kid's Restrooms
Week 7:  Master Bath
Week 8: Kitchen
The weekly plan will include a printable checklist with projects ranging from 5 min tasks to 30 minute tasks (or longer depending on the state of your home).
We encourage you to print the list (or create your own) and adjust it to suit your home, your family and your time frames.   Each house is created differently and may not be able to follow the plan we have created to an exact T but it shouldn't stop you from joining in our journey and tackling your home with us.
I will be sharing my personal "schedule" for each week but please remember you life and family are different than mine and we encourage you to create you home.
Our next post in the series will contain printables and checklists, as well as tips and tricks for how to address each room.
Save