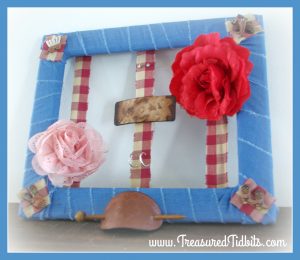 Simple DIY Hair/Earring Organizer
This amazingly simple but beautiful DIY Hair/Earring Organizer generally takes less than 20 minutes, unless extremely small hands are helping.
While searching for inspiration for today's post I stumbled on these two materials and knew my daughter would love them as a new organizer.  We created additional matching organizers for her headbands and other accessories.  They can be found here and here.
---
This is particular organizer was created by wrapping 2 inch strips of jean colored fabric around the frame.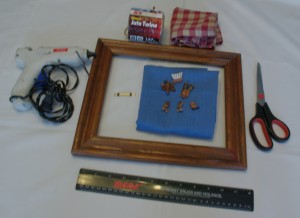 Supplies you will need:
Picture frame (with hardware removed)
Material
Hot glue and glue gun
Ruler
Scissors
Accent items of choice
Instructions:
1.)  Begin by cutting the main material into strips.  We used 2 inch strips here, but you can use whatever size you are comfortable with.  (We recommend you practice wrapping the first strip to make certain you are comfortable with the width and can manage the corners neatly.)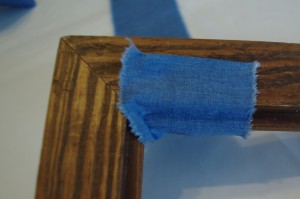 2.)  Begin securing and wrapping at a corner.  Apply glue to the back and edge of the frame, apply end of material.  Pull forward tightly and wrap around the front, glue the next section of the back in place.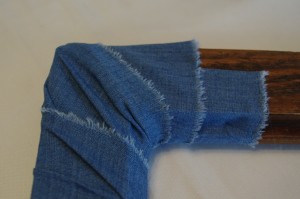 3.)  Begin wrapping, overlapping and applying glue as you cross the back and outside edge each time.  Repeat until first strip ends.  Then (see note) begin next strip.
NOTE:  Be certain to trim the end of each piece so that it stops in mid-back and is securely glued.  Overlay the next strip on top, to keep a solid flow.
Continue wrapping until finished.  Secure any loose "puffy" corners.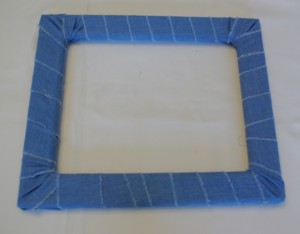 4.)  Apply one inch strips (or ribbons) to back, using glue and pulling taut.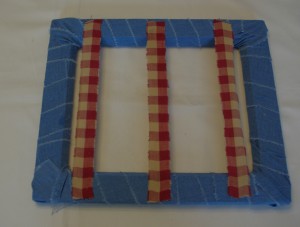 5.)  Attach a saw tooth hanger.  Or hanging method of choice.

6.)  Apply corner décor.  (We used 1 ½ inch cloth squares with Western Button Décor.)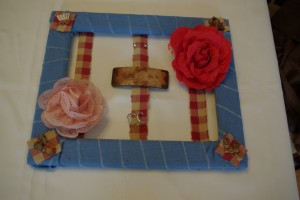 There you go, you have a wonderful country girl hair/earring organizer and you did it YOURSELF!

All of the items we used to create this product were leftovers from other products so our final cost was the hot glue only.
Click here to view more of our zero budget DIY hair organization items.
Or Follow us on Pinterest, Facebook, Instagram and sign up for weekly email updates.
Save
Save