Business
Amazon FBA / FBA Nomad Family
Tell us a bit about yourself, your family and your business.
We work from home selling on Amazon part time with a full time income. Our second project is creating a social media following to teach other people how to do the same.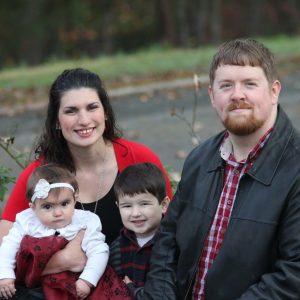 What inspired you to work from home?
Seeing lots of successful people who paved the trails for us.
Why did you choose the business that you use?
It had a lot of potential to scale quickly with minimal investment. I liked that I could outsource the shipping and customer service to Amazon.
What do you feel makes or helps you be successful?
Two things: Not taking a salary and reinvesting profits as long as possible (we waited 11 months to pull a salary) and secondly, avoiding shiny object syndrome as much as possible.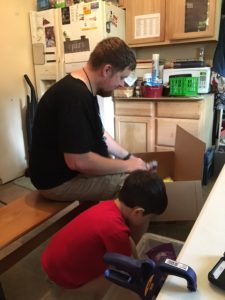 What do you struggle with?
Having patience to grow slow and steady and challenging myself to not stay in my comfort zone. It's very easy to get complacent.
What 5 tips would you offer someone contemplating your business adventure(s)?
Start small. Do books, thrift, yardsales etc. If you make bad purchases it won't be a huge loss. Get the mistakes out first.
Network with as many people possible. Join groups, find people you relate to and message them to talk.
Be consistent. Most new sellers give up after a few months. It's the ones that stick with it that really show progress.
Compare yourself to your own results.  Are you doing better than yesterday? Last month?  If you look at other people do so for inspiration, not comparing.
Work smart. As you scale, nail down where you're being inefficient. Fixing those will help you before you hit growing pains.
What 3 books/websites/bloggers have you found to be the most helpful with being a WAHM and making ends meet?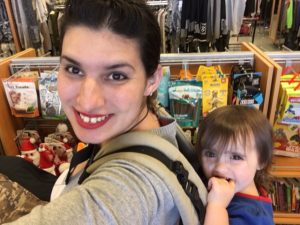 Please share a breakdown of your work week or day.
Weekends are off for family time.
Monday we spend all day in stores to buy inventory.
Tuesday we prep, label and ship.
Wednesday's we tackle admin work.
Thursday's if budget allows we source again and ship on Friday.
Share any additional tips or info you feel would inspire others.
We try to streamline as much as possible.
We have a weekly menu plan we rotate with a matching grocery list.
We order groceries online weekly and them pick up.
Once a month we declutter the house and give away one tote of donations.
Save $ for personal and business. You never know when an emergency would come up for either.
For clarity keep separate accounts for business and personal. Saves a lot of headaches.
As you grow your business, invest in tools as it makes sense. It can be an inventory tracking program, repricer, babysitter for kids couple days a week, lawn care etc.
Outsource some things so you can earn more.
---
Do you work from home?  We would LOVE to share your story at Featured Friday!!!  You can begin the process by visiting our WAHM Featured Friday form here.
Want to read more Featured Friday WAHM posts?   Follow us on Facebook, Pinterest, Twitter, Email or Instagram.
Note: This post may contain affiliate links.  If you choose to click these links I may receive a small compensation at no cost to you.
---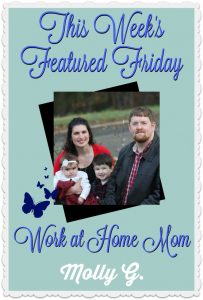 Save
Save
Save
Save
Save
Save