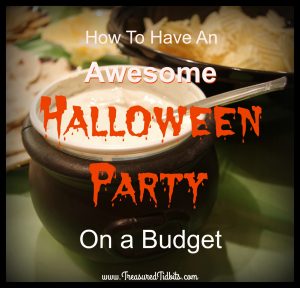 Halloween Party On a Budget
First, just let me say, I don't normally celebrate Halloween, let alone host a Halloween Party.  Yeah, I might display a few ghosts for a few days and let my teenagers dress up and hand out candy, but when I signed up with House Party a few weeks ago and applied for a Borden Cheese sponsored party, I thought, "What the heck, Go for it!"  We did AND we were accepted, so a #Sponsored #BordenCheeseParty it was.
We planned our Halloween Party on a budget, and were in no way compensated for THIS post by Borden Cheese or House Party themselves.
We did receive this great party box in exchange for our agreement to host an amazing party featuring Borden Cheese, then sharing some photos and reviews of the party and products with them.  This post is an entirely separate entity though.  I thought I would share with you, our readers, How We Hosted A Halloween Party On A Budget and how House Party and Borden Cheese helped us stay on that budget.
THIS is the House Party Box we received from Borden Cheese.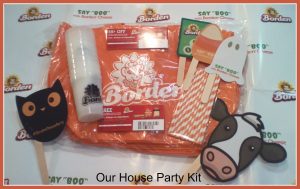 It contained:
Coupons for free cheese (to serve our guests)
10 Coupons to give our guests for their own Borden cheese, later
10 Reusable Bags with the Borden Logo
10 Cups and Straws to serve and send with our guests
Fun Fake Masks and a Borden Cheese Sign to Pose for Photos in front of
The House Party Rules were simple and easy to follow, but of course I had to bump it up an notch, even though I still can't walk too far without my walker or sitting on a chair or stool.
Borden provided the cheese, but we were allowed to pick our own recipes, and since I knew we would be partying during the average meal time, we chose to have finger foods and soups that would fill us up and taste good.  We began planning as soon as I knew we were approved, and in doing so, we were able to plan a party for 11 people, including a meal and decorations, for only $30.  Want to learn how?  Keep reading.
---
Halloween Party on a Budget
Our groceries: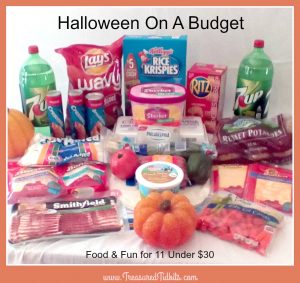 Because I decided our budget the day we were approved, I was able to rework the menu, decor and overall plan to fit our budget and shop sales for two weeks.  Our final cost, with coupons, discounts, free items and garden supplies, came in at just under $29.75, with leftovers for our regular menu.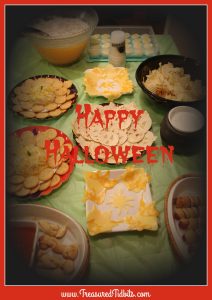 This is what we served, and the basic cost of each:
Crock pot potato soup with bacon bits and cheese pieces for toppings.  A crockpot full of soup with side costs approx. $5.28.  (Cheese was free with coupons.  Bag of Potatoes $1.29.  Cream Cheese $1.49 and 2/3 a pkg of Bacon $1.30.)
To afford everyone the chance to taste the delicious Borden cheese, we cut some Gouda and Colby/Monterey Jack into spooky Halloween shapes.  It was quick, easy and tons of fun.  This was COMPLETELY free because the cheese was purchased with the House Party coupons we received.  We placed the excess (non pretty pieces) in our tacos & soup.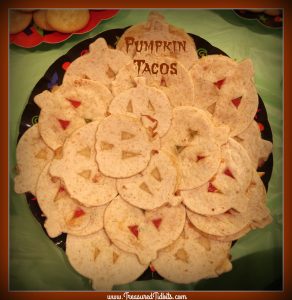 While I was at it, we cut these adorable pumpkins from some soft taco shells, hand carved some faces and filled them with various taco fillings (including cheese).  Total cost was less than $2.00  (Soft Taco Shells $1.85, Free Cheese and Tomato and Pepper from our garden.)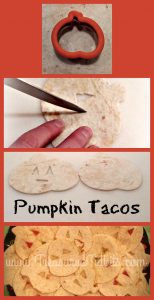 We also served mummy hot dogs and "Bones and Blood", as my daughter dubbed them.  Hot dogs wrapped in crescent rolls and breadsticks made into bones and served with leftover pasta sauce.  These cost a total of $6.00.  (Crescent Rolls $1.49, Hot Dogs $2.00, Breadsticks $2.49, Sauce FREE- Leftover.)
We also served deviled eggs, chips and dip and this delicious 5 Minute Million Dollar dip recipe from Alyssa at The Recipe Critic.  (Eggs 18/$1.49, Chips $1.79, Dip $1.49.  Dip: Cheese- Free, Green Onion 1/3 Batch $.49,  Remaining Bacon $.50, Cracker $1.99 & Mayo we had on hand.)
We created two separate cheese balls to accommodate multiple food intolerances.
We also served Rice Krispy Treats and Yummy Mummy Punch, at an estimated total cost of $3.75 for both.  (Rice Krispies $1.25, 2/2-Liters of 7up $2.00, and One tub of Sherbert $2.49.)
---
Our Decor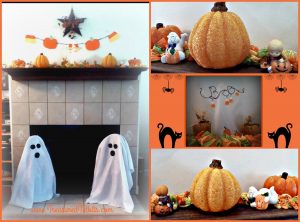 Because I chose to spend the budget on food, I decided to use the decor we had and possibly create a few Halloween items to liven things up a bit.  It's not like I love crafting or anything, right?
Thankfully we had some unopened plates, napkins, trays and forks from when I hoarded bought clearance merchandise years ago, and I did not need to purchase or scavenge for supplies there.
We added my daughter's adorbs Ghosts to the entry area.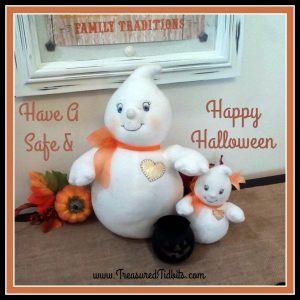 An adorable witch to our fall decor on the buffet.  I found her for less that $2.00 this summer while garage saling, and even though I didn't know if I would decorate for Halloween, I knew she was too adorable to pass up.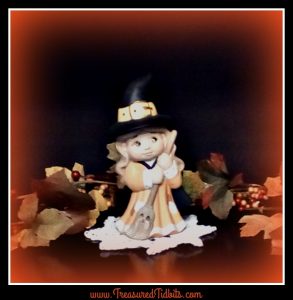 Then, we addressed the fall mantel by adding a few ghosts and a scarf we no longer want to wear.  It matched perfectly.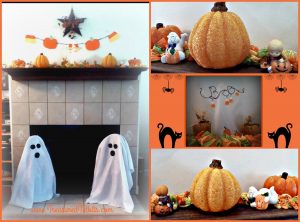 To create the little ghost guys, my daughter and momma cut some white material in half and glued some felt shapes to it before laying it over these adorable standing scarecrows I have had for several years.  Cost zero.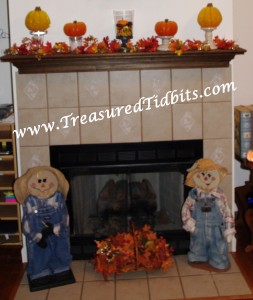 Due to the fact we were all having a good time visiting and my mobility is so limited, we chose to forgo playing games and spooking others, BUT we had planned a game of Fear Factor, requiring our guests to dig through a slimy, grimy bowl and identify small objects within a specific time frame, playing pin the spider on the web and pumpkin bowling.  All games I could create for FREE with items we had at home.
---
How did you celebrate this year?
Did you blog about it?
Feel free to share the link below.  I love encouraging others and discovering new things.
To see more posts like this follow us on Facebook, Instagram, Pinterest and sign up to receive weekly emails- where we share upcoming deals, printables and more.
This post is linked up at a variety of linky parties.
Check out the extensive list here.

We create We Save
Save
Save
Save
Save
Save
Save
Save
Save
Save
Save
Save
Save
Save
Save