If you read our recent shopping post you know that we only budgeted $400 in total for groceries in the month of February after we spent January "Just Making Do" from the pantry and freezers.
After we set this budget I had the opportunity to visit Gordon Food Services (GFS) to purchase supplies for a school concession project.  After a quick call to my husband we decided to make a long term investment in our grocery supplies by purchasing some bulk meat, cheese and fruit.  Of course, these purchases were not included in our original grocery budget in such large quantities but the price per pound couldn't be beat so we decided to allow just a "little bit" more.
We spent $147.41 but not until a review of February's budget and the assurance that we could still pay all of our bills and begin to rebuild our emergency savings fund.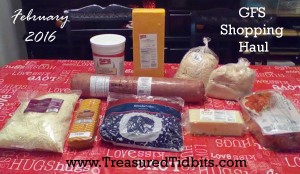 Our purchases included:
10lbs of Ground Beef for $29.23
10 lbs of Mild Cheddar Cheese $26.99
2 lbs of Smoked Sharp Cheddar Cheese $6.99
1.5 lbs Natural Swiss Cheese $7.49
5 lbs Sliced Pepperoni $13.99
6.5 lb bag of Shredded Mozzarella & Provolone  $11.79
5 lb bag of Frozen Blueberries
5+ lb bucket of Sliced Strawberries
10 lb Fresh Turkey Breast (sliced free) $23.99
Tax $1.46
For a total of $147.41
What did we do with all this bulk food?
We broke it down into flat freezer bags in meal/weekly size portions based on our family needs.  I believe everything but the fruit will last us at least three months and by then I will be prepared to budget for another GFS shopping trip.
How do you bulk shop?
Please feel free to share any tips, stores or links in the comments below. 
We truly enjoy encouraging our readers.

Note:  I am not receiving any payment, free services or reimbursement of any kind for this post.  I simply wanted to share our experience and the great buys we made so that you can too.