"KISS ME I'M IRISH" St. Patrick's Day Mantel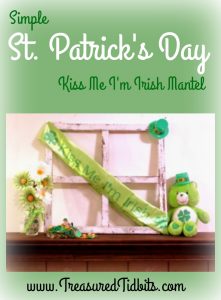 This fun Irish display cost less than $5.00 to make and was so simple to create.

ITEMS NEEDED
Open window frame

"Kiss Me I'm Irish Sash" ($1.00 at Target)
2 Plastic Hats ($1.00 for 4 from Dollar Tree)  I am going to use the remaining hats for party favors.
Green Bear (We used a Care Bear we have had for Years.)
Straight Pins (for attaching sash and hat to frame)
CLOSE-UPS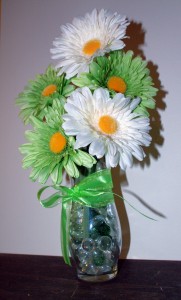 Click HERE to find instruction on how to create the amazingly simple spring
vase.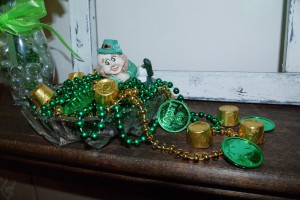 Click HERE to find instructions on how to create this whimsical treasure bowl display.
Our window frame is NOT mounted to the wall because I like to switch it out with other décor and do not like extra holes in the wall, especially since this is the focus area of our main floor.  Instead we prop it against the wall and layer items on and around it.
The final set-up did take me several minutes but the individual projects were very simple.
The key is to keep rearranging things until you are satisfied with the placement and everything seems secure.
Have Fun Creating and Happy St. Patrick's Day!
---
Want to discover more amazingly simple and inexpensive St. Patrick Day ideas?
Follow us on Pinterest, Facebook, Instagram.
To ensure you don't miss a single post sign up to receive weekly email updates.
12 Fun & Easy St. Patrick's Day Ideas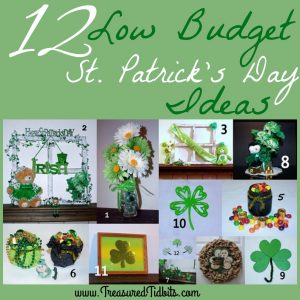 Remember to pin me for some simple St. Patrick's Day decor next year !!!
Save
Save
Save
Save
Save