Master Bedroom Makeover
Update #2
New curtains, Clean blinds, DIY tie-backs & a fresh Bulletin Board
Just let me say in advance our room is in no way finished but as I have mentioned before I am sharing the updates within my blog to keep myself motivated and because as much as I like seeing a "Before and After" post where the room was remarkably changed in one day it simply isn't possible for plain folks like me.
In all honesty I have not been able to complete as much as I would like due to my limitations but I am proud of the progress we have made.
This is where I owe a HUGE thanks to my hubby and daughters.
That being said, let's check out this week's progress!
Shall we?
This first thing I did was makeover my bulletin board from drab brown to coordinating grey and blue.
Check out the details here.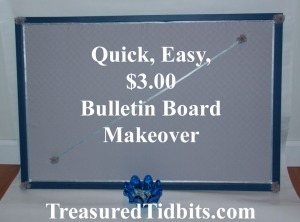 Then we stripped the curtains and blinds (remember I cleaned the windows in Bedroom Makeover Update #1.)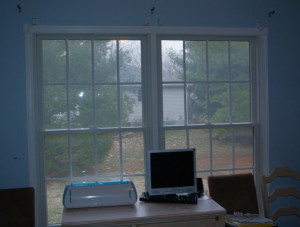 Today I tackled the dreaded task of the enormous (or so it seems) blinds.
They were not pretty.
  I do dust them each week or so but I have gotten out of the habit of wiping each individual slat.
Thankfully, it was only dust and not more than a few specks of dirt.
I will be including a "How I Cleaned My Blinds" post in the next few days with pictures and details but here is a before and after photo to give you a hint of the "fun" we had.
(Actually it wasn't as bad as I expected.)
After battling, the removal, cleaning, drying and hanging I admit looking at the shiny clean blinds feels pretty good.
Why New Curtains?
I was unable to find a bedspread I wanted that met all my criteria.
Pet hair, lightweight, easy to clean, matching my bedroom and in my price range.
This would be why I have had this comforter set for over 5 years and it took me several years to settle on this one.
So what is a girl to do?
Change the curtains!
I resorted to ordering the navy blue curtains I had used before but had removed due to damage prior to the cat declawing.
I spent several hours online looking for curtains after I gave up on bedding and still wasn't sure what I wanted because the colors all seemed wrong and the prices were too high and honestly, I was just plain frustrated so I quit looking.
Then….
Yesterday morning I woke up to an EPIPHANY.  The curtains I wanted to match were already hanging in my living room (DUH!).
I simply went in and checked the label.
Then logged on-line looking for the brand.
BINGO!
Target had them and I could have it arranged for my husband to pick them up on his lunch hour THAT day.
BONUS
They were Buy One Get One 30% OFF.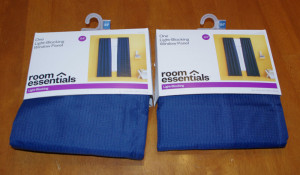 I got the set of lined, light blocking curtains for less than $18.00 (tax included).
I was so excited since I had expected to spend upwards of $40 or more.
I love the solid colors curtains but after making the mini flowers for the bulletin board I decided it would be fun to make material flower rosettes for tie-backs as well.
It was so easy!
I whipped up these two tie-backs and rosettes from the $1.99 Goodwill find I stumbled on last week.
It took me less than 30 minutes (while watching TV on the sofa) to create the flowers and just 10 more minutes to create the tie-backs.
I love the way they look and hope they will help bring the room together when I complete the additional accents.
The "Handmade Tie-back how-to" will be our next  "Workshop Wednesday" post.
It was not on my original plan but they were just too simple to pass up doing a demo.
One last look at the (almost) completed area.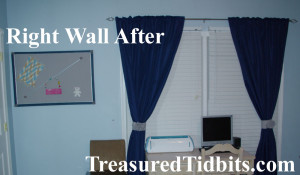 New curtains up, tie-backs created, windows, blinds and desk scrubbed clean, bulletin board recovered and wall clean.
Now to find a solution to storing the cricut, printer and modem.
I am also trying to convince my hubby to build me a beautiful window cornice even though it's freezing outside.
What do you think?
Wouldn't this me the perfect touch?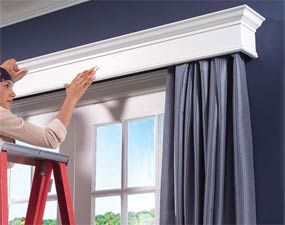 Photo and instructions found from the Family Handyman here.
Of course, I am not sure it is in the current budget and that we can build it in this beautiful bi-polar Illinois weather so I will stick it in my Pinterest file for "Hope to Do this Spring" and imagine it's up there until then.
Master Bedroom Makeover Budget Check-In
Here is a breakdown of the $100 Budget so far.
Please remember this includes the closet and organizing items.
Lowes Metal 8 ' Shelf and Braces                $27.77
Goodwill King Size Grey Sheet                     $2.12
TARGET 42 X 84 IN Curtains (2)                $17.46
Ribbon for Bulleting Board (I had on hand)  $2.12
Current TOTAL:                                     $49.47
Do you want to follow our progress as we purge, clean, organize and "makeover" one room on a budget?
Be sure to sign up to receive our emails, RSS feed and Facebook.
Email followers will ONLY receive updates as new posts are sent while Facebook may or may not notify you of new posts but will also offer things I find on-line I think readers might enjoy and quick little updates as I work throughout my days.
RSS Feed will notify you of new posts.
I have found that many readers have chosen to sign up for 2 out of 3 so that they are benefitting from everything.
Thanks for stopping by!
Feel free to share you thoughts and ideas!
If you are another blogger feel free to share your master bedroom posts links in the comments below.