My Progress
Week 1
The Entry Area
Due to the insanity of multiple doctor appointments, one kid's birthday, a trip down home and some required paperwork I was unable to tackle the interior entry area  last week BUT I will be tackling it this week when we tackle the "living areas" of our home.
I am excited to share what we were able to accomplish in the outside areas.
This post will be short as we have yet another appointment in the early am but I wanted to at least share the "before" and "after" photos of our entry and the approximation of how long each took.
Please keep in mind. 
  I do not work for a magazine. 
  I am using only a tablet for photos and as much I would love to have our home look like it came from BHG we believe in reusing, recycling and spending as little as possible to make our house a home.
I do not enhance any of our photos with a program.
What you see is what you get.
Before
Day One
Before and After
Surprisingly it took most of 2 hours to completely weed this flower bed and remove the dead plant pieces.
I chose to dig up the weed roots rather than just grab and pull.  It  certainly took much longer but it reduces the chance of fighting the same weeds next spring.
Another hour to clear this tiny flower bed.
I spent almost half that time crushing 30 + spiders with my gloved hand and removing the mulch we placed here previously.
Believe you/me as soon as the area was clear the spider spray came out and I sprayed EVERY area I had cleared of cobwebs that day.
I also removed the decor and cleaned it up.
The hummingbirds and girl retired for fall/winter and the lights and house numbers look shiny and new.
Day Seven
Remember I was unable to do anything on the days in between.
I brought in recruits.
Hubby and my sons friend helped too but I chose not to use the photos I took.
The Garage
Hubby moved the ENTIRE pile of wood and stones from the driveway and swept then sprayed it clean.
I helped by sweeping and killing two GIANORMOUS Spiders.
Their bodies (minus legs) were as big as my thumbnail.
Then my oldest and I created the fall flower basket and barrel while my youngest and I touched up the heart wreath.
(We switch the flowers out each season).
Front Flower Bed
Today my son and his buddy removed the mulch (wood encourages spiders) and hubby and I added the fall decor.
My favorite part of the season is putting out the Scarecrows my granddaddy cut and I painted.
He cut and painted the pumpkins too.  ( I know they need a fresh coat but I haven't been able to do that yet).
We lost Grandaddy just a year ago this month and I still miss him, he was a wonderful man and I love being able to share a little bit of my world with him everytime I decorate my yard.
(Wait until you see what I have planned for next spring).
The Entrance 
Today hubby added stones and I added decor after he hosed the area down and sprayed for spiders again.
Then littlest angel and I finished up and topped off some projects we have been waiting to "update" or complete for awhile now.
Every item used in decorating has been purchased used, passed down or upcycled from another project (except the new raffia and ribbon).
I feel that new life can be given when you simply change out a the raffia or ribbon and it only costs pennies on the dollar allowing you to brighten your home without breaking the bank.
We change both the metal man, burlap wreath and the Welcome post décor for the each seasons/holidays.
It requires a lot less speace to store the accents than 5 versions of the larger items AND it's fun to create and breathe new life into them each season.
Like this fun wreath my daughter thought of: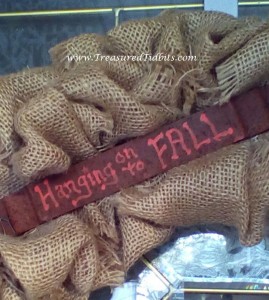 Sooooo, what do you think?
Does the outside entry look clean and inviting?
Were you able to make progress with yours?
Be sure to follow along, receive daily updates and share your progress by joining our Facebook support group at "Clutter Overcomers".
We would love to see your results.
Save