How many of you have ever been working on a project and then experience a sudden "SURPRISE"!
Today was one of those days.
Please keep in mind not
all

surprises are good.

For starters, this was not the planned post for today but after the morning I had, I am happy to share.

The day began (after my morning routine) with cleaning out the refrigerator (a later post) and then I decided to empty and wipe-out the attached freezer.

Why, oh, why, did I do that?
---
Our Bottom Freezer Before
It looks like our everyday bottom drawer freezer-shoved full of stuff right?
Yep, perfectly ordinary to the innocent eye.
Our Bottom Freezer Empty
See the green goop in the back or even worse the RUST on the sides?
UGH?  I have always wiped out this freezer without removing the ice cube tray. BIG MISTAKE!
Now, I can see the mess.  I also discovered that the metal "drawer trays"come out. (Up until now I always used the flexibility from my EDS to become a contortionist and reach all those hard spots then have pain for days later.) By the way, I feel like an idiot after battling these drawers month after month, week after week for the past two and a half years.
Now here is the SURPRISE!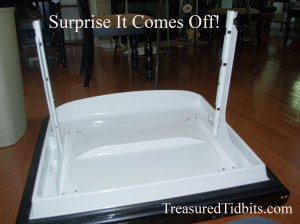 The ENTIRE door front is removable.  After spending a half an hour scrubbing around the door I pulled a little too hard and BAM! a piece came loose.
After kicking myself, I was sooo excited. I could sit in the are where the door had been and actually reach things and see the complete mess we had inside.  (Scary!!!)  The entire track and rollers were rusty on the left side.  The OCD in me finally had to be set aside after I spent another hour cleaning the rust as best as I could with vinegar and baking soda.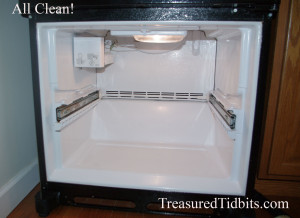 This is the final, finished project as rust free as I could get it.
Now for the F-U-N Part!
 Putting it back together.
To be honest I was terrified it would still be sitting in parts when the hubby got home from work but thankfully it went back together, smooth as butter and
I did it ALL by myself!!!! 
(I know you can't see but I did a happy dance here.)   Hubby didn't even notice I had completely dismantled and reassembled the bottom freezer, let alone scrubbed it til it begged for mercy.

---
Want to follow more of our entertaining adventures?   Follow us on Pinterest, Facebook, Instagram and sign up for weekly email updates.

Save
Save