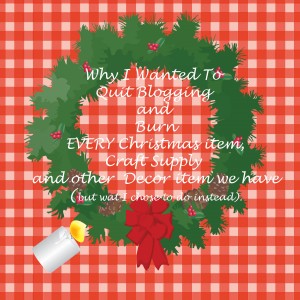 Yep, you heard that right!
I, Tina M., the calm, non-violent, love to create and decorate person I am was ready to BURN it ALL!.
What could lead to this extreme desire?
Life-Craft Shows, Non-stop hospital and doctor visits, Volunteer stuff, cooking, keeping house, school activities
People- My children being sick, injured or needing something.   Friends who need support or help.  Random door knockers who just keep returning, etc…
(Before anyone gets upset I love the people in my life but I am being real.  People factor into my frustration level and I know I am not the only one.)
Disorganization-I don't even want to begin explaining this.   I know many of you think I am organized but you have NO clue what goes on behind the scenes.   I have millions of thoughts and ideas that run at 100mph and never stop I have 1,000,000 projects going and none finished.
TOO much stuff-I love collecting Christmas items (it is my favorite time of the year) but I have TOO much.  Yes, it is all adorable.  Yes, I love buying more BUT the amount of items has been weighing me down EVERY, SINGLE year because I feel the pressure to use them ALL.
Self induced stressors-The biggest one I have is blogging.   I want to blog and I want to have followers but I get frustrated when no one comments on or shares post that I have.  The next largest is always wanting to do something new and accomplish everything perfectly ALL the time.
Poorly managed time-Remember the 1,000,000 things running through my head?    Yeah, well those get the best of me and I waste hours playing useless solitaire that I could care less if I win.   Just so I don't have to think.
The pain that comes with chronic illness and stress.
Dealing with my chronically ill children-In October and most of November we had a therapy, doctor appointment or test EVERY SINGLE WEEK DAY.   Some days we had 2 or 3 in different cities (at least an hour in opposite directions).
Do I think I am the only one with these stressors?
No, but I figure if I have them someone else does and might enjoy the encouragement of my story.
Did I set things on fire?
NO
Am I thankful that I didn't?
Yes.
Did I quit blogging?
Yes, for a time.  (Again.)
Although I am sure no one noticed.
Have I decided to continue blogging and decorating?
Yes
Has it been perfect?
Not even close!
BUT I haven't set anything on fire (okay, maybe the oven was smoking lastnight but that wasn't my fault) and I am working on blog posts as I type.
How am I overcoming the still niggling urge?
One step at a time.
See, to be honest this is not the first year life has been crazy around here.
It is like this ALL THE TIME so THIS year I have decided to make a change and set myself some guidelines to relieve the stress.
  I will NOT be decorating with my collection of snowmen until AFTER Christmas.  This will allow me to enjoy them for the month of January and not drive me crazy trying to find a home for the hoard collection I have.
I will be decorating with a less is more concept.
I am encouraging myself to throw or give away things that I do not decorate with, absolutely love or have a strong attachment to.
(Being a frugal hoarder/collector this is hard. )
At least 3 Kitchen trash bags have gone to recycling, the trash or the local community free store and it has been soooo FREEING.
Another 2 totes worth are going to resale.
I will only spend a designated amount of time each day decorating a specified area or with specified items.
(You will understand why this is so important when I give the home tour closer to Christmas).
  I will not worry about things being "perfect."  I will not straighten something 60 times because I feel that it isn't "perfection."
   I will enjoy the time I spend decorating and not allow it to be another chore AND I will try to do it with my girls and allow them to show their own "character" in the displays we create.
I will ONLY bring up the items we intend to use in the specified project of the day AND we will clean up any and all messes created before we move on.
(This has worked wonderfully so far.  We may work past the set aside time frame due to interruptions but we have kept the mess and stress down to a minimum).
 I am not going to begin a blog series that will be difficult for me to keep up with or will take away from our enjoyment of the holidays.   I will not blog to please an audience I don't really have, instead I will blog because I enjoy it and pray that someone finds something useful in what I share.
That being said-I think I will blog about our countdown to Christmas and what our family does each day for the month of December.   I will include tips, tricks and testy moments from each day as well as peeks at what we did (or didn't get accomplished).  BUT I will not worry about perfect pictures or "amazing" blog posts.  I will simply share what mistakes we made or tricks I use that I think you might enjoy.
Follow if you like, skip us if you don't.
If you do decide to follow us and enjoy or learn from what you see or read PLEASE make a comment on the Facebook page, the website (comment button located below) or by sharing the post with family and friends.
I pray your Holiday Season begins much less stressful than mine.