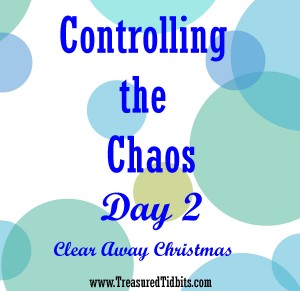 Yesterday, we decluttered, tackled laundry and dishes and found the inspiration to start our year "in control".
Now it is time to remove and pack up any Christmas items you may still have out including outdoor lights, trees, garland, kitchen supplies, wrapping paper, etc …
Note:  If you live in Central Illinois you may need to bring all of your outdoor items in and let them dry completely and check them to be certain they still work.  (Experience speaking here).
Please remember to start the year off right by labeling and documenting ALL totes.  (Post it notes and tape work well for this.)