My "Text" To Grandad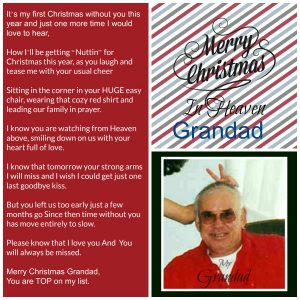 This post is nothing fancy, just something I wrote this morning after having a breakdown in my car when my hubby asked me who I was texting.
I was texting my family in Florida, but I wanted to smart-off "Heaven, so I can talk to Grandad".
I know that is not possible, but I miss him so much.  I may not have seen him regularly the last few years due to distance, but I knew I was loved.
Here is a short little poem I wrote, as my "text" to him.
I know he won't see it, but it helps to let it out.
Feel free to comment or skip reading it.
I just wanted to put it in a permanent place where I could find it and maybe share with others who are missing him, too.
---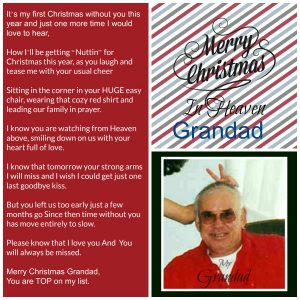 It's my first Christmas without you this year and just one more time I would love to hear,
How I'll be getting "Nuttin" for Christmas this year, as you laugh and tease me with your usual cheer
Sitting in the corner in your HUGE easy chair, wearing that cozy red shirt and leading our family in prayer.
I know you are watching from Heaven above, smiling down on us with your heart full of love.
I know that tomorrow your strong arms I will miss, and I wish I could get just one last goodbye kiss.
But you left us too early just a few months go.  Since then time without you has move entirely to slow.
Please know that I love you And You will always be missed.
Merry Christmas Grandad, You are TOPS on my list.
---
I wrote another poem to Grandad you can read here.
I don't write very many personal posts like this, but if you want to follow us for simple, low budget tips, tricks and ideas for the home you can do so by signing up for emails and following us on Facebook, Instagram and Pinterest.
Save
Save
Save
Save
Save
Save