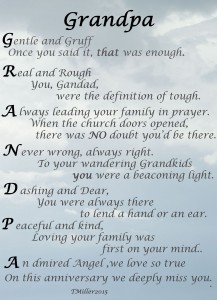 I wrote this poem shortly before my grandfather's anticipated passing and decided to share it on the one year anniversary of his death.  It doesn't even begin to share the love, guidance and faith he provided our family with, but it did give me a way to vent my emotions during a trying time.  There isn't a day goes by that Grandpa doesn't come to mind, visit my dreams or whisper in my ear (not always so quietly).  He was a an important part of my life and left his mark on so many, in both our family and community.  I realize this is a bit off the path of my usual posts, but this post and poem were written for me and anyone who knew him and wants to remember him and the AMAZING man he was.
Here is an easier to read version in case the print is too small.
---
Grandpa
Gentle and gruff, once you said it, that was enough.
Real and Rough.  You, Grandad were the definition of T-O-U-G-H.
Always leading your family in prayer.  When the church doors doors opened, there was NO doubt you'd be there.
Never wrong, always right.  To your wandering Grandkids you were a beaconing light.
Dashing and Dear, You were always there to lend a hand or an ear.
Peaceful and kind, loving your family was first on your mind.
An admired angel.  We love so true.  On this anniversary we deeply miss you.
LOVE "Your Favorite,"
Tina
Sorry family, I couldn't resist my "favorite" tagline.
---
As I shared earlier, I seldom share something so personal, but I did write another poem the first Christmas after he passed, and it can be found here.
This isn't part of our usual sharing, but if you would like to see more from us you can sign up to receive weekly emails.  Follow us on Pinterest, Instagram or Facebook.
Save
Save
Save
Save
Save
Save
Save
Save