I am sure we all know how to clean out our vehicles, but here are a few tips to hopefully make the job easier.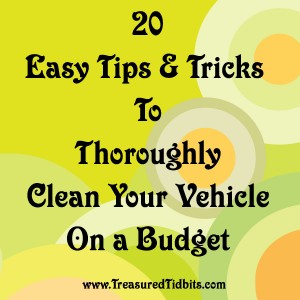 20 Tips and Tricks For Cleaning Your Vehicle on a Budget
 Bring bags or boxes with you to begin.  We bring one for trash, one for recycling, one for items that stay in the vehicle and one for items to return to the house (combs, receipts, hair ties, loose toys, etc…)  It makes the process of dealing with said items much easier when you enter your home.  Remember our motto NO chaos.
Bring your handy dandy grabber to reach in all the places you can't: under seats, in those narrow crevices, down into the cubby holes where your seat legs fit and everything imaginable falls, including all your loose change and cheerios.
I recommend you begin at the door (either side) and work your way in, sorting and removing items.

Door
Visor/Sunglass holder
Seat Pockets
Dashboard
Glove box
Floor
Under Seat
Beside Seat
Center Console
Then move to a new seat and repeat.  IF you have a "Stow in Go" be sure to flip the floor panels up.  You would NOT believe what falls under there even if you NEVER open them.  (You may even find some cash.)
REMEMBER:  Sliding your seat back and forth is in your favor and will allow you to save yourself some discomfort (and be more thorough).
Don't forget the side panels and secret cubby holes EVERY newer vehicle seems to have.
Once the trash, recycling, house items and stuff that stays is removed you can actually begin cleaning and shining your vehicle.
---
The first and foremost project is to vacuum it.
This seems pretty straight forward, but have you ever noticed that the commercial vacuum never seems to reach it all?
I have used both the "commercial" and my own.
I prefer my own for reasons I will share shortly, BUT I always use the commercial vacuum to remove all the junk (straw, grass, mud ,etc…) I do not want inside the family vacuum.
I found it best to remove and shake all the floor mats, flip down ALL the seats and vacuum the flat surfaces first then flip them up to do under the "stow-in go" and inside the cubby holes and additional floor and seat space.  This is with the commercial vacuum.
Then comes the fun part. 
Grab your family vacuum and all those handy dandy little attachments and head out to your car.
Use those attachments to reach all those cubby holes the commercial vaccuum couldn't.
Have an earring, change or a Lego you can't quite reach but do NOT want to vacuum up?  Add a stocking over the end of your attachment and it will suck up the item you want to save without allowing it to enter the tube.
Don't forget to vacuum your door holder, air vents, knobs and handles, glove boxes, seat dividers and especially those little holes where the seat legs fit (those spots get nasty fast).
Thanks to your vacuum cleaner attachments these areas can be handled quickly.
---
Alright, if you are lucky the only thing left is a quick wipe down to remove the dust that often settles in your vehicle.
However, if you are anything like me your vehicle needs a bit more than a "dust off" inside.
There are tons of products made for cleaning your vinyl/leather at the store.  I am not going to recommend a specific one.  However, I will recommend some tools to simplify the process.  We have your simple Dodge Caravan boring finish so we use Dawn Dish Soap and occasionally a magic eraser.
Recommended supplies in addition to the cleaner.
Bottle Brush to reach inside those nasty cup holders and door handles.  (Use this for cleaning only, please don't take it back inside and use it on your glasses after you are done.)
An old toothbrush for places your bottle brush won't reach.
Two buckets (we use gallon ice cream buckets).  One for soapy water and one to rinse your brushes and rags in.
Rags for rinsing and wiping.
Paper towels and Windex or vinegar for cleaning your windows.  (AFTER you clean the other surfaces- because the back splash will leave spots.)
Q-tips- if you want to clean all the tiny vents, knobs and buttons.
Small fan if you want an area to dry quickly.
Pan Scraper for removing piles on both fabric and plastic.  (For additional great uses for a pan scraper click here.)
---
Personally, after all of that I am wiped out and would leave the upholstery cleaning for another day.
NOTE:  DO NOT USE ANY OF THE BELOW on LEATHER or SUEDE!  I do not offer any advice for those fabrics, as I have never cleaned them myself.

In addition to using a carpet shampooer and upholstery attachment I would recommend the following.
Two ice cream buckets filled with hot water.  (One for wash, one for rinse.)
Scrub brush (for those determined spots)
Old toothbrush for those tiny, hard to reach stains
Dawn Dish Soap  (For the scrubbing water.)  Dawn is non-abrasive, safe for most fabrics and removes a multitude of stains- especially grease and oil without leaving an odor or residue (if rinsed).
Knee pads or folded towel to help reduce the pain when you are scrubbing
Please share any additional tips or ideas in the comments below.
To see more posts like this follow us on Facebook, Instagram, Pinterest and sign up to receive weekly emails- where we share upcoming deals, printables and more.
Thank you for stopping by Treasured Tidbits we hope we were able to brighten your day.