2016 Goals
10 Day Update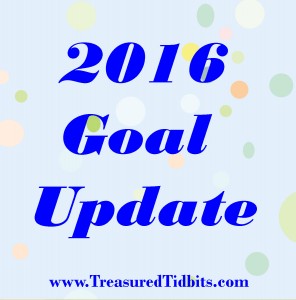 Several of you have inquired about our "goals" for 2016 and if we are still on track.  I am thrilled to say, for the most part, YES WE ARE!!!
And here is a little update:
Financial
We added to this a bit by creating a title.  We are practicing NO SPEND 2016 and only purchasing necessary items.  (My kids are already sick of hearing the words "no", "Is it a need?", "Can you afford it?  Because if you want it, you are buying".)
We created both a comprehensive budget and menu and have managed to stick to them.  To hear more about our journey with eating only from our on hand supplies check out our "Just Make Do January" Series.
We have only deposited a small amount to savings with our first paycheck of the year.  BUT we also PAID OFF OUR VAN two weeks early AND paid off two medical bills when we received them with the money we saved from our "Just Make Do January".  In addition, we paid cash for medical treatment for two of our pets.
For other tips on how we saved so far this month check out these useful posts.  Each contains a variety of tips, tricks and programs we use that are super simple.
25 Simple Ways We Saved This Week
26 Simple Ways We Saved This Week
26 Ways We Saved and Earned This Week and You Can Too!
HOUSEHOLD
We have made progress on the paper clutter and sent several items to donation, resale, recycling and the trash.  (I am embarrassed to say at least 200 pieces of paper and I haven't even begun scanning and shredding the important ones).
We moved my daughter COMPLETELY into her new room with organization, decorations and comfort.  You can get a peek of it here.
We have very actively been working through "Just Make Do January" and cooking from scratch.
We created an incoming paper system and an accurate list of what is in our organized kitchen cabinets, fridge and freezer.
HEALTH GOALS
I haven't had a Pepsi since the afternoon of December 31st, 2015 WOO HOO!
but
I have NOT been drinking my smoothies either.  (I hope to start soon).
We have eaten 22 out of 24 meals at the table and our lunches and suppers have been (mostly) square.
PERSONAL/FAMILY
We have been using our daily, weekly and monthly checklists and adding items as we go along to help keep us on track.
We have been spending "set aside" time as a family.  We are currently building a puzzle featuring mini puzzles within the main puzzle.  (Nerve racking for sure.)
BLOG
I have posted almost everyday in our "Controlling The Chaos" and "Just Make Do January" series and weekly in our "Saving in 2016'.
We have hosted two "Sharing Saturday" linkups and met some great new bloggers in addition to increasing my blog traffic, subscribers and Facebook followers just a tiny bit.  We also began the new year with a "Sharing Sunday" Linkup at my chronic illness blog.
How are you doing with your 2016 goals?
We would love to hear from you!
If you are a blogger and have shared your goals, updates or encouragements on your blog please feel free to share your results (and link) in the comments and/or at one of our "Sharing Saturday" Linkups.

Want to know how we continue to do on our 2016 goals?
You can follow us on Facebook, Pinterest, Instagram or through emails by following the icons on the right side of this page.
Thank you for your encouragement and I hope your 2016 goals are still in sight.