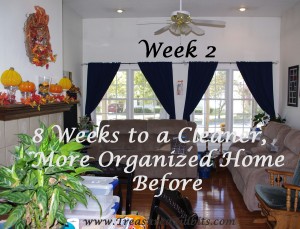 8 Weeks to a Cleaner, More Organized Home
Week 2:  The Living Room
This week's project was a bit of a challenge for those of us at Treasured Tidbits, not because the room was a mess or extremely dirty but because we had at least two appointments a day and two of us came down with the flu.
But accomplish it we did!
All on the last day of Week 2.
Confession:  We did not clean the windows or cloth furniture but we vacuum them every time we have guests with allergies.

Due to the fact I am still feeling a bit under the weather this post will be short and sweet.
BEFORE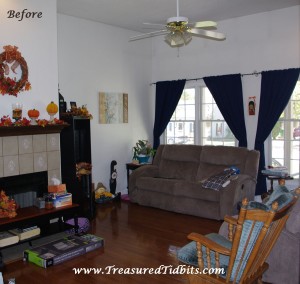 The biggest projects we had was to build the new laundry rack, wipe down the walls, clean the ceiling fan, mop the floors and polish the wood furniture.
We also decided to rearrange the living room so that I could watch HGTV while I work on my holiday craft projects.
DURING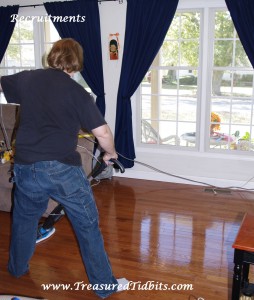 After
The Left Wall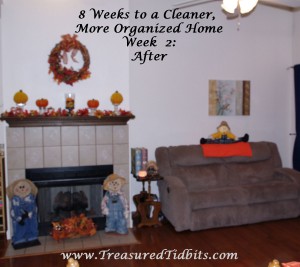 Right wall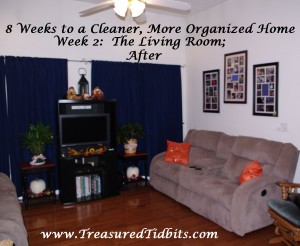 View From the Dining Room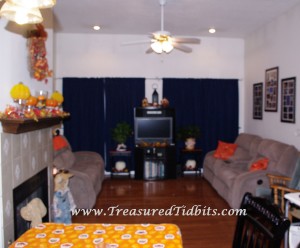 Up Close View of the Windows
The Mantel
 And the biggest distraction of all
JACK
Our foster kitten who is looking for a forever home.
Isn't he adorable?
Well folks that's it.
No big changes here, just some cleaning, organizing and decorative touches.
How did your week go?
We would love to hear from you and see your photos.
Just join us on our private Facebook page at "Clutter Overcomers"
OR sign up to receive weekly email updates.
Save