Completed Craft Room Reveal
It's FINISHED!
We DID IT!
DO remember what it looked like just a few short months ago?
NOW…
I have a completely organized, pretty, clean,well lit craft room.
And it is ALMOST all.my.own.
Can you tell I am excited?
Here are the pictures I have been promising for days.
(And a few comments of course.)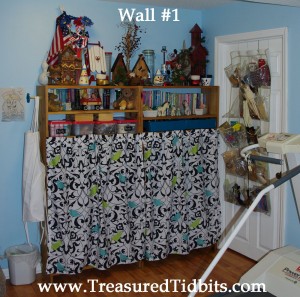 Since I couldn't find a happy home for our children's and family book collection I simply opted to keep them in this room (behind the curtain).
 Since I finally have my own room I decided to add some of the childhood treasures I have held on to.  And of course, I want to share them with you.
We have had the treadmill for years but never used it because it was ALWAYS buried in a small room under a pile of stuff.
Now, it is not only cleared off, it is clean and been used repeatedly in the past month.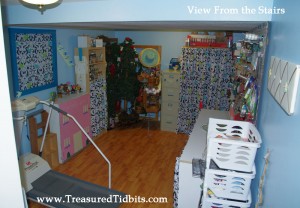 I am also sharing space with the Barbie doll house we created our girls over 8 years ago.
(We will share a how-to on that another time).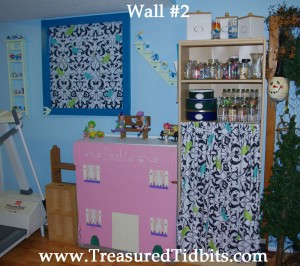 Yes, those are more Strawberry Shortcake characters and Smurfs on the wall.
(And they are
ALL

mine).

Under the curtain are the Barbie dolls and accessories (including a pink sports car).

THIS is the crazy corner where I can control my odds and ends.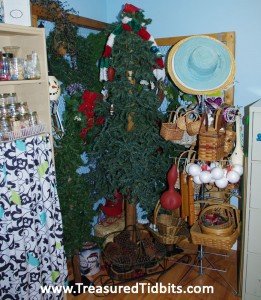 Christmas trees, wreaths, baskets, display racks and more.  (I have a ton of odds & ends.)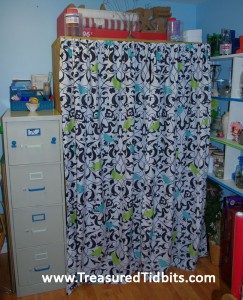 Then we have my updated filing cabinet and another "hiding spot".
Don't you LOVE the curtains?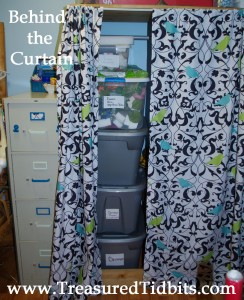 Remember the ugly black and brown shelf I showed you a few weeks ago?
Look at it now!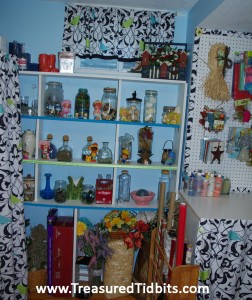 More fun treasures.
And the crowning glory I shared with you last week.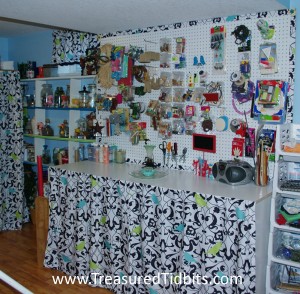 Bonus: A peek at some of the little touches.
Well, that is it.  My completed craft reveal.
What did you think?
I hoped you enjoyed it.
Before I go I want to send a great big thank you to my hubby and kids for their patience and help for the past month as we made this happen.
(Remember I purged and sorted every single item BEFORE it was put away.)
I cannot wait to see what new and exciting things come from having a shiny, organized work space.