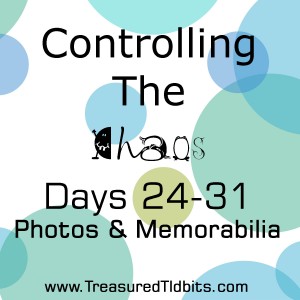 Fantastic!  We have made it to Week 4 of the "Controlling the Chaos" Challenge.
We have our budget, bills, bags and loose paperwork under control now we are going to tackle our printed photos.
Note: If don't have your paper under control yet please continue working on it.
This week is set aside to catch up, catch your breath and sort your photos, cards and memorabilia.
It doesn't matter if you have a small shoes box or an entire closet you CAN begin sorting and organizing them today.   You may even find that once you start you don't want to stop and will begin sorting them during your TV time in the evening.
Please read this great post from Home Storage Solutions 101 for amazing instructions, suggestions and ideas (I must a admit I wrote my own post but have not shared it.  Why reinvent the wheel when she does such a tremendous job?)
Day 24: Weekly Checklist
Day 25:  Address your "Take Action" folder and finding, gather and choosing a method for organizing your photos and memorabilia
Day 26-30:  Organize your photos and memorabilia (remember don't be afraid.  YOU can do this!)
Day 31:  "Weekly Checklist"
Note: Next week/month we begin our digital purge and organization including Pinterest, Facebook, Emails, Photos, texts and more.
To join the "Controlling the Chaos" Challenge join the email link below or our "Clutter Overcomers" group.
Like what you see?   Don't miss a post!
Sign up for emails, follow us on Facebook, Instagram, Twitter and Pinterest. (Just click the links on the right side of your screen.)